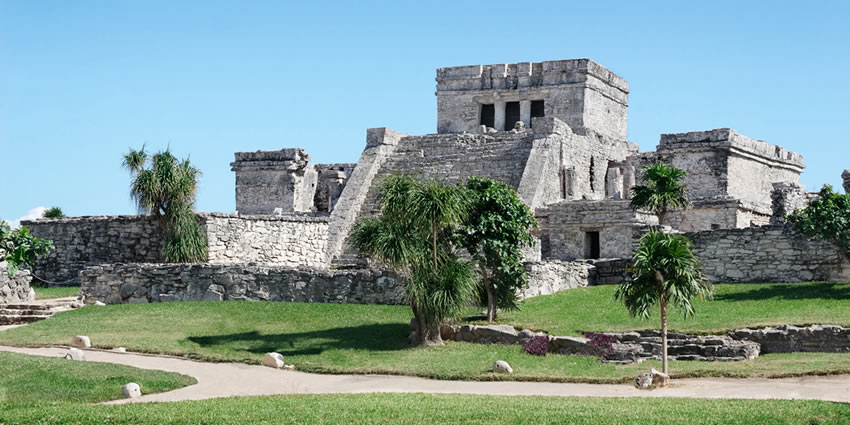 Archaeological sites to visit in Riviera Maya
While the Riviera Maya is well-known as a beach resort area, not all know, beyond its stunning beauty, this region is also an excellent starting point for exploring the ancient Mayan ruins of the Yucatán Peninsula.
The Mayans, who once flourished in this area, left behind a remarkable legacy.
Mayan cities in the Yucatán began to appear around 2000 BCE. Over time, they reached their peak of architectural and cultural glory during the Classic Period, which spanned from approximately 250 CE to 900 CE.
During this time, the Maya built city-states like Chichen Itza, Tikal, Uxmal, and Palenque. The towering pyramids, intricate temples, and observatories showcase the Mayans' knowledge of astronomy and mathematics.
The decline of the Mayan civilization is a topic of ongoing debate among historians and scholars. It is believed to be associated with factors such as overpopulation, environmental stress, warfare, and resource depletion.
The arrival of the Spaniards marked a significant turning point in the history of the Yucatán. By the time the Spanish conquistadors arrived, many of these ancient city-states had already been abandoned or were in decline.
Over time, Spaniards imposed their culture, religion, and authority on the region, resulting in the amazing blend of Mayan and Spanish influences that can still be seen today in the local culture, architecture, and traditions.
The Yucatan Peninsula has a rich history and a great ancient heritage. If you happen to travel to the Riviera Maya, don't miss the opportunity to visit these amazing Mayan city-states scattered all over the Yucatan.
Archaeological sites along the Riviera Maya coastline:
Tulum
Coba
Xel-Ha
Xcaret
El Rey
Isla Mujeres
San Gervasio (Cozumel)
Archaeological sites near Chetumal:
Oxtankah
Kohunlich
Dzibanche
Calakmul
Kinichna
Becan
Archaeological sites near Valladolid:
Archaeological sites near Merida:
Dzibilchaltun
Uxmal
Muyil
Sayil
Labna
Mayapan
Kabah
Izamal
Archaeological sites near Campeche:
These one-day excursions are to explore the ancient Mayan ruins in a short time.
Travelers have the freedom to choose between local transport such as buses or "colectivos", private transfer, or opting for guided tours to gain deeper insights into the history and culture of pre-Hispanis Yucatan regions.
The inauguration of the Maya Tren adds an exciting new dimension to travel across the Yucatan Peninsula. The Maya Tren provides a convenient easy and efficient way to explore the Yucatan region and its wonders.
The Maya Tren is an additional option for an easy, eco-friendly, and time-efficient means of experiencing the rich Mayan historic and cultural remarkable heritage across the Yucatan Peninsula and the state of Chiapas.
Use these tags to read more related posts and reviews:
---
Let us know if this article was useful for you