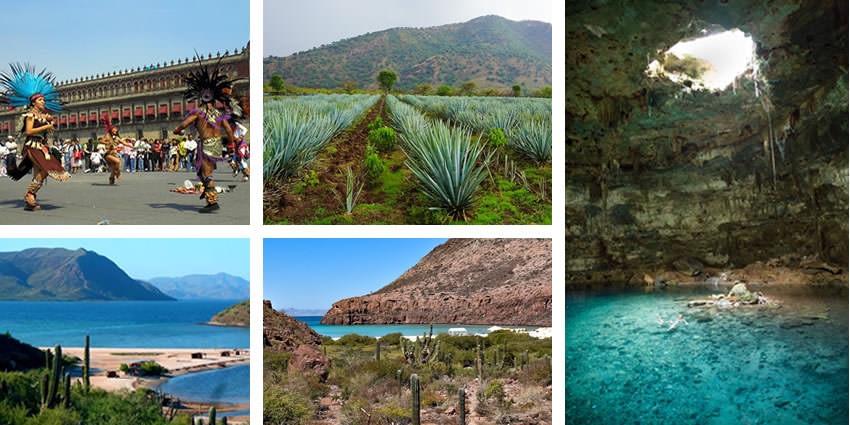 Best ways to have an authentic trip to Mexico
Mexico is much more than spring break, tequila, and beaches. All-inclusive resorts and overcrowded beach areas like Cancun, Puerto Vallarta, Cabo San Lucas, Acapulco, etc, don't always make for an authentic experience.
However, you can make your trip to Mexico a non-touristy one. From pre-Hispanic ruins and museums to historic festivals, the country offers a lot more than just palm trees and swim-up pool bars.
Tips for an authentic trip to Mexico
Read on for our tips that will lead to a more authentic trip to Mexico, even if you're headed to a busy city or resort area.
Go to local festivals
Whether it's for Day of the Dead or Mexican Independence Day, you'll have a more culturally rich trip to Mexico if you visit during celebrations or festivals. These events are an outlet to learn more about the country's history and traditions and are packed with exciting experiences.
Here are some popular holidays to plan a trip to Mexico around:
Dia de la Independencia ("Mexican Independence Day"), September 16
Dia de la Raza ("Day of the Race"), October 12
Dia de Los Muertos ("Day of the Dead"), October 31 to November 2
Dia de Nuestra Senora de Guadalupe ("Our Lady of Guadalupe"), December 12
Las Posadas ("Christmas Season"), December 16
Dia de Los Santos Reyes ("Three Kings Day"), January 6
Semana Santa ("Holy Week"), Lent, and Easter
Carnaval ("Mardi Gras"), dates vary with the Easter calendar
Benito Juarez Day: Third Monday in March
Try traditional regional cuisine
No matter where you go, ask for the region or town's local specialty.
Visit museums
No matter where your trip to Mexico takes you, there's a variety of museums worth visiting.
Mexico City is known as the art capital of the country, with dozens of museums like the Museum of Popular Culture Coyoacan/San Angel and the well-known Museo-Estudio Frida Kahlo & Diego Riviera.
Even Cancun has a newly opened (2012) Maya museum—Museo Maya de Cancun—complete with an archeological site and thousands of artifacts.
Visit a small towns and villages
There are plenty of quiet beach towns left in Mexico, and some aren't far from popular tourist areas.
Sayulita in Riviera Nayarit is just north of Puerto Vallarta and is known for its laid-back surfing vibe, even though it attracts tourists.
Or head to car-free Yelapa, accessible by water taxi from Puerto Vallarta.
If you're looking for a trip to Mexico's Riviera Maya, head to nearby Punta Allen, located in the Sian Ka'an Biosphere Reserve.
Also in Quintana Roo, you'll find Puerto Morelos in between Cancun and Playa del Carmen—it's much quieter than its resort neighbors.
Shop at local markets
While it might be hard to skip out on the touristy gimmicks, your best bet for authentic Mexican markets are in Guadalajara and Mexico City.
In Guadalajara, Mercado Libertad can't be missed—literally: The massive market is home to more than 2,800 vendors.
For something smaller, head just outside the city to Tlaquepaque or Tonala, which are known for handicrafts and authentic Mexican art.
In Mexico City, you'll find spectacular food and clothing markets, like Bazaar Sabado, Mercado de la Merced, and Mercado Artesanal de Coyoacan.
Use local public transport
If you're an experienced traveler who speaks some Spanish, taking the bus in most of Mexico's tourist-frequented areas is safe and affordable.
In Cancun, many buses are brand new and will get you to popular spots, as well as sights outside the main strip.
Head to the local bus station ahead of time and ask for information on your desired route. In Yucatan for example, there are local buses, long-distance buses, and a mini-bus line. Depending on your trip, you can choose from first-class, second-class, plus-class, and luxury buses.
Volunteer
If you're really looking for an authentic trip to Mexico, you can volunteer through a variety of programs.
International Volunteer HQ has options ranging in length from one to 12 weeks. Participants are based in the popular city of Merida and have the option of choosing from five projects, including animal care, childcare, and Maya agriculture.
Swim in a cenote
Cenote, or swimming caves, are well-known in the Yucatan Peninsula, so you can easily get scammed into a tourist-packed trip.
Instead, head to the city of Valladolid and venture to the area's cenotes on your own—Oxman, Xkekhen, Samula, Zaci, and X'Chanche are all within driving distance (you can even walk to Zaci) and are less crowded than the ones tour operators will try and sell you on.
Explore a UNESCO World Heritage Site
There are 34 UNESCO World Heritage sites in Mexico, including 10 historical cities, making infinite options for an authentic trip to Mexico. From agave landscapes to the historic centers of Mexico City and Xochimilco, there are plenty of ways to add culture to your trip to Mexico.
Speak the Language
While you can get by with English in most parts of Mexico, especially in resort areas, you should challenge yourself to speak Spanish. Ease your way into it by trying to order food in Spanish, and you'll feel like a local before you know it.
***
Use these tags to read more related posts and reviews:
---
Let us know if this article was useful for you