The best routes for a road trip in Mexico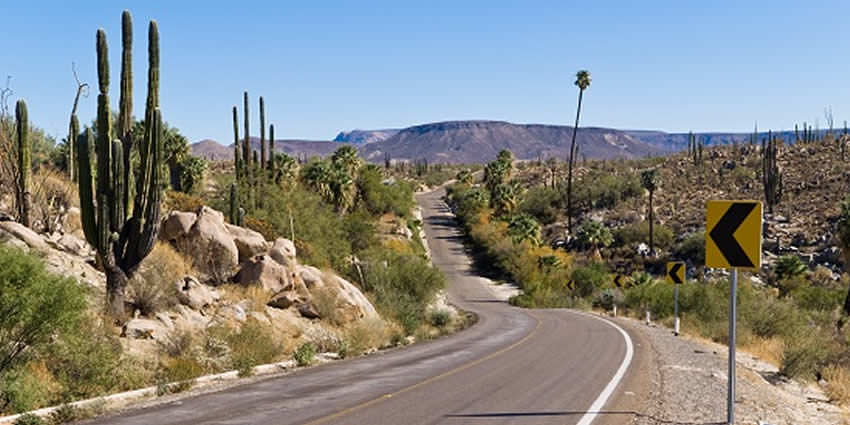 Thinking about taking a road trip for your next vacation? Consider Mexico. Laid-back beaches, vibrant cities, incredible food, and a rich culture all await you. There's no better time to hit the road than now!
Go Big or Small: It's Up to You
The first choice to make is whether you'll travel by car or motorhome. Cars are generally easier to maneuver, especially on steep or curvy roads. Motorhomes have an advantage when it comes to comfort and convenience.
Road tripping by car means you'll need to carefully plan your route to end up at your reserved accommodations each night. Packing and unpacking only to pack up again is just a fact of the vacation.
Cars also necessitate stopping every few hours for food and/or bathroom breaks.
Renting a motorhome means you can unpack just once. Meals, sleeping quarters, showers, and the bathroom are right on board. There's no scrambling to charge electronics or work if necessary. Everything you need is right at hand, at all times.
Although the cost of fuel for a motorhome is more expensive and gas mileage is less efficient than if you take a car, the money you save on hotels and restaurants should more than cover the difference.
For all these reasons and more, many people rent motorhomes to take an unforgettable Mexican road trip.
All Together Now or Going Solo
If you decide to travel by motorhome, your next decision is whether to join up with a caravan or set out on your own path. Both have advantages and disadvantages. Consider the traveling style of your group when picking between the two.
A caravan follows a set itinerary. Leaders take care of all the planning details, from guiding you on the route, making reservations at campgrounds or RV parks, and providing tours of historical and cultural sites along the way.
In a caravan, you get the camaraderie and safety of traveling with a larger group.
Still, caravans are not for everyone. The tours each day can be an added expense you don't care to factor into your vacation.
Plus, you may be craving more adventure and spontaneity than a group tour affords. In that case, creating your own loose itinerary and going where your heart desires during your road trip is the better choice.
Rules of the Road
In Mexico, there are two types of highways ("carretera"): Cuota and libre. "Carretera cuota" are toll roads. These are known for being well maintained and fast, but the downside is they can get expensive.
Also, be aware that credit cards are not accepted on "carretera cuota", so keep plenty of cash on hand when driving them.
Carretera libra, on the other hand, is free and can range from paved to bumpy dirt roads. These usually run alongside the toll highways and meander through many small towns along the way.
Keep in mind that "carretera libra" can add a lot of time to your itinerary. Also, beware of the many topes—large speed bumps that can set everything inside your rig flying around—on the free roads.
Places to Go, Things to See
So what spots should your epic Mexican road trip include? Here are three possible routes to explore, depending on your group's interests and available vacation time.
Baja Coast
Gorgeous beaches, whale spotting, and gnarly surf all make this an amazing route, because Baja California has it all.
Start in Tijuana, where you'll want to visit the Mercado, check out the amazing street art, and have your picture taken with the donkey painted like a zebra.
Along the way, stop to see the gray whales in Guerrero Negro, chill at the charming and artsy Todos Santos, and surf (or just watch some surfers) at Pescadero and Cerrito's beaches.
End your epic road trip in Cabo, known for its stunning coastline and lively nightlife scene.
Mexico City to Cancun
Museums, archeological artifacts, and ancient ruins await on this route.
Start in vibrant Mexico City, where the Frida Kahlo Museum and Museo Soumaya are must-sees, as are El Zocalo (the central square) and the stunning Metropolitan Cathedral.
Along the way, stop in Cordoba, Veracruz to tour the Museo de la Cuidad for its archeological finds and the Museo del Café, where you'll learn all about coffee production in the region.
La Venta, where you'll get to see giant sculpture heads of the Olmec Indians that date back to 400 AD.
Merida, where the hammock was invented and home to incredible architecture and the Museum of Modern Art; and Chichen Itza, best known for the Mayan archeological sites located here.
End your trip in party town Cancun, and make a toast to a great vacation.
Central Mexico
Your starting point is again the vibrant and populous Mexico City—enjoy the art, food, and architecture! Along the way, be sure to include Oaxaca City as one of your stopping points. Here, colorful art and delicious Oaxacan food abound.
Other must-do's: Escondido, a pretty coastal town known for surfing and turtles, and Huatulco, a laid-back beach resort area. End in Palenque, best known for ruins, temples, and waterfalls. Cheers!
Where to Stay
When you're ready to settle down for the night, how do you find where to stop for the night?
Look no further than your phone or the Internet. Decide whether you want a rustic campground with no hook-ups or a luxury RV park with all the amenities including a pool, and then choose your spot.
Planning ahead of your travel route and making reservations will make for a smoother trip.
Hit the Road
Mexico, with all its great beaches, history, and culture, is a place you'll want to return to again and again. So pick your favorite route and start planning your trip here today. Then grab your friends and family and start driving!
Use these tags to read more related posts and reviews:
---
Let us know if this article was useful for you