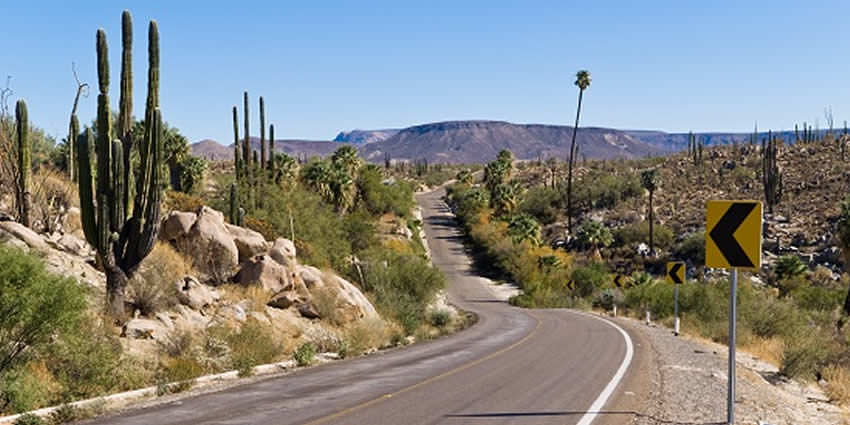 The best routes for a road trip in Mexico
Are you thinking about taking a road trip for your next vacation? Mexico might be the perfect destination. With its laid-back beaches, vibrant cities, incredible food, and rich culture, there's no better time to hit the road than now!
Choosing your vehicle for a road trip
The first decision to make is whether you'll travel by car or motorhome. Cars are generally easier to maneuver, especially on steep or curvy roads. But motorhomes offer more comfort and convenience.
Road-tripping by car means planning your route carefully to reach reserved accommodations each night. You'll need to factor in stops for food and bathroom breaks.
Renting a motorhome allows you to unpack just once. Everything you need is on board, from meals and sleeping quarters to showers and a bathroom. While motorhome fuel costs more, it saves money on hotels and restaurants.
For these reasons, many people choose motorhomes for a road trip.
Travel in a group or solo travel?
If you opt for a motorhome, decide whether to join a caravan or go your own way.
Both have advantages and disadvantages. Caravans follow a set itinerary, providing guided routes, campground reservations, and tours. They offer camaraderie and safety but can be more expensive.
For more adventure and spontaneity, create your own loose itinerary.
Navigating Mexican highways
In Mexico, there are two types of highways: toll roads and free roads. Toll roads are well-maintained but expensive and don't accept credit cards. Free roads can be time-consuming and have speed bumps.
Planning your stops and where to stay at night?
How do you find where to stop for the night?
When it's time to rest for the night, use your phone or the Internet to find suitable accommodations. Choose between rustic campgrounds with no hook-ups and luxury RV parks based on your preferences.
Planning ahead of your travel route and making reservations will ensure a smooth trip.
So what destinations and scenic spots should your epic Mexican road trip include? Here are three possible travel routes to explore the country, depending on your interests and available vacation time and budget:
Baja Coast:  Explore stunning beaches, whale watching, and surfing along the Baja California coast. Visit Tijuana, Guerrero Negro for gray whales, Todos Santos for art, and Cabo for its coastline and nightlife.
Mexico City to Oaxaca and Cancun:  Discover museums, archaeological sites, and ancient ruins. Explore Mexico City, Cordoba, Veracruz, La Venta, Merida, and Chichen Itza before ending in Cancun.
Central Mexico: Start in Mexico City and savor the art, food, and architecture of the Mexican capital. Explore Oaxaca City, Escondido, Huatulco, and end your journey in Palenque with its ruins and waterfalls.
Mexico is a great destination that offers a wealth of beaches, history, and culture, making it a place you'll want to return to. Choose your route and start planning your road trip today with friends and/or family!
Use these tags to read more related posts and reviews:
---
Let us know if this article was useful for you