Calvillo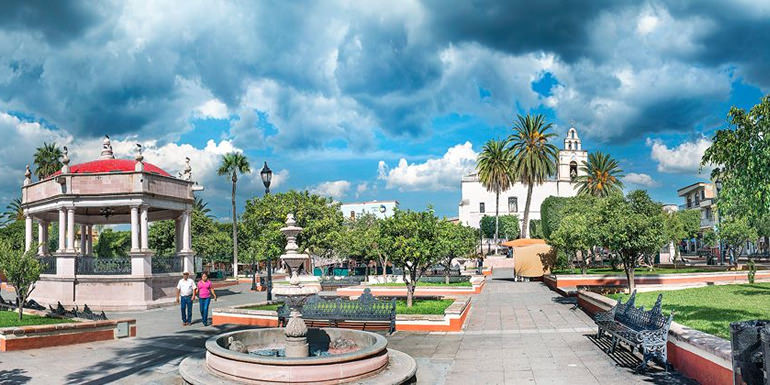 Calvillo is a city in the Mexican state of Aguascalientes. The town serves as the municipal seat of the surrounding municipality of Calvillo. Calvillo is the second most populated city in the state, surpassed in importance only by the capital city. It is located about 52 kilometers from the city of Aguascalientes. It stands in the southwestern corner of the state.
As of 2010, Calvillo had a total population of 19,742
The economy in Calvillo is centered on the guava, although there is other agriculture and a great deal of commerce. Calvillo is better known as the world capital of the guava, it is the largest guava producer in Mexico and famous for its superb confectionery and liqueurs made from this fruit, which you can sample at the Guava Fair held during the first week of December.
People from calvillo are called "Calvillences".
Calvillo has a number of attractions of interest to tourists. One of them is the Main Square, which dates from 1778 and is famous for its orange trees.
Calvillo is also home to the Temple of Our Lord of the Salitre; built in 1772, its interior features paintings that are considered jewels of religious art. The attractive dome topping the church has an exceptional size and diameter. Its rarest feature is that it is made as a single architectural piece; there are only five domes of this style worldwide. The interior of the dome features exquisite frescoes depicting the life of St. Joseph, the patron saint of the city.
The Guadalupe Temple is another important church featuring majestic towers.
Another interesting place is the Malpaso Dam. The outskirts of Calvillo are a magnet for tourists. The Sierra del Laurel, south of the town, is a prolongation of Sierra Fría and highly sought-after by rock climbers because of its steep sides.
Also nearby are the La Cordorniz Dam, and the ex-convent of the Tepozán, where, at the bottom of the gully, there is a rocky area with cave paintings. The prehistoric paintings of El Tepozan show diverse figures in different colors imprinted in various eras. Very close to these two attractions, in the town of La Panadera and chikis it is still practiced the old craft of embroidery and unthreading or "deshilados", the state's craft by excellence.
You can dial 078 from any phone, where you can find free information about tourist attractions, airports, travel agencies, car rental companies, embassies and consulates, fairs and exhibitions, hotels, hospitals, financial services, migratory and other issues.
Or dial the toll-free (in Mexico) number 01-800-006-8839.
You can also request information to the email correspondencia@sectur.gob.mx
MORE EMERGENCY NUMBERS:
General Information: 040 (not free)
National Emergency Service: 911
Radio Patrols: 066
Police (Emergency): 060
Civil Protection: +52(55)5683-2222
Anonymous Complaint: 089
Setravi (Transport Mobility): +52(55)5209-9913
Road Emergency: 074
Cruz Roja: 065 o +52(55)5557-5757
Firefighters: 068 o +52(55)5768-3700
Use these tags to read more related posts and reviews:
---
Let us know if this article was useful for you