El Meco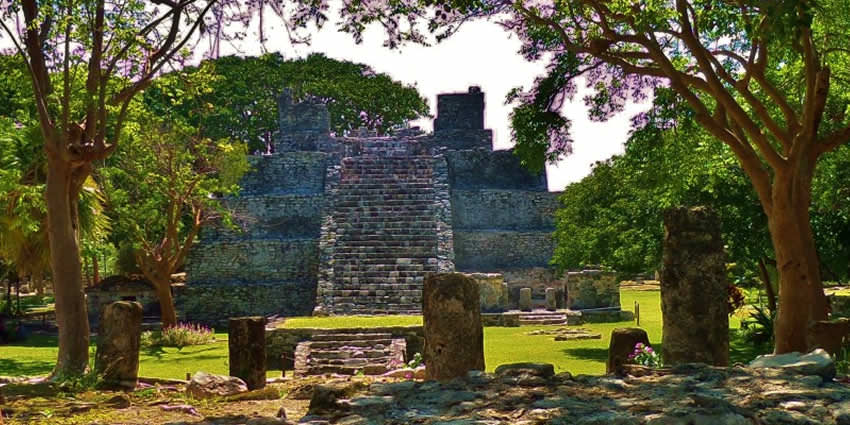 EL Meco Mayan ruins is a site that stands on its own even though it is not the largest of sites. It is located just out of the center of Cancun which makes it easy to visit even though many people skip it to see other places.
El Meco, a small but influential Mayan Archaeological site located in Cancun, was just recently opened to the public. The site is well-preserved and worth a visit. The Itzamna influence is evident in this location.
Serpent heads decorate the Castillo staircase, the highest Mayan pyramid in the Cancun area.
El Meco is famed for its mystical atmosphere and for being a potent energy center. As far back as the third century, the site of El Meco was populated by a fishing community and later became an important Mayan trading post for access to Isla Mujeres in the eleventh century.
Thanks to its location, El Meco grew in population and developed as a religious center.
Visitors to El Meco, Cancun will be impressed by the architectural arrangement of the site as well as its lush surroundings. You will find a ceremonial plaza and town center dominated by "El Castillo," El Meco's main building where there is also a small shrine for offerings.
You can see the structural foundations of many smaller buildings imagining how they would have supported wooden roofs.
El Meco was perhaps first inhabited in the 3rd. a century and then abandoned before being repopulated around the 11th Century. This site no doubt had a deep connection to Isla Mujeres and was an important port.
From the top of the Castillo structure, you can get an impressive view of the surrounding area. This was the tallest structure in the area and could have been an important vantage point to survey incoming ships.
The principal structure is 12.5 m high. That is not too tall, but you try carving out stones and building in the heat and see how far you get.
The influence of Chichen Itza is evident
El Meco has the highest archaeological structure in the northern peninsula (12m) which supports archaeological findings that this location was used for maritime navigation. From the top of the Castillo, one can see the Caribbean Sea, all of Cancun's lagoons, and Isla Mujeres.
It is thought to be the lighthouse of the region.
El Meco had two community risings. Archaeologists believe that this small city was first inhabited in 200 AD and subsequently abandoned around 600 AD. It was during this time the community served as an important civil and ceremonial center.
It depended on Coba for survival.
The second rising and period of prosperity were during the post-classic period. Archaeologists see architectural highlights that resonate with Chichen Itza and the Itzamna.
At the foot of the eastern-facing steps of the Castillo are two well-preserved serpent heads, similar to that found at Chichen Itza.
It was also during this time that nearby settlements, San Miguelito and El Rey worked with El Meco to further develop the Maya inland and sea trade networks. It is assumed the settlement was abandoned upon the arrival of the Spanish but the actual history is unknown.
The most important and impressive structure is the Castillo, with its serpent heads, a small temple at the base, and a view of the sea and surrounding lagoons.
Drive to El Meco taking Av. Bonampak to Av. Portillo Lopez. Turn right into Puerto Juarez, and then turn right when you reach the Port entrance. On your right-hand side is a large sign, albeit covered in vegetation, for El Meco.
There is a small parking lot.
If you are using public transportation to get to Cancun, hop in a taxi at the ADO bus station. To return to the center of Cancun, combis (public vans) frequent Av. Portillo Lopez.
Open daily from 8:00 to 16:30.
The site is semi-shaded which is nice to stay out of the sun for at least half of the time.
It is not really handicap accessible, the grounds are not smooth enough for a wheelchair but easy enough for an elderly person.
If you like iguanas then you are going to love it at El Meco. There are many iguanas that are sunbathing and strolling the site. Don't worry they always stay away from people.
You can dial 078 from any phone, where you can find free information about tourist attractions, airports, travel agencies, car rental companies, embassies and consulates, fairs and exhibitions, hotels, hospitals, financial services, migratory and other issues.
Or dial the toll-free (in Mexico) number 01-800-006-8839.
You can also request information to the email correspondencia@sectur.gob.mx
MORE EMERGENCY NUMBERS:
General Information: 040 (not free)
SNational Emergency Service: 911
Radio Patrols: 066
Police (Emergency): 060
Civil Protection: +52(55)5683-2222
Anonymous Complaint: 089
Setravi (Transport Mobility): +52(55)5209-9913
Road Emergency: 074
Cruz Roja: 065 o +52(55)5557-5757
Firefighters: 068 o +52(55)5768-3700
Use these tags to read more related posts and reviews:
---
Let us know if this article was useful for you