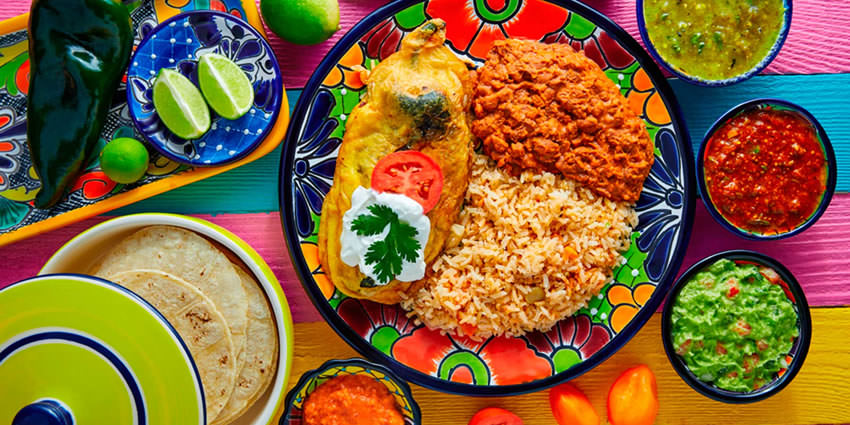 The quintessential Mexican food guide
Mexican food that you must try
Mexican culture consists of a lot of incredibly lavish traditions and festivals, and the landscape of this beautiful country features a warm and tropical climate, but one of the best things about Mexico is undoubtedly its traditional cuisine.
Flavors from around the world have influenced Mexican dishes. Mexican cuisine is the assimilation of many other cuisines including Caribbean, South American, French, West African and Spanish and Portuguese, that's why it's so diverse and variable.
Mexican food is world-famous and goes beyond the traditionally simple food featured in restaurant chains. There is a lot more to Mexican food than simple tacos and burritos and there is so much for tourists in Mexico to experience.
Mexican food is never short on flavor. Almost every Mexican dish comes with a side of serious sauce, from rich moles to pico de gallo and various salsas.
If you are planning your future vacations and thinking of discovering the best of Mexico, from cities and ruins to its delicious cuisine, then here's a list of the Mexican typical dishes that you just can't afford to miss!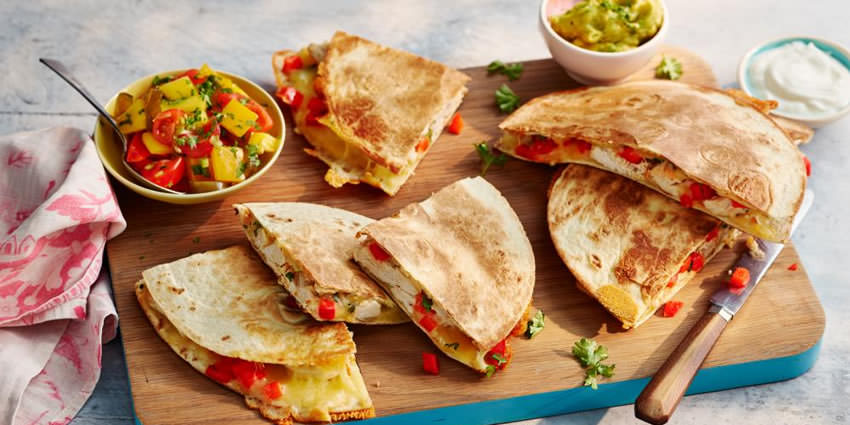 Quesadilla is a crispy, nicely toasted tortilla, filled mainly with special cheese, and sometimes meats, beans, vegetables, spices and then cooked on a griddle.
Traditionally, the Mexicans use a corn tortilla for quesadillas, but it can also be made with a flour tortilla, particularly in northern Mexico.
A full quesadilla is made with two tortillas that hold a layer of cheese between them. A half quesadilla is a single tortilla, filled with cheese and folded in half.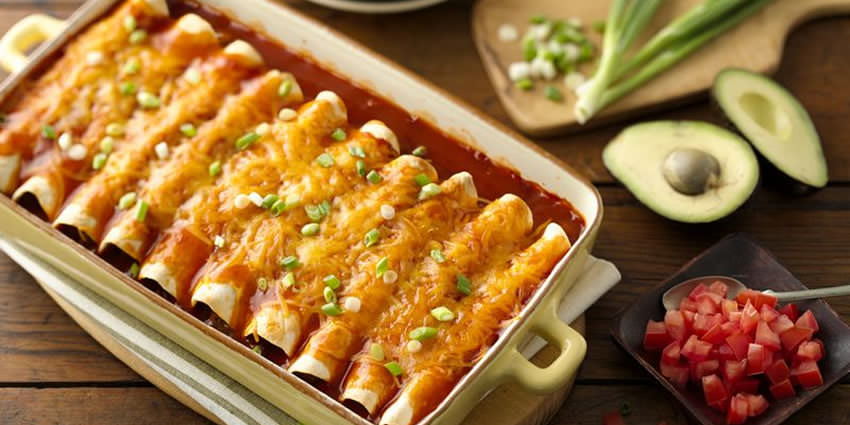 An enchilada is a corn tortilla rolled around a filling and covered with a savory sauce. Enchiladas can be filled with a variety of ingredients, including various meats, cheese, beans, potatoes, vegetables or combinations.
Enchiladas are commonly topped or garnished with cheese, sour cream, lettuce, olives, chopped onions, chili peppers, salsa, or fresh cilantro.
A variety of sauces can also be used to cover the enchiladas, including chile-based sauces, such as salsa roja, various moles, or cheese-based sauces such as chile con queso.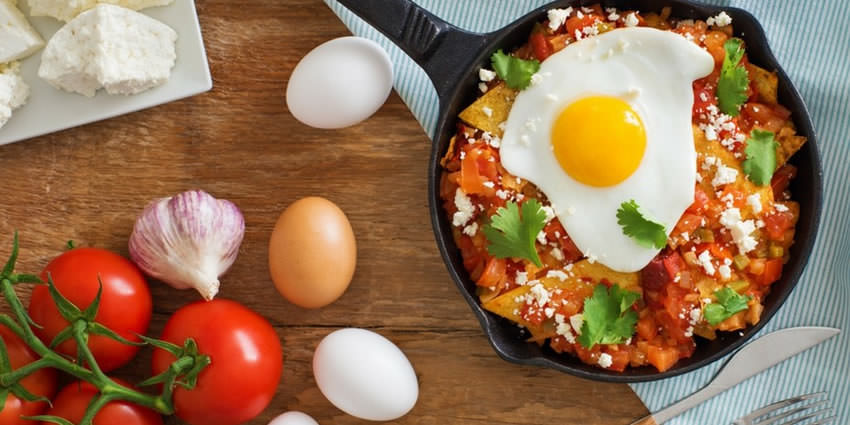 Chilaquiles is a traditional Mexican dish. One of the most popular breakfast dishes in Mexico.
Chilaquiles are lightly fried corn tortillas, cut into quarters and topped with green or red salsa. Pulled chicken is sometimes added to the mix. It is commonly garnished with crema, crumbled fresh cheese, raw onion rings and avocado slices.
Chilaquiles can be served with fried beans, scrambled or fried eggs, beef and guacamole as a side dishes.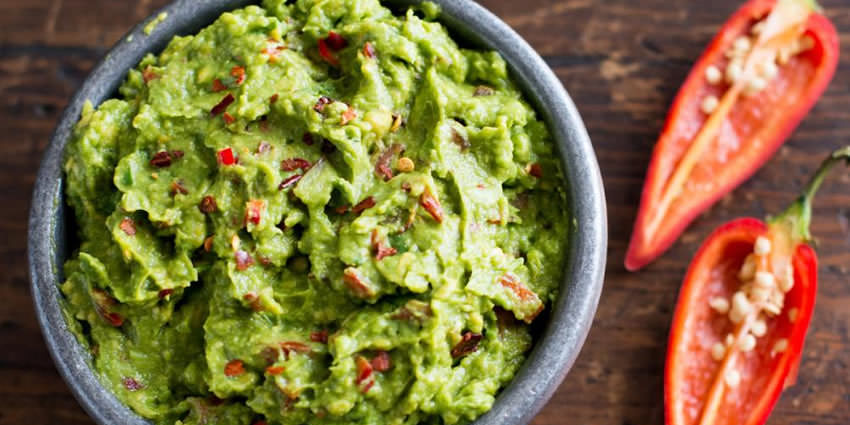 Guacamole is an avocado-based dip, traditionally made by mashing ripe avocados and sea salt. The lime juice, coriander and a very hot green chili pepper ("jalapeños") are often added.
Guacamole is often eaten with tortilla chips or used as a side dish with other starters.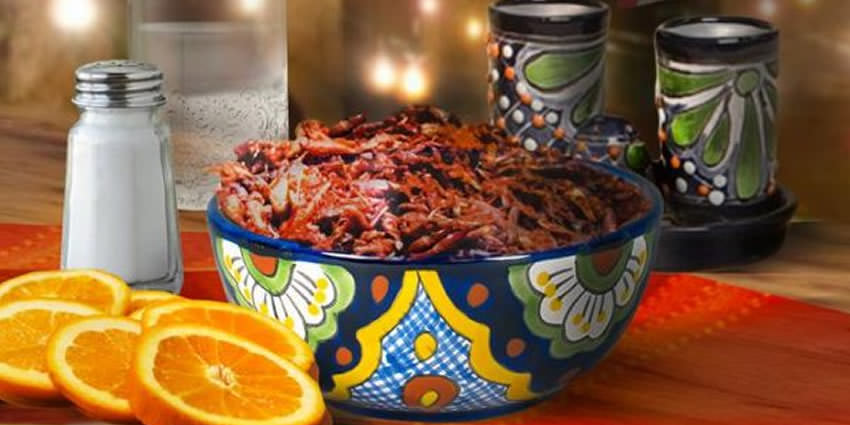 This authentic Mexican delicacy, originated in Oaxaca Region. Locals fill their corn tortillas with deep-fried grasshoppers called here "chapulines". This dish is often seasoned with chilli and lime.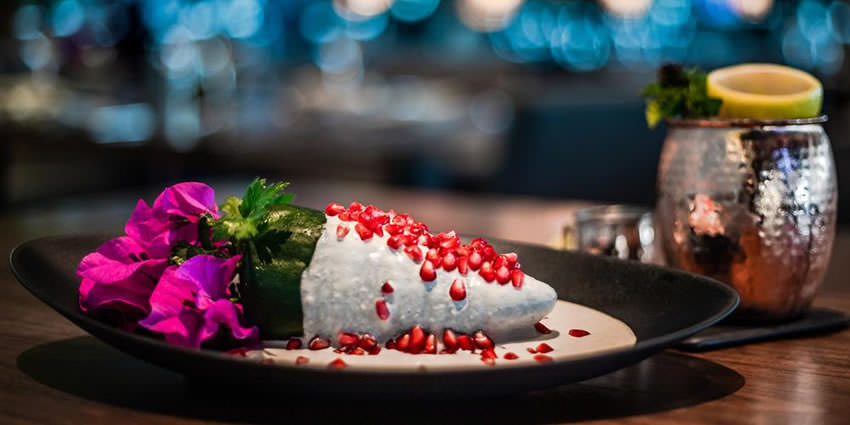 Chiles en nogada is a Mexican dish of poblano chiles stuffed with picadillo (a mixture usually containing shredded meat, aromatics, fruits and spices) topped with a walnut-based cream sauce, called nogada, and pomegranate seeds – thus, gets the three colors of the Mexican flag: green from the chili, white from the nut sauce and red from the pomegranate.
The picadillo usually contains panochera apple (manzana panochera), sweet-milk pear (pera de leche) and criollo peach (durazno criollo).
The traditional season for making and eating Chiles en nogada is August and first half of September when pomegranates appear in the markets of Central Mexico and the national independence festivities begin.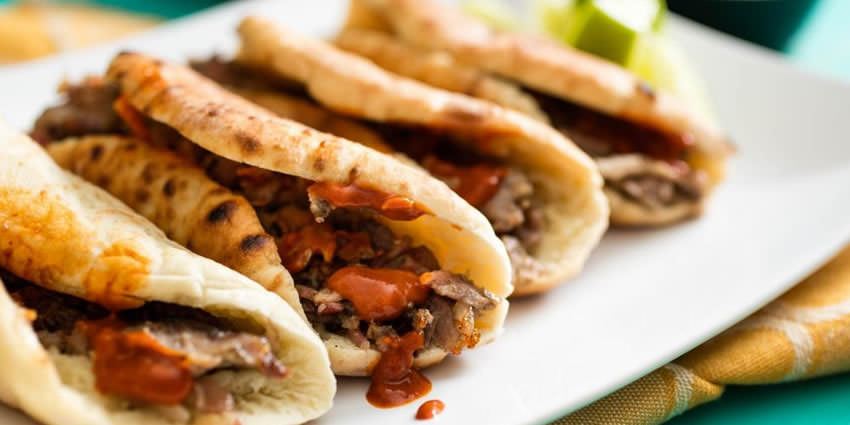 A taco is a traditional Mexican dish consisting of small hand-sized corn or wheat tortilla topped with a filling. The tortilla is then folded around the filling and eaten by hand.
A taco can be made with a variety of fillings, including beef, pork, chicken, seafood, vegetables, and cheese, allowing great versatility and variety.
They are often garnished with various condiments, such as salsa, guacamole, or sour cream, and vegetables, such as lettuce, onion, tomatoes, and chiles.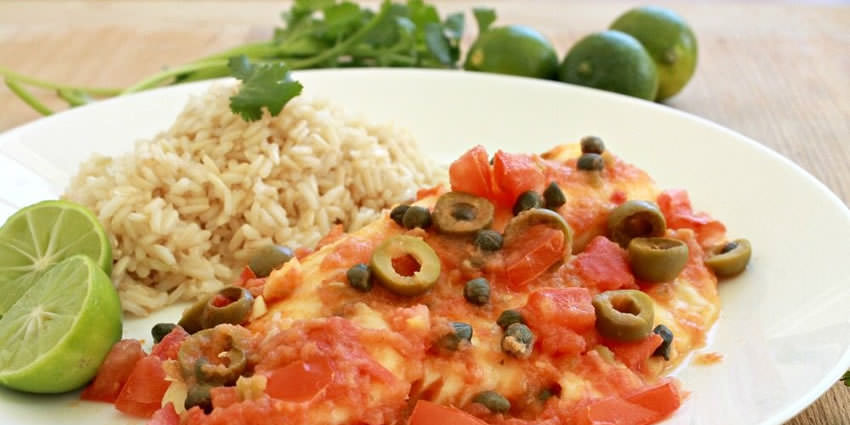 Huachinango a la Veracruzana (Veracruz-Style Red Snapper) is a classic fish dish from Veracruz, Mexico.
It has been called the signature dish of the state of Veracruz. It combines ingredients and cooking methods from Spain and from pre-colonial Mexico. The use of olives and capers give something of a Mediterranean flavor to the dish and shows the Spanish influence.
Traditionally, a whole red snapper is used, gutted and de-scaled and marinated in lime juice, salt, pepper, nutmeg and garlic. A sauce is made of onions, garlic, tomato, jalapeños, olives and herbs, and the fish is baked with the sauce until tender. Capers and raisins may also be used.
The dish cooks in a large skillet over medium-high heat and traditionally served with small roasted potatoes and Mexican-style white rice.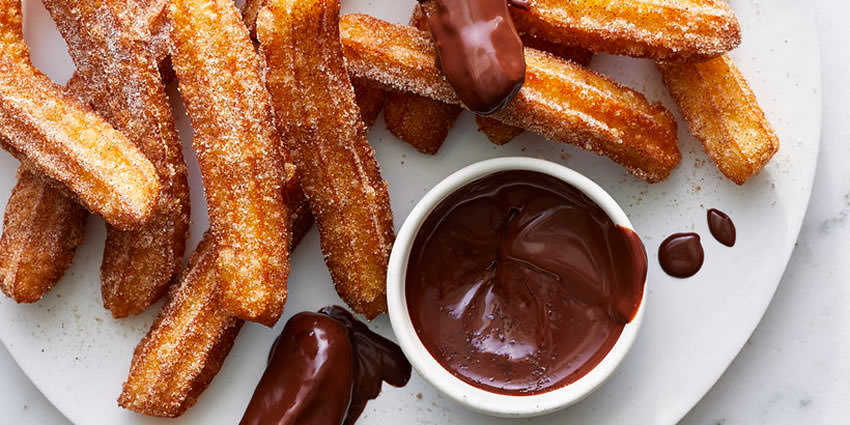 A churro is a fried-dough pastry-based snack. They are normally eaten for breakfast dipping in hot chocolate, dulce de leche or coffee with milk. Churros are often sprinkled with sugar on top.
Churros are fried in hot oil until they become crunchy. The surface of churros is ridged due to having been piped from churrera, a syringe-like tool with a star-shaped nozzle. Churros are generally prisms in shape and may be straight, curled or spirally twisted.
Use these tags to read more related posts and reviews:
---
Let us know if this article was useful for you