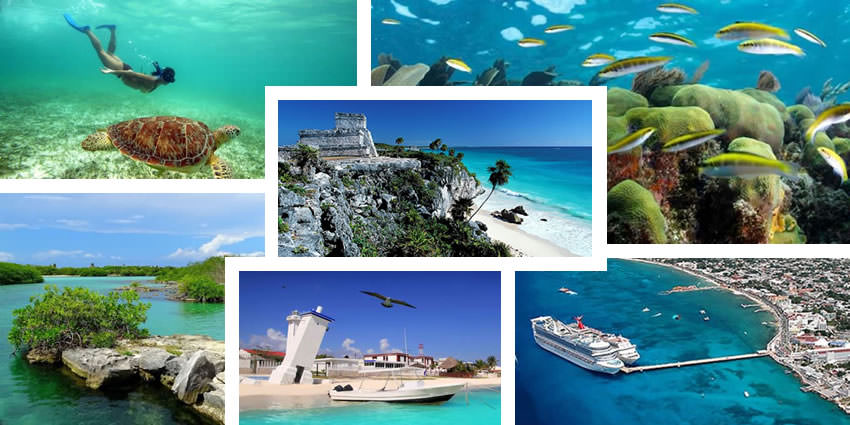 Adventure in Riviera Maya: Playa del Carmen, Tulum & more
The Riviera Maya is the Mexican Caribbean tourist area south of the city of Cancun with more than 100 km of beachline, 400 world-class hotels, beautiful natural landscapes composed of unique cenotes and nature reserves, as well as many attractions for the whole family.
Among the main destinations included in the Riviera Maya are Playa del Carmen, Tulum, Cozumel, and Akumal.
What to do in the Riviera Maya?
Find below the best destinations in the Riviera Maya and what to do in each of them to live an unforgettable adventure.
Playa del Carmen
In Playa del Carmen, you can not only enjoy beautiful beaches, but it is also an ideal destination for shopping on the famous Fifth Avenue, which has duty-free stores, boutiques, and perfumeries with the best brands and items.
You will also find many restaurants with delicious food and hundreds of stalls with handicrafts that you can buy as souvenirs for your trip.
To facilitate your mobility in this destination, a Playa del Carmen Shuttle service can be very useful for touring the area and carrying your purchases without inconvenience to your hotel.
Tulum
Tulum has one of Mexico's most wonderful archaeological sites, as well as beautiful turquoise beaches where you can snorkel, kayak, scuba dive, and much more.
Due to its location, it is recommended to use the Private Shuttle Tulum service if you go there from Cancun Airport.
Cozumel
Cozumel is Mexico's largest island, where you can enjoy great water-related activities, such as snorkeling and scuba diving. It is also an important cruise ship destination. Delight yourself in the beautiful and transparent waters of Cozumel.
To get to Cozumel, keep in mind that it is necessary to take a Ferry from Playa del Carmen, which crosses every hour during the day.
Akumal
Akumal is a small town in a protected area with beautiful beaches and an incredible cove where you can snorkel. This is considered a tropical paradise where you can get away from civilization and enjoy moments of peace and tranquility surrounded by nature.
Recommendations
Here are some main recommendations every tourist should know when visiting the Riviera Maya.
Getting from the airport to your hotel
Cancun International Airport is Mexico's second most important airport, which handles direct flights and connections.
To move from the airport to your hotel, it is advisable to hire a private transportation service or book a Cancun Airport Car Rental, which will be waiting for you upon your arrival at the airport on time.
Cancun Airport is located at Cancun – Chetumal Km 22, 77565 Cancún, Quintana Roo, Mexico.
Make an itinerary
You will probably need many days to get to know the Riviera Maya properly. Therefore, to visit as much as possible, you must make a list of all the most emblematic places in the area that interest you and your companions.
An itinerary will facilitate your trip considerably since you will also be able to study the necessary routes and times not to waste a single second of your trip to the Riviera Maya.
Book your hotel in an accessible area
If you plan to travel to the Riviera Maya and tour the area in a short time, we recommend choosing a hotel in an area accessible to most of the attractions and transportation routes.
However, remember that some hotels are located far from downtown areas, so if you don't have the budget or adequate transportation, it won't be easy to get around, especially if you are traveling in a group.
Use these tags to read more related posts and reviews:
---
Let us know if this article was useful for you