Galeana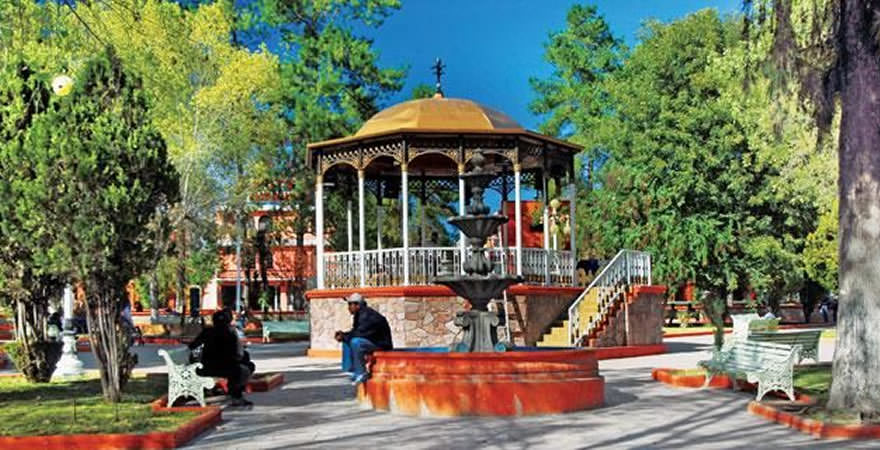 Galeana is both a municipality and a city in the Mexican state of Nuevo León.
Galeana truly works on its future, it has a lot to offer, but it is not very known to tourism yet, they are willing to go the extra mile to make your stay comfortable.
Galeana is a nice little village with a typical square in the center where locals gather and relax. Food stands and ice cream carts are everywhere.
In the streets around the square, you will find shops of any kind. Sometimes they look like shops, sometimes like a garage and many people simply sell from their homes.
Galeana was the birthplace of Mariano Escobedo, a Republican general, a hero of the War of Reform and of the French Intervention.
Galeana is the largest municipality in the state, totaling 7,154.6 km².
Galeana, the municipal seat, is the best developed town in the region. It has services such as hospitals, accommodations, restaurants, bars and the largest drink distributor in the zone. However it remains as a low per-capita income city.
Climate
Climate in Galeana is usually much colder than the rest of the state.
In summer it is pleasantly cool and during winter, temperatures may reach down to -9°C.
Annual average temperature is 17°C, and the average rain precipitation is around 446 mm.
The winter cold blends with a noticeable lack of air humidity.
Predominants winds comes from the north.
Galeana's scarcely populated with less than 40 000 inhabitants.
Galeana named after Hermenegildo Galeana, a lieutenant involved in the country's movement towards independence.
Don Martin Zavala, colonizer of the New Kingdom of León, entrusted General Don Fernando Sanchez de Zamora with the foundation of this land with the purpose of exploiting his agricultural resources. In the year of 1678 he founded the valley of San Pablo de los Labradores.
The first years were populated by Guachichil Indians, headed by a Franciscan missionary. On February 14, 1892, it was erected as a village and on December 28, 1877 as a city.
It was given the name of Galeana in honor of Hermenegildo Galeana, who fought in the War of Independence.
In Galeana you can find some regional food restaurants such as La Casona del General and Plaza Restaurant, there is a gas station, grocery stores, medical services and bus service to Matehuala, Doctor Arroyo and Linares.
The main square stands the church of San Pablo, whose construction dates from the eighteenth century.
The municipality is known for its numerous tourist attractions.
Probably the best known attraction is the Cerro del Potosí (Potosi's Mount), the highest mountain in the whole state, which rises over 3,700 meters above sea level.
In 2000, Cerro del Potosí was legally declared a Natural Protected Area by the State Government. There you can find forests of oyamel, hayarín, pine, oak and strawberry trees. From the top you can see the mountain belt of the Sierra Madre Oriental, as well as the Laguna de Labradores and the Pozo del Gavilán.
The journey on foot or horse to the top of Cerro del Potosi from the ejido San Franscisco de los Blanco is very interesting, and in winter, it gives you snow-covered landscapes.
On the Rayones-Galeana highway lies El Puente de Dios (God's Bridge), a majestic natural archway that lies on top of a small creek. It is a natural arch 15 meters high and 30 wide formed by the action of water, creating high vertical walls and deep precipices. To get there it is necessary to take the dirt road to Rayones. Drive seven kilometers more and take the right at the fork, a kilometer later you will find this natural beauty.
Pozo del Gavilán is an enormous, deep natural cenote, where diverse species live.
The well known as "Pozo del Gavilán", which is approximately 80 meters deep and has a radius of 120 meters. You can hire extreme sports services for activities such as rappelling and kayaking in the turquoise waters of the cenote.
The Laguna de Labradores, in the capital, is a small lake connected to the Pozo del Gavilán. Fishing from the shore or by boat is one of the recurring activities. You can find species such as carp, rainbow trout, catfish, mojarra and robaleta.
The lagoon was formed by faults of the subsoil and has a calculated depth between 200 and 300 meters.
As for gastronomy, stews with Galeana potatoes, roast pork, roast beef and nopales are very famous. It is very common to use chile del monte and chile serrano in the dishes.
Cheeses from cow's milk or goat are produced in their different forms.
In Semana Santa it is tradition that the "chicales" (a stew made with solid corn, red chile and spices) are consumed.
Pumpkin sweets, chilacayote, preserves of peach, apple, plums, figs, burnt milk sweets, among others are made.
One of the most representative drinks is the Chona wine, which is beginning to be distilled in the municipality.7
The famous Galeana potatoes is a variety that is also known as the mountain potato. It is a very small regional potato, which is believed to have existed in the wild since pre-Hispanic times. In Monterrey he is known as Galeana's father, which is the name of the town where he is. It reaches a high cost and is not found all year. It is yellowish pulp and can be eaten peeled or with everything and skin.
The municipal seat is a picturesque town that celebrates two annual fairs: that of St. Paul the Apostle, patron saint, from January 15 to 25. There are processions, pastorelas and pyrotechnics, to conclude with a regional fair. In addition, the Potato and Apple Fair is held from September 15 to 20.
The "Corrido a Galeana" is a characteristic musical theme of the municipality, composed by the Rondalla Magisterial de Galeana.
You can find handicrafts such as ixtle and lechuguilla fabrics, blankets, jorongos and wood carvings.
You can dial 078 from any phone, where you can find free information about tourist attractions, airports, travel agencies, car rental companies, embassies and consulates, fairs and exhibitions, hotels, hospitals, financial services, migratory and other issues.
Or dial the toll-free (in Mexico) number 01-800-006-8839.
You can also request information to the email correspondencia@sectur.gob.mx
MORE EMERGENCY NUMBERS:
General Information: 040 (not free)
National Emergency Service: 911
Radio Patrols: 066
Police (Emergency): 060
Civil Protection: +52(55)5683-2222
Anonymous Complaint: 089
Setravi (Transport Mobility): +52(55)5209-9913
Road Emergency: 074
Cruz Roja: 065 o +52(55)5557-5757
Firefighters: 068 o +52(55)5768-3700
Use these tags to read more related posts and reviews:
---
Let us know if this article was useful for you