Does it ever snow in Mexico?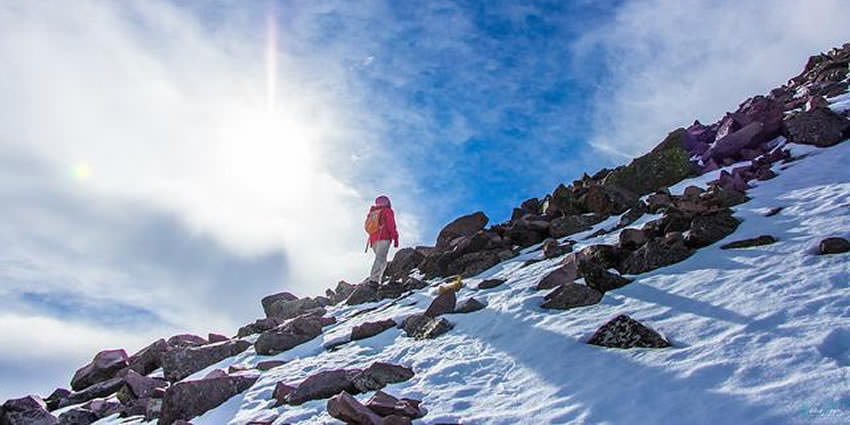 Is it possible to see snow in Mexico?
In total, the climate in Mexico is regarded as pleasant all year long. The climate between May and September is fairly warm and damp, especially in the southern parts of the nation while during the winter, from December to February, temperatures may fall below freezing in some regions.
Each winter, snow in some parts of the northern states, especially at heights above 3,000 meters above sea level, is uncommon in most parts of Mexico, although it snows. It is snowing on heights and volcanoes of hills, where snow can be up to 25 cm.
The vast size of Mexico means that its climate is highly varied and depends on location.
When does it snow in Mexico?
Overall, Mexico's climate is considered pleasant throughout the year. The weather is relatively hot and humid between May and September, especially in the southern parts of the country, while temperatures can drop below the freezing point in some regions during the winter season, which runs from December to February.
Although snow is uncommon in most parts of Mexico, it does snow each winter in some parts of northern states, especially in areas located at altitudes greater than 3000 meters above sea level. It does snow on mountain peaks and volcanoes, where the snow can be up to 25 cm thick.
However, snow is not guaranteed each winter, and some areas receive snow only occasionally, while others receive less than 10 cm of snow. It is relatively common to get snow in certain points of northern states of Mexico, such as in Sonora, Sinaloa, Chihuahua, Nuevo Leon.
Where does it snow in Mexico?
These are possibly the snowiest places that you can access within the country. Pack a tent, blankets, food and warm-up, because the cold in these places is no joke.
Monterreal, Coahuila
The highest ski resort in Mexico is Monterreal, which is located near the city of Arteaga and is often covered by natural snow during winter, especially between December and January. It is one of the few places in the country where it is possible to ski or snowboard.
The area also offers an amazing view of the surrounding Sierra Madre Oriental Mountains. The ski center has two runs: the main slope (230 meters long) and a slope for beginners (45 meters long).
Copper Canyon, Chihuahua
One of Mexico's most stunning natural wonders during the winter season are the snow-clad canyons of Copper Canyon.
To visit this area, your best option is to climb aboard the famous passenger train, Chepe, and observe the dramatic beauty of the Sierra Tarahumara from the windows of this unique travel experience.
This is one of the states in which more snowfalls, especially in the area of the Sierra Tarahumara and the town of Creel, located three hours from the city of Chihuahua.
Creel is the most famous magical town of the Chepe train route that, if you visit it in winter, will show you snowy pines and waterfalls and frozen lakes. It doesn't happen daily, but you could even see it snowing in the mountains.
Mexiquillo, Durango
Mexiquillo is a natural park located west of the state of Durango, in the municipality of Pueblo Nuevo, on the Sierra Madre Occidental. It is the most visited natural site in the state and one of the most attractive.
Every year this forest is filled with frosty trees, abandoned tunnels, and frozen waterfalls. It is the ideal place to admire the snowy landscapes that nature offers. Adventurers and naturalists will revel in climbing and hiking the many trails of Mexiquillo National Park in their winter gear.
Sombrerete, Zacatecas
Sombrereteis an old mining town is full of charm, cobbled streets, picturesque orange quarry buildings and churches that embellish its hills. Snowfall is abundant in December and January, with temperatures of up to 10 degrees below zero.
Situated at over 2300 meters above sea level, this "magic town" is draped in a blanket of white during the last months of the year. The town's colonial buildings offer visitors a winter landscape rarely seen in Mexico.
In winter temperatures range between 0º and 18º. Conditions become more benevolent until the end of February.
The cold climate is due to the elevation of the municipality, although it should be noted that in the highest mining areas the snowfall is constant in the months of December and January and temperatures of up to -10 ° C are recorded.
Nevado de Toluca, State of Mexico
For extreme adventure lovers, there is no better place than the Nevado de Toluca. This stratovolcano, located just a few hours from Mexico City, provides visitors the best winter has to offer. You can find everything from springs with transparent waters and temperate skies to challenging, snowy hikes.
La Malinche (Malintzin)
Located next to the Puebla-Tlaxcala Valley, this national park welcomes mountaineers and hikers all year round, but its beauty is especially notable when it is covered in white.
Popocatépetl and Iztaccíhuatl
There is no doubt that they are two of the greatest natural wonders of Mexico. It is important to remember that, unlike other volcanoes on the list, these are not for beginners – it is better to explore them only if you already have some experience, especially the Popocatepetl.
Pico de Orizaba
The highest mountain in Mexico has some of the most spectacular snowy landscapes, but this adventure is reserved for those who do not suffer from any type of vertigo.
Does it snow in Mexico City?
Although Mexico City is surrounded by large mountain ranges, it does not receive snow. In fact, Mexico City has not experienced snow in 50 years.
Last time it snowed in Mexico City downtown was exactly on January 12th, 1967, more than 50 years ago. That day, the reported snowfall was 5 cm in the city's downtown and main square surrounding areas. The previous time it was snowing just on March 5th, 1940.
On the outskirts of Mexico City, it snows every year on the high elevation mountain peaks and volcanoes about 12 to 25 cm snowfalls.
Use these tags to read more related posts and reviews:
---
Let us know if this article was useful for you