Things to do and places to see in Mexico City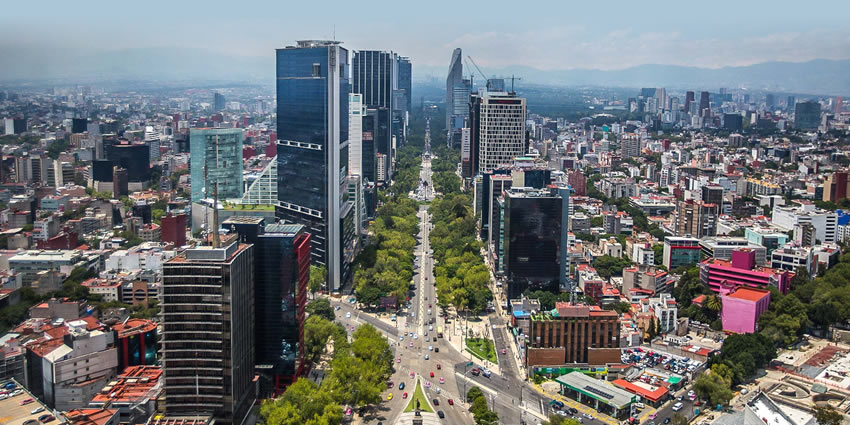 Mexico City, the sprawling metropolis located in the heart of Mexico, is a captivating blend of history, culture, and vibrant energy. This captivating city, often called simply CDMX, is a dynamic tapestry of ancient traditions and modern developments.
With a history that dates back to the Aztec civilization of the 14th century, Mexico City is steeped in rich heritage.
Mexico City proudly showcases its past through awe-inspiring archaeological sites like the Templo Mayor, where visitors can explore the ancient ruins and gain insight into the city's pre-Columbian roots.
This city stands as a testament to the resilience of its people and their ability to thrive amidst changing times.
As one of the most populous urban centers in the world, Mexico City can be described as both chaotic and mesmerizing. Its vibrant streets bustle with activity, as locals and visitors alike navigate through a symphony of sights, sounds, and flavors.
The city's architecture tells a story of its own, with historic buildings coexisting harmoniously alongside modern skyscrapers. Tree-lined streets are adorned with magnificent churches, grand plazas, and ornate colonial-era facades, evoking a sense of wonder and awe.
For culture enthusiasts, Mexico City offers a plethora of world-class museums and art galleries.
The National Museum of Anthropology stands as a tribute to Mexico's diverse indigenous cultures, housing remarkable collections of ancient artifacts and archaeological treasures.
The Frida Kahlo Museum, dedicated to the iconic Mexican artist, invites visitors to explore her vibrant and emotive artwork within the walls of her former home, in Coyoacán, a neighborhood south of Mexico City.
Beyond its cultural offerings, Mexico City is renowned for its culinary scene, which has gained international recognition.
From street food stalls to upscale restaurants, the city tantalizes taste buds with an array of flavors and culinary traditions. Indulge in mouthwatering tacos al pastor, sample rich and aromatic moles, or savor the delicate sweetness of traditional Mexican pastries.
The city's gastronomy is a journey of discovery and an integral part of its identity.
Despite its immense size, Mexico City also boasts numerous green spaces and parks, providing a respite from the urban hustle.
Chapultepec Park, one of the largest urban parks in the world, offers a tranquil oasis where visitors can stroll amidst lush gardens, visit the famous Chapultepec Castle, or enjoy a peaceful boat ride on its serene lakes.
Mexico City's nightlife is legendary, offering a variety of entertainment options to suit every taste. From vibrant cantinas where mariachi bands serenade patrons, to trendy clubs and bars that come alive after dark, the city's nightlife scene pulses with energy and excitement.
Mexico City is a captivating destination that seamlessly blends its rich history with the vibrancy of modern life.
From its ancient roots to its bustling streets, this metropolis captivates visitors with its architectural marvels, world-class museums, flavorful cuisine, and lively atmosphere.
Mexico City offers a multifaceted experience that leaves a lasting impression on all who have the opportunity to visit it.
Explore the Historic Center of Mexico City
At the heart of the city, you'll find the Zócalo, which includes the Templo Mayor, Palacio Nacional, and Plaza de la Constitución.
The Templo Mayor was an Aztec temple destroyed to make way for the Spanish cathedral. Today, you can see ancient artifacts and beautiful Spanish colonial architecture at La Catedral Metropolitana.
Exploring this area is a great way to learn about Mexico City's culture and history.
Explore Templo Mayor
Mexico City is filled with historical landmarks, and one of the most significant ones is Templo Mayor. Located in the Historic Centre of Mexico City, Templo Mayor is a glimpse into life during the Aztec period.
The Aztecs considered this area to be the center of the universe and the birthplace of Mexico's national symbol, the eagle perched on a cactus with a snake in its beak.
Visit the site and museum, where you'll see ancient artifacts and learn about Mesoamerican civilization.
Visit Chapultepec Park and Chapultepec Castle
This enormous park covers 1,695 acres and offers various attractions such as a zoo, an amusement park, and 9 different museums. Chapultepec Park is one of the world's most popular urban parks.
You can spend days walking along forest paths and enjoying the lakes in Chapultepec.
Don't miss the Museum of Anthropology, which displays sculptures, jewels, and artifacts from ancient Mexican civilizations.
You can also rent a boat and explore Chapultepec Lake.
For history enthusiasts, a visit to Chapultepec Castle, the former home of Emperor Maximilian I and Empress Carlota, is a must.
Discover the Museum of Anthropology
This museum is a treasure trove of ancient Mexican civilizations.
Admire the extensive collection of sculptures and artifacts that provide insight into the country's rich history. This museum is a must-visit for those interested in learning about Mexico's indigenous cultures and their contributions to art and civilization.
Mexico City is home to numerous art and history museums.
Don't miss the National History Museum, Modern Art Museum, National Art Museum, and Museo do Arte Popular, which showcases Mexican folk art. These museums offer vast collections and provide a glimpse into the city's cultural richness.
Enjoy the Zona Rosa's Dining Scene
Zona Rosa is a popular neighborhood in Mexico City known for its vibrant nightlife and diverse dining options. Historically, it has been the center of the city's gay community. You'll find a wide range of bars, restaurants, and nightclubs here.
Don't miss places like Cafetería El Péndulo, Xaman Bar, and Cabaretito Fusión. If you're in the mood for a Korean barbecue, head to BiWon, as the neighborhood also has a significant Korean community.
Experience Xochimilco
Xochimilco is a neighborhood famous for its network of canals. Take a colorful trajinera boat and float along the canals, enjoying the festive atmosphere of the place.
You can also hire a mariachi band to accompany your ride and even buy food and drinks from floating vendors. Xochimilco offers a unique and lively experience that showcases traditional Mexican culture.
Explore Frida Kahlo's House
Visit the "Casa Azul," the former home of renowned Mexican artist Frida Kahlo and her husband Diego Rivera.
Explore the rooms where Frida lived and see some of her original artwork. The Casa Azul also hosts monthly artistic workshops, so be sure to check the schedule if you're interested.
Tickets are in high demand, so it's recommended to purchase them in advance.
Visit the Biblioteca Vasconcelos
Set amidst beautiful gardens, the Biblioteca Vasconcelos is an impressive library often referred to as a "mega library". Opening its doors in 2006, it features transparent walls, six floors, and houses over 600,000 books.
The library also hosts cultural activities such as concerts, plays, and dance performances.
Don't forget to explore the 26,000-square-meter garden filled with trees and plants. Admission is free, and you can check the website for any special events happening during your visit.
Explore the Basilica de Guadalupe
The Basilica de Guadalupe is a famous Catholic church and shrine that attracts thousands of pilgrims each year from all over Mexico. Visit the basilica and shrine, which were built on the spot where the Virgin of Guadalupe appeared to Juan Diego in 1531.
The old basilica, constructed from 1695-1709, began to sink, leading to the construction of the new basilica from 1974-1976. Remember to dress respectfully during your visit, as it is a place of worship.
Marvel at the Soumaya Museum
The Soumaya Museum is a remarkable art museum housing a collection of 66,000 pieces from Central America and Europe. It showcases works by famous artists such as Diego Rivera, Rufino Tamayo, Botticelli, Dalí, and Rodin.
The museum considered the most beautiful modern building in Mexico City, was donated and constructed by Mexican business magnate Carlos Slim Helú. The stunning building features 16,000 aluminum hexagonal tiles. Admission is free.
Attend a Lucha Libre Show
Lucha libre, Mexican free wrestling, is a popular local pastime. It's a highly entertaining and affordable experience where you can watch wrestlers perform acrobatic moves and engage with the enthusiastic crowd.
Grab a beer or a shot of tequila, and get ready to cheer (or jeer) in Spanish. Remember not to look away during the match, as unexpected surprises often occur. Look for ticket booths with signs saying "tequila" to ensure you're paying the correct price.
Visit the UNAM Botanical Garden
If you need a break from the bustling city, the Botanical Garden at the National Autonomous University of Mexico offers a serene escape. Inspired by Aztec garden traditions, the garden focuses on conservation and environmental education.
Explore the naturally formed grottoes, ponds, and waterfalls, which were created around lava formations from the Xitle volcano eruption.
The garden boasts an impressive collection of cacti (800 different kinds), ponds with koi and turtles, an orchidarium, and a medicinal garden. Keep an eye out for various wildlife species. Admission is free.
1 USD = approx. 17-19 MXN (2023)
When it comes to accommodation, Mexico City offers a range of options to fit different budgets. Hostels are a popular choice among backpackers, with prices starting at around 300 MXN per night for a bed in a dormitory.
Private rooms for two people range from 600 to 1,900 MXN per night. Budget hotels are another option, with two-star rooms starting at around 300 MXN and three-star hotels ranging from 500 to 900 MXN per night.
If you prefer the comfort of an Airbnb, prices for private rooms typically start at 220 MXN per night, while entire homes and apartments start at 700 MXN. It's recommended to book in advance for better deals.
When it comes to food, Mexico City is a haven for gastronomic delights. Street stalls and markets offer authentic and affordable options. Tacos, quesadillas, sopas, and tortas are typically priced between 15 and 45 MXN.
For a cheap meal at a restaurant, you can expect to spend around 150 MXN. Look for local establishments filled with locals for the best culinary experiences. Fast food options like McDonald's cost around 130 MXN for a combo meal, while pizza starts at 400 MXN.
If you're a coffee lover, a latte or cappuccino will cost around 55 MXN. It's important to note that tap water is not safe to drink in Mexico City, so using a portable water purifier or opting for bottled water is recommended.
If you plan to cook your own meals, grocery costs can range from 500 to 585 MXN per week for essentials such as rice, vegetables, chicken, tortillas, and beans.
Considering the affordability and variety of street food, it's often more convenient to indulge in local delicacies rather than cooking.
Mexico City Travel Guide: Money-Saving Tips
Mexico City offers many opportunities to save money and keep your budget intact. Here are some tips:
Eat street food: Enjoy affordable and delicious meals by trying the street food at markets or from local vendors. Look for places where you see children eating as an indication of quality and safety.
Stay with a local: Consider using Couchsurfing to stay with locals who offer free beds or couches. It not only reduces your accommodation costs but also allows you to connect with locals and gain insider tips.
Join a free walking tour: Take advantage of free walking tours to learn about the city's history and must-see sights. Estacion Mexico Free Tours offers a historic downtown tour that can provide valuable insights.
Opt for rideshares: Use Uber instead of taxis for transportation as it tends to be cheaper and more convenient.
Drink less at bars: While alcohol is affordable in Mexico City, it can add up quickly if consumed at bars and clubs. Consider purchasing your alcohol from local stores for a more budget-friendly option.
Utilize public transit: Take advantage of the city's public transportation system, which is cost-effective and efficient. Get a rechargeable Smartcard to use on the metro and metro buses.
Bring a water filter: Since tap water is not safe to drink, save money on bottled water and reduce plastic waste by using a water bottle with a built-in filter, such as LifeStraw, to ensure clean and safe drinking water.
By implementing these money-saving tips, you can make the most of your visit to Mexico City without breaking the bank.
1 USD = approx. 17-19 MXN (2023)
For backpackers, a daily budget of around 1,050 MXN is reasonable. This budget covers accommodation in a hostel dorm, street food, and self-cooked meals, public transportation, and a few daily attractions such as museums and galleries.
If you plan to dine out more frequently or enjoy drinks, adding an extra 100 MXN per day is recommended.
On a mid-range budget of approximately 1,900 MXN per day, you can upgrade to a private hostel room or Airbnb, enjoy meals at cheap traditional restaurants, visit more attractions, indulge in a few drinks, and occasionally take taxis for transportation.
With a "luxury" budget of 3,800 MXN or more per day, you can stay at a hotel, dine out for all your meals, enjoy ample drinks, rely on taxis for transportation, and participate in guided trips and tours.
It's important to note that the sky's the limit when it comes to luxury in Mexico City, and budgets can exceed this starting point.
Getting around Mexico City is made easy with several transportation options:
Public transportation: The subway system, known as the metro, is the best way to navigate the city efficiently. Despite being busy and crowded, it offers a convenient mode of transport.
Purchase a rechargeable smart card at any metro station for 16 MXN, which includes the first 5 MXN tickets.
This card can be used for both the metro and metro buses. City buses are another option, with a fare of 6 MXN per ride. Additionally, microbuses, privately-run vehicles, are available at a cost of 2.50-4 MXN per ticket.
Turibus: Turibus is a popular hop-on hop-off tourist bus with four routes in Mexico City. It provides an opportunity to familiarize yourself with the city and explore areas of interest. A 1-day ticket on weekdays costs 160 MXN, while on weekends it is priced at 180 MXN.
Bicycles: EcoBici is a bike-sharing program that offers rentals in Mexico City. The first 45 minutes of use are free, with subsequent hours charged at 25 MXN per hour and an additional 50 MXN for each subsequent hour. A full day of bike rental costs 118 MXN.
After your ride, you can return the bike to any kiosk with an available dock, indicated by a green light.
Taxis: Taxis are readily available in Mexico City, and fares start around 25 MXN with an additional 16 MXN per kilometer.
It's advisable to take taxis from designated taxi stands outside hotels or restaurants, as these are authorized and considered safer than hailing a taxi on the street.
Ride-sharing: Uber operates in Mexico City and is a convenient and often cheaper alternative to traditional taxis.
Car rental: Driving in Mexico City can be challenging due to heavy traffic and aggressive drivers. It is generally not recommended unless necessary. If you choose to rent a car, prices range from 800 to 900 MXN per day for multi-day rentals.
To find the best car rental deals, consider using Discover Cars.
By utilizing these transportation options, you can easily navigate Mexico City and explore its various attractions and neighborhoods.
Deciding when to visit Mexico City depends on your preferences and the festivals you'd like to experience. Here are some details about different seasons and celebrations:
Summer (June to October): Mexico City experiences its rainy season during these months, especially in the central part of the country.
While heavy downpours occur daily, they are usually brief. In the northern region, rainfall is minimal, while high humidity is prevalent in the south and coastal areas. Temperatures range from 26 to 32°C.
April to June: These months are typically the hottest, with average temperatures reaching a high of 27°C. It's worth noting that this period is also one of the busiest times for tourism, so it's advisable to book accommodations well in advance.
Semana Santa: One of Mexico's most significant holidays, Semana Santa (Holy Week) occurs the week before Easter.
During this time, a re-enactment of the crucifixion takes place. It's a popular time for travel, and if you plan to visit Mexico City during Semana Santa, be prepared for larger crowds and higher demand for accommodations.
Día de la Independencia: Celebrated on September 16th, Día de la Independencia is Mexico's Independence Day. Festivities begin the night before in Mexico City's Zócalo, featuring fireworks and vibrant celebrations.
It's essential to note that this is Mexico's independence day, distinct from Cinco de Mayo, which commemorates the Battle of Puebla and is celebrated more prominently in the state of Puebla, south of Mexico City.
Día de Muertos (Day of the Dead): In November, Mexico comes alive with the vibrant celebrations of Día de Muertos. During this time, locals honor their deceased loved ones through all-night vigils, visits to cemeteries, and the creation of intricate sugar skulls.
Mexico City hosts memorable festivities, including parties and parades. It's highly recommended to book accommodations well in advance if you plan to visit during this time, as the city tends to fill up quickly, and prices may rise.
Consider your preferred weather, tolerance for crowds, and interest in specific festivals when planning your visit to Mexico City.
Ensuring your safety while visiting Mexico City is essential. While media coverage may portray the city as dangerous, the reality is that many areas are safe for tourists. Petty theft, such as bag snatching, is common, so it's important to remain vigilant.
Avoid neighborhoods like Tepito and Iztapalapa known for higher crime rates, and be cautious in crowded markets where pickpockets may target unsuspecting individuals. Blend in with the locals and keep your valuables secure and out of sight.
Engage with locals who are often friendly and helpful. If you have concerns about a particular neighborhood, seek advice from locals who can provide insights into its safety.
Mexico City comes alive at night, with bustling streets and people around. This presence of activity can contribute to a safer environment as there are more eyes watching out for potential crime.
Areas like Condesa, Roma Norte, and Juarez are generally safe for tourists, but it's always wise to exercise caution and follow standard safety precautions, especially when walking alone at night.
Solo female travelers can feel relatively safe in Mexico City, but it's advisable to take extra precautions, especially at night. Follow common safety guidelines such as avoiding walking alone while intoxicated and never leaving drinks unattended.
Many solo female travel blogs offer specific tips for added security.
Be aware of common scams that target tourists, such as fake ATMs, taxis without meters, and questionable tour operators. Stay alert and exercise caution when dealing with unfamiliar services.
In case of emergencies, dial 911 for immediate assistance.
It's important to note that tap water in Mexico City is not safe to drink. To avoid single-use plastic bottles, consider using a LifeStraw or other water filtration system to purify your water and ensure its safety.
Always trust your instincts and be mindful of your surroundings. Avoid isolated areas, especially at night. Make copies of your important documents, including your passport and identification.
Lastly, obtaining comprehensive travel insurance is highly recommended.
Travel insurance provides coverage for medical emergencies, theft, cancellations, and other unforeseen events. It offers peace of mind and protection in case of any unfortunate incidents during your trip.
Use these tags to read more related posts and reviews:
---
Let us know if this article was useful for you