Things to see and to do in Cancun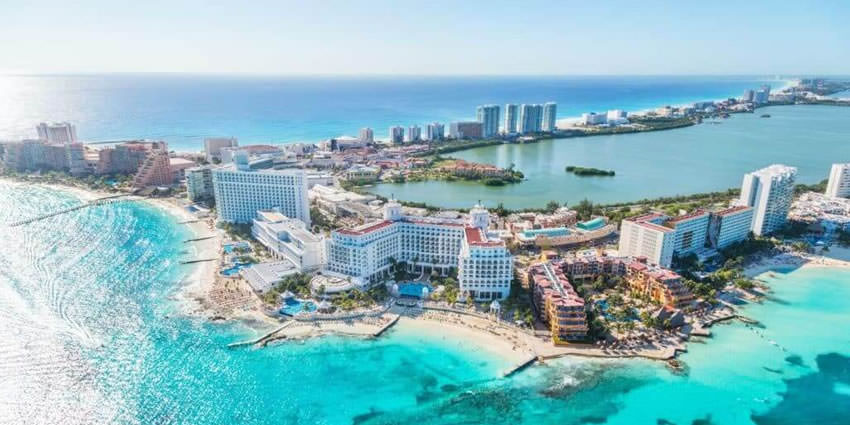 Cancun, located on the eastern coast of the Yucatan Peninsula in Mexico, is a vibrant destination that offers a mix of luxury, entertainment, natural wonders, and cultural experiences.
While Cancun may be known for its luxurious resorts, party atmosphere, and popularity among spring breakers, there is much more to discover beyond the touristy facade.
Venturing beyond the main resort area, you'll encounter the true essence of Cancun.
Cancun is home to warm and welcoming locals who are proud of their heritage and eager to share their culture. Engaging with the locals allows you to immerse yourself in the authentic Mexican experience and gain insights into their traditions and way of life.
One of the highlights of Cancun is undoubtedly the food. The local cuisine is a tantalizing fusion of traditional Mayan flavors, Caribbean and international influences.
From street food stalls serving mouthwatering tacos and tamales to upscale restaurants offering a contemporary twist on Mexican classics, the culinary scene in Cancun is a true delight for food enthusiasts.
Don't miss the chance to savor fresh seafood dishes, zesty salsas, and refreshing margaritas, all while indulging in the vibrant atmosphere of local markets and eateries.
Beyond the city limits, Cancun boasts an abundance of natural beauty. The region is home to stunning white-sand beaches lapped by turquoise waters, providing an idyllic setting for relaxation and water-based activities.
Whether you're interested in sunbathing, swimming, snorkeling, or scuba diving, Cancun's crystalline Caribbean Sea offers an array of opportunities for aquatic adventures.
For those with an appreciation for history and archaeology, Cancun is a gateway to the ancient Mayan civilization. Within easy reach, you'll find renowned archaeological sites such as Chichen Itza, Tulum, and Coba.
These awe-inspiring ruins offer a glimpse into the fascinating world of the Mayans. Exploring these sites provides a deeper understanding of Mexico's rich history and the remarkable achievements of this ancient civilization.
In addition to the Mayan ruins, Cancun is also known for its cenotes. These natural sinkholes, formed by the collapse of limestone bedrock, are scattered throughout the Yucatan Peninsula.
Cenotes offer a unique opportunity to swim in crystal-clear freshwater surrounded by lush vegetation and stunning rock formations. It's a chance to connect with nature and experience the mystical beauty of these hidden gems.
While it's true that the main tourist areas of Cancun can be bustling and cater to a specific crowd, the city has much more to offer to those willing to explore. Beyond the stereotypical vacation experience, you'll discover a city brimming with history, culture, and natural wonders.
So, take the time to venture beyond the resorts, interact with the locals, sample the flavorsome cuisine, and delve into the rich heritage of Cancun. With careful planning and an open mind, you'll unlock the true gems of this gorgeous slice of Mexico.
When visiting Cancun, there are several exciting activities and attractions that you shouldn't miss. To start off, immerse yourself in the local culture by exploring the downtown area.
Shop at Market 28
Visit Mercado 28 (Market 28) in Cancun, there is everything that a typical community in Mexico can offer, but what distinguishes it from any other is that you will also find other types of products, complementary to your vacations.
This means that it is possible from buying fresh fruits and vegetables for souvenirs, clothing, and accessories, specifically in Plaza Bonita, located inside the market.
This vibrant market is brimming with colorful stalls offering a wide variety of crafts, including leather goods, silver jewelry, pottery, glassware, artwork, and traditional Mexican blankets. It's the perfect place to find unique souvenirs to take back home.
Go clubbing
After a day of shopping, Cancun's renowned nightlife awaits. Head to the Hotel Zone, known as "party central," where you'll find an array of clubs and bars. Cancun's nightlife scene is famous worldwide, and you can dance the night away to the beats of top DJs.
Popular venues such as Coco Bongo, La Vaquita, and Grand Mambo Cafe are sure to provide an unforgettable party experience.
Hit the SPA
If relaxation is on your agenda, indulge in a spa day in Cancun. The city is known as a top spa destination, offering a wide range of treatments and package deals. Consider trying an ancient Mayan healing session or opt for a classic massage.
Temazcal Cancun is renowned for its temazcal experiences, which involve a traditional sweat lodge ritual with a temazcalero guide, volcanic stones, medicinal herbs, and cleansing teas.
It's a unique and rejuvenating experience that lasts 2-3 hours and costs 1,170 MXN.
Visit Museo Maya in Cancún
For history enthusiasts, a visit to the Museo Maya de Cancún is a must. Located near the Centro de Convenciones, this museum showcases around 400 artifacts from significant Mayan sites across the Yucatan Peninsula and Mexico.
It provides valuable insights into Mayan culture and history, allowing visitors to delve into the rich heritage of the region. The admission fee of 70 MXN also includes access to the San Miguelito Archaeological Zone, where you can explore Mayan ruins.
Cancun Underwater Museum
Don't miss the opportunity to dive into the underwater world of Cancun by visiting the Cancun Underwater Museum. This unique museum, known as the Museo Subacuático de Arte, features over 500 submerged sculptures in the Cancun National Marine Park.
The sculptures act as platforms for coral growth, aiding in the regeneration of the damaged ecosystem. You can experience the magic of the underwater museum through snorkeling, scuba diving, or glass-bottom boat tours.
The snorkeling tours cost around 965 MXN and offer an unforgettable glimpse into the beauty beneath the surface.
With its diverse offerings, ranging from shopping and nightlife to spa experiences, history, and underwater wonders, Cancun truly has something for everyone. Enjoy your time exploring this captivating destination!
Relax on Isla Mujeres
Escape the hustle and bustle of Cancun with a short ferry ride to Isla Mujeres, also known as "Women's Island." This charming island, once a fishing village, maintains its tranquil atmosphere while being home to around 23,000 residents.
Here, you can engage in various enjoyable activities such as kayaking, fishing, sailing, and even swimming with sharks. The crystal-clear waters of the Caribbean Sea offer fantastic opportunities for snorkeling and scuba diving, where you can explore vibrant marine life.
Don't miss the chance to witness baby sea turtles hatching, as the island serves as a nesting ground for these adorable creatures.
Visit Tulum
Situated 136 kilometers away from Cancun, Tulum is a captivating destination that was once a vital Mayan port city. The highlight of Tulum is its impressive Mayan ruins, perched on 12-meter cliffs overlooking the picturesque Caribbean Sea.
While the ruins attract numerous tourists, the town of Tulum itself offers its own allure with its stunning beaches, opportunities for surfing, bustling markets, and affordable local cuisine.
A convenient and affordable option to reach Tulum from Cancun is by taking a bus, which costs around 196 MXN.
The entrance fee to the ruins is 85 MXN.
Explore the cenotes
Cancun is blessed with an abundance of natural wonders, including some of the world's most captivating underwater cenotes. These natural sinkholes expose fresh groundwater and form an intricate network of cavern systems.
The Yucatan Peninsula is renowned for its cenotes, which held great significance for the ancient Maya civilization. Notable cenotes near Cancun include Cenote Azul, Cenote Ik Kil, Gran Cenote, and Cenote Zahil Ha.
These stunning sites are easily accessible within a two-hour drive from the city, offering opportunities for swimming, snorkeling, and exploring their unique ecosystems. Each cenote has its own entrance fee, ranging from 150 MXN to 500 MXN.
Go diving
As Cancun lies along the Great Mesoamerican Reef, the largest reef in the western hemisphere, it is a paradise for diving enthusiasts, allowing you to discover the vibrant underwater world and create unforgettable memories.
The area boasts over 100 types of coral and more than 160 species of reef-dwelling fish. With the added presence of five different sea turtle species, diving in Cancun provides an incredible opportunity to observe local marine wildlife up close.
A two-tank dive typically costs around 2,700 MXN per person.
Swim with whale sharks at Isla Contoy
Embark on an exciting day trip from Cancun to Isla Contoy, a pristine island nature reserve featuring stunning beaches and a remarkable array of over 100 bird species. Isla Contoy is also famous for being a gathering place for majestic whale sharks.
Despite their massive size, reaching up to 15 meters in length, these gentle giants pose no threat to humans. With limited daily visitors (only 200 people allowed on the island), you can enjoy an intimate experience with nature.
Book a tour through a reputable agency like Contoy Adventures, offering whale shark encounters for 3,260 MXN. The tours operate between May 20th and September 17th, providing a unique opportunity to swim alongside these magnificent creatures.
Explore Chichén Itzá
Uncover the ancient wonders of Chichén Itzá, a remarkable Mayan ruin dating back to 550 CE. This archaeological site once housed an estimated population of 35,000, making it the most populous city in the Yucatan Peninsula during its heyday.
Chichén Itzá's strategic location near the Xtoloc cenote, an underground freshwater source, played a crucial role in its development. Today, it stands as one of Mexico's largest and most renowned Mayan sites, recognized as one of the New Seven Wonders of the World.
Wander through the ruins, spanning 5 square km, where you'll discover ancient temples, intricately carved columns, tombs, and even ball courts. At the heart of the site stands the iconic El Castillo pyramid, an impressive structure towering meters into the sky.
Admission costs 571 MXN, granting you a captivating glimpse into the rich history of the Mayan civilization.
1 USD = approx. 17-19 MXN (2023)
Accommodation
Hostels in Cancun are plentiful and affordable. Prices range from around 280 MXN for a 6-person dorm room, to a more realistic price of around 450 MXN. Private rooms start at 1,000-1,500 MXN for two people. Most hostels offer free Wi-Fi and breakfast.
Budget hotels are also available, with prices starting at around 600 MXN per night for a double room. You can find 3-star hotel rooms for as low as 950 MXN per night, which usually include a private bathroom, Wi-Fi, and breakfast.
Airbnb options in Cancun include private rooms averaging around 590 MXN per night, although you can find some as low as 300 MXN per night. Entire homes or studio apartments start from 800-1,500 MXN per night.
It's advisable to book in advance for the best deals.
Food
Mexican cuisine in Cancun offers a variety of dishes featuring rice, beans, fruits, and vegetables like tomatoes, corn, avocado, and peppers. Popular Mexican dishes include tacos, salsa, enchiladas, tamales, pozole, and guacamole.
Street stalls and markets are the best places to find authentic and affordable food. Street foods such as tacos, quesadillas, sopas, tortas, and more typically range from 15-45 MXN, with some tacos available for as low as 10 MXN.
Street food is not only affordable but also delicious, and it's safe to eat where locals are eating.
The cost of a beer in Cancun is around 30 MXN, but it can be double that price at a restaurant.
Restaurants located in the Hotel Zone or near the beach cater mainly to tourists and tend to be expensive. Expect to pay 500 MXN or more for a meal in these establishments.
Closer to downtown Cancun, you'll find a variety of restaurants offering dishes priced between 120-300 MXN. Options range from sushi joints and cafes serving bagels, pizza, and pasta, to Indian, Middle Eastern, and French cuisine.
Tap water in Mexico is not safe to drink. It's advisable to bring a portable water purifier or use bottled water (LifeStraw makes a good one).
If you plan to cook your own meals, groceries can cost between 500-585 MXN per week.
This budget allows for staples like rice, vegetables, chicken, tortillas, and beans. However, given the affordability of street food and the limited kitchen facilities in most hostels and hotels, it's often more convenient and economical to eat locally.
Money-Saving Tips
Opt for street food and local restaurants that cater to locals, as they offer the most authentic and affordable dining experiences. Also, consider visiting Cancun during the off-peak season to take advantage of significantly cheaper accommodation rates.
1 USD = approx. 17-19 MXN (2023)
Backpacking in Cancun with a budget of 1,000 MXN per day can cover a hostel dorm, street food, self-cooked meals, public transportation, and activities such as snorkeling and beach enjoyment.
If you plan on drinking alcohol, it's recommended to add an additional 100-300 MXN per day, depending on your preference for partying.
A mid-range budget of 1,800 MXN per day allows for private Airbnb accommodation, dining at affordable local restaurants, a few drinks, occasional taxi rides, and paid activities such as cooking classes or museum visits.
A "luxury" budget of 3,800 MXN or more per day provides the opportunity to stay in a hotel, dine out at various establishments, enjoy plenty of drinks, utilize taxis or car rentals, and indulge in guided food or mezcal tours.
This budget can be adjusted depending on your desired level of luxury.
Cancun offers various transportation options to help you navigate the city and explore the surrounding areas. Here are the different ways to get around in Cancun:
Public Transportation
The bus system in Cancun is efficient and operates 24 hours a day.
Bus fares are affordable, usually around 8.50 MXN per ride. It's recommended to have exact change as drivers might not be able to break large bills. Buses provide a convenient way to travel within the city and to nearby attractions.
Taxis
Taxis in Cancun are not metered, but a general guideline for city-center travel is around 30 MXN. However, taxi fares can quickly add up and become expensive, so it's advisable to consider other transportation options unless necessary.
Ridesharing
Uber operates in Cancun and is often a more cost-effective option compared to traditional taxis. Taking an Uber from the hotel zone to downtown Cancun, for example, can cost around 198 MXN.
Ridesharing services offer convenience and the ability to estimate fares in advance.
Bicycles
While Cancun may not be the most bicycle-friendly city, you can still rent bicycles if you prefer to explore on two wheels. Bike rentals typically range from 220-350 MXN per day.
Keep in mind that cycling conditions and infrastructure may vary, so it's essential to exercise caution and choose suitable routes.
Car Rental
If you plan to venture beyond Cancun and explore the surrounding areas, renting a car can provide flexibility and convenience. Car rental prices in Cancun start at around 800 MXN per day.
International driver's licenses are generally not required, but it's always a good idea to check with the rental company beforehand. To find the best car rental prices, consider using platforms like Discover Cars.
Whether you choose public transportation, ridesharing, bicycles, or a rental car, Cancun offers options to suit different preferences and budgets. Select the transportation that best fits your needs and budget.
Cancun's climate and tourism seasons play a significant role in determining the best time to visit. Here's a breakdown of the different seasons and what to expect:
Summer (May to October)
Summer in Cancun marks the rainy season, with daily heavy but short-lived downpours.
Temperatures during this time range from 24-32°C. Despite the rain, this period can still be enjoyable, as the showers often pass quickly, and the tropical environment remains lush and vibrant.
Hurricane Season (August to November)
From the beginning of August to the end of November, Cancun experiences hurricane season.
This period is not ideal for visiting, as the risk of hurricanes and tropical storms is higher. It's advisable to avoid travel during this time to ensure your safety and minimize disruptions to your plans.
Winter (December to April)
Winter is the peak tourist season in Cancun, attracting travelers from North America and Europe. The weather is pleasant, with average daily temperatures of around 28°C. This is an excellent time to visit if you want to enjoy Mexico's tropical environment.
However, keep in mind that the hotel zone can get crowded, and prices tend to be higher during this period. If you're on a budget, consider staying outside the hotel zone.
Spring Break (March to April)
Spring break brings a surge of college and university students to Cancun, making it one of the busiest times of the year. The atmosphere is lively and filled with parties. However, the beaches and accommodations can become extremely crowded.
Prices also spike during this period, particularly near the beach areas. Unless you're specifically seeking the spring break experience, it's recommended to avoid visiting Cancun during this time.
It's important to note that if you plan to engage in activities in the ocean, such as snorkeling or diving, pack biodegradable sunscreen before your trip. Regular sunscreen is often not allowed due to its damaging effects on coral and water quality.
Some guides may inform you of this restriction only at the last minute, so it's best to come prepared with environmentally friendly sunscreen.
Considering these factors, you can choose the best time to visit Cancun based on your preferences, weather conditions, and budget.
Cancun has long been a popular destination for tourists from North America and Europe.
Like in any tourist hotspot, the most common crimes here are pickpocketing and bag snatching. These incidents often occur in crowded areas or on the beach when you're not paying close attention.
To stay safe, always keep your valuables secure and within your reach.
In general, dangerous crimes targeting tourists are rare in Cancun. Those who tend to be involved in incidents are usually engaged in drug-related activities or participating in sex tourism.
By avoiding these activities, you can significantly reduce your risks.
During busy periods like spring break, petty crime may increase. To protect yourself, never leave your drinks unattended, and remain vigilant about your valuables.
When using ATMs, it's advisable to choose indoor locations and be cautious of your surroundings while withdrawing cash. If you're concerned about potential scams, take the time to read up on common travel scams to avoid in the area.
Solo female travelers should generally feel safe in Cancun. However, it's important to keep an eye on your drinks, avoid walking alone late at night in quiet areas, and remain alert.
While Cancun may not be the safest part of Mexico, following basic safety practices and being aware can minimize any potential risks. For more specific safety tips, consult the numerous solo female travel blogs that cover the city.
In case of an emergency, dial 911. However, since 911 isn't available everywhere, it's advisable to familiarize yourself with the local emergency number, which is 066 in Cancun.
Always trust your instincts and exercise caution.
Avoid isolated areas at night, refrain from wandering alone in unfamiliar places, and maintain awareness of your surroundings. Additionally, make copies of your important documents, including your passport and ID, for added security.
One crucial piece of advice is to purchase reliable travel insurance.
Travel insurance provides comprehensive protection against illness, injury, theft, and trip cancellations. It offers peace of mind and financial coverage in case anything goes wrong during your trip.
Travel insurance is recommended, as unforeseen circumstances can occur.
Use these tags to read more related posts and reviews:
---
Let us know if this article was useful for you