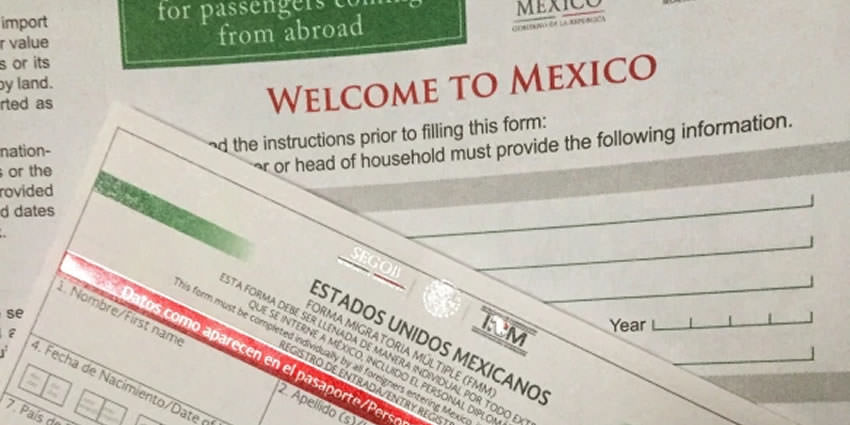 What is a Mexican Tourist Card and where to get it?
The Tourist Card, also called FMM ("Forma Migratoria Múltiple"), is a crucial document, a tourist permit required by all foreign travelers coming to Mexico as tourists who do not intend to engage in any paid work.
Tourist cards may be valid for up to 180 days and allow the holder to remain in Mexico as a tourist for the allotted time. Keep the card in a safe place, as you will need to hand it in when you are departing the country.
Foreign visitors who plan to work in Mexico are required to obtain a work visa from the National Immigration Institute (INM).
US Border Zone
The border zone covered an area approximately 20 km from the US border in Mexico, and also included most of Baja California and the Sonora "free zone". Previously, travelers staying in a USA border area for up to 72 hours did not need a tourist card.
However, now a tourist card is required for all non-Mexican visitors who will remain for fewer than 6 months.
Get your Mexico Tourist Card online
You can fill in the form and you'll receive the card via email. Print off the card and remember that the Tourist Card must be stamped by an immigration official when you enter Mexico, otherwise, it is not valid.
Mexico Tourist Card is actually a travel document granted by the Mexican Government to foreign travelers who want to travel and stay in Mexico for tourism purposes.
Apply for a tourist card online on the website of Mexico's National Immigration Institute:
https://www.inm.gob.mx/fmme/publico/en/solicitud.html
You can get two types of Mexico Tourist Cards from Natvisa:
Tourist Card – Air is delivered through email and is valid for 6 months.
Tourist Card – Land will be also delivered via email and valid for 6 months.
The online application process for a Mexico Tourist Card is very easy on Natvisa. You just have to fill out the online application form and your Mexico Tourist Card will be delivered to your email address.
Print this card, save it, and when you arrive in Mexico, present it to the immigration officer at the airport, who will stamp it and write down the number of days you are allowed to stay in the country as a tourist.
The maximum is 180 days or six months, but the time actually given is at the discretion of the immigration official (often only 30 to 60 days are granted initially), for longer stays, the tourist card would need to be extended.
Leaving Mexico: Upon leaving the country you must surrender your tourist card to immigration officials. If you do not have your tourist card, or if your tourist card is expired, you may be fined when leaving Mexico.
If you lose your Tourist Card: If your tourist card is lost or stolen, you will need to pay a fee to get a replacement tourist card at an immigration office, or you may be fined when you're leaving the country.
Extending your Tourist Card: If you wish to stay in Mexico for longer than the time allotted on your tourist card, you will need to extend it. Under no circumstances is a tourist allowed to stay longer than 180 days.
If you want to stay longer you will have to leave and re-enter the country or apply for a different type of visa.
Use these tags to read more related posts and reviews:
---
Let us know if this article was useful for you