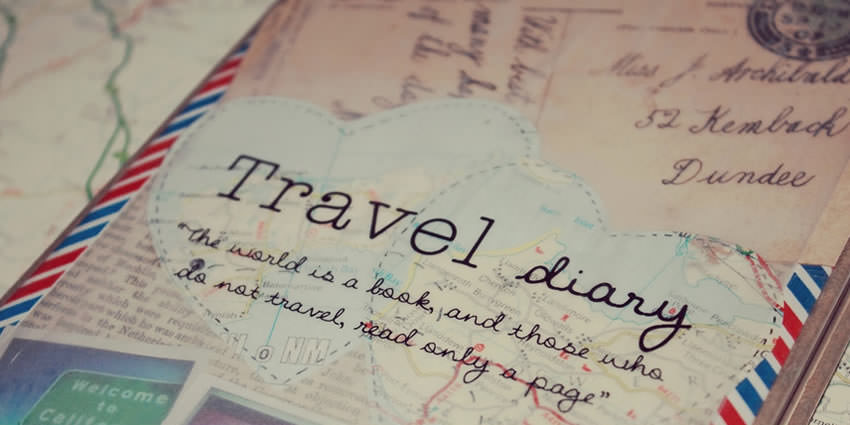 Creative ideas to make a photo diary of your travel tours
Mexico is an amazing country. Traveling to Mexico could be an unforgettable experience. Amazing nature, tasty food, colonial towns, ancient ruins, sunny beaches, and fascinating cultural traditions.
Thousand of made photos during the trip cant be enough. A photo diary could be a great solution for keeping all these new experiences and knowledge in one place where you can reflect on them.
Write in your travel journal about what you learned during your trip and the experiences you had.
A photo diary of your travels can be a great collection of adventures, stories, memories, and discoveries.
What is a travel photo diary and how to write it?
A diary is a book in which you can keep a daily record. One writes about their feelings, experiences, and events which have happened. A diary is also known as a journal or memoir.
However, a photo diary contains pictures and photos, and it allows us to write about our experiences with photos. You can add favorite and memorable images in this diary.
Some people make a photo diary of their travel tours, and they also call it a travel journal. You may have a few ideas for making your travel journal or photo diary, and this article is going to tell you about six creative ideas to make a photo diary for your travel tours.
Start a story before you start your journey
Start writing before you begin to travel; otherwise, you won't be able to create an account out of your imagination.
You can write about your expectations to begin this tale. It will be a great idea to make yourself write about something that you haven't seen with your eyes, but your imagination can help you to create an image.
Moreover, you cannot write a creative account when you are on the road because traveling can be hectic sometimes.
After arriving at your destination, you can take some photos of the place, and keep one thing in your mind only a camera is suitable for taking pictures, not a smartphone.
For your travel journal, you can buy a camera from "camera seals" since they have a vast collection of various cameras.
Visit CameraSeals for a camera review and more information.
Write everything immediately
Procrastination should be avoided when you are taking a photo diary of your travel tours because you can forget everything you want to write or record in your travel journal.
Writing about your experience while it is fresh in your mind can be very helpful in creating a fascinating photo diary. You cannot remember the minute details of the event after a day or two, and that's why you should write everything immediately.
Moreover, the photos you take for your diary are dependent on your description and explanation. You can also take some writing classes to learn about descriptive writing. A teacher of English literature can help you to write exquisitely.
Add photos of good and bad moments
Some people exclude photos of bad experiences and moments. If you are going to add only pictures of good moments, then your diary will depict artificiality, and it is not something you want.
Therefore, write about your good and bad experiences in your photo diary, and give voice to your thoughts. It will not only illustrate your personality, but it will make a fantastic memoir.
Moreover, you should capture as many moments as you can because you never know which moment is going to be legendary. We will advise you to write about the bad moments in detail because it will be cathartic.
You should also listen to other's stories and experiences as well to get some inspiration because it will help write your own life story.
Don't list activities
Listing down the activities and events in your photo diary is not a decent idea, and you mustn't do this. Instead of making a list of your activities, you can add more photos to the diary.
Photos, sometimes, tell stories on their own, and you don't need to sound like a book.
Therefore, you will have to let the images speak.
You may have viewed some vlogs on YouTube, where a vlogger doesn't talk while filming a fun activity.
Write about yourself
It is excellent that you have written about your experience and memorable events, now it is to write about yourself. You can post your photos which are depicting your mood, and then you can write about the time and place where you clicked them.
If you are visiting a historical site, then you ought to capture yourself in the pictures. It will be a good memory, and you will feel a connection with that place.
Moreover, you can write about your expectations and real life. You may have written captions with your Instagram posts, and now we're suggesting you do the same in your photo diary.
Create a closing chapter
You cannot carry the same photo diary for years because it will ruin it. Consider a photo diary as a notebook that one can only use for one semester. After adding photos and developing creative ideas on paper, you must start a closing chapter.
This chapter will summarize your travel journal, and you can write as much as you want.
Consider this chapter to be the resolution of the story that you have been narrating in your diary. Every diary needs to end for a new beginning, and you should do the same because completing a diary will give you a feeling of satisfaction.
For a good photo diary of your travel tours, you need to dedicate a whole chapter to your feelings. In this chapter, you can add photos of some artworks and paintings that you have seen during your traveling.
As a result, you will be able to convey your message with art, and you should know that "Art imitates life."
These are some creative ideas to make a photo diary of your travel tours. If you pay attention to this information, you will be able to create a lovely and appealing photo diary that will tell engaging stories.
You also can be interested in this guide to Instagram story ads.
Share this information with your friends who love art and life.
***
Author Bio: Henry Taylor is an IT expert and researcher. He is obsessed with all digital accessories and photography. Henry also takes a keen interest in vlogging and loves to share his photographs on Instagram. He regularly posts at CameraSeals.com.
Use these tags to read more related posts and reviews:
---
Let us know if this article was useful for you