Things to do in Isla Mujeres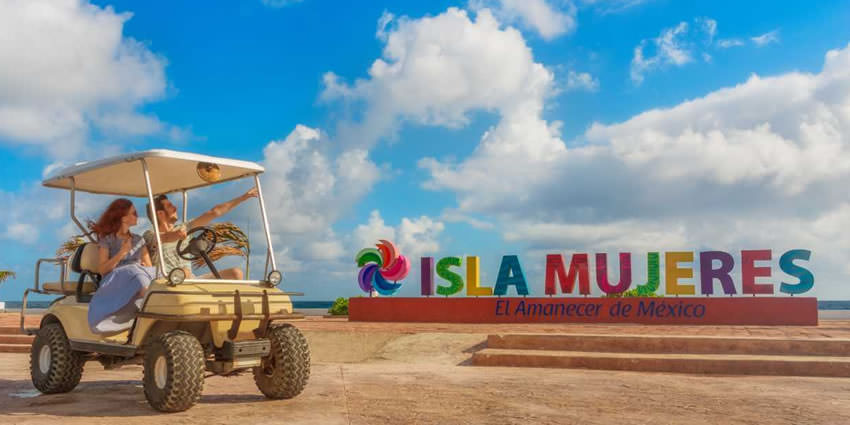 Isla Mujeres is a beautiful island located about 30 minutes by ferry from Cancun.
You will fall in love with its beautiful shades of blue, tones that you cannot describe and they seem to be in some type of jelly or syrup because it seems an artificial color.
Cancun has 4 ports from where you can take the transportation that will take you to know this beautiful island: Playa Tortugas, Playa Caracol, and El Embarcadero are located in the hotel zone, and there is one more, Puerto Juárez.
Once boarded the ferry, choose places on the upper floor, you will not want to miss the trip, much less the beautiful colors of this crossing. In less than 30 minutes you are already arriving at Isla Mujeres.
Things to do in Isla Mujeres
Isla Mujeres offers you the option of just going and lying on a lounge chair to enjoy a beautiful sunset or visiting some attractions such as Garrafón Park, swimming with dolphins, snorkeling in the different points around the island and even rent a golf cart that allows you to go around the island throughout the day.
Once there, you can go to the places that interest you the most, if you have no idea where to start, here is a quick guide:
Municipal Market
It is very small, but it will offer you several options for breakfast or lunch, the prices are quite cheap and you will enjoy dishes from the region with the true seasoning and all the flavor of the local gastronomy.
Punta Sur
It is an ecological park and viewpoint, it is said that it is the highest part of Yucatan because its cliffs are 20 meters above sea level.
Right here you will have the option to visit the sculpture park and the Mayan temple to the goddess Ixchel.
North Beach
Follow the edge of the island, you will surround it and you will arrive at the most famous beach of Isla Mujeres and you will not doubt it, rent a lounge chair and swim in its warm waters, there you will be convinced of this appointment, the swell is very soft and the sand is very fine.
Garrafón Park
This natural park offers recreational activities, such as snorkeling, kayaking, zip-lining, and excursions on the island; and relaxation, such as temazcal, panoramic pool, lounge chairs, and hammocks.
The truth is that if you come as a family, this is one of the best options because there is a little bit of everything for everyone, in addition, they offer you the advantage of being able to buy their activities in package form and that allows you to enjoy your day more.
Swimming with dolphins
If your thing is to interact with these beautiful mammals kings of the sea, then you will find two options, the first is the Garrafón Park itself, within their packages they offer some with these interactions.
And the second option is Dolphin Discovery, which offers you various options depending on the time and gestures you want, in addition, there is the possibility of complementing your day swimming with manatees and sea lions.
Snorkel
This is one of the most popular activities on this island because its crystalline waters allow you to see reefs full of colors.
You can purchase a snorkel excursion from Cancun or Playa del Carmen. If you came to the island on your own, but if you still want to do this activity, here are the places to do it:
El Farito Reef: it is considered a National Aquatic Park, you get to it in 9 minutes (by boat), and it is a marine lighthouse nestled in a spectacular reef, from which it is possible to appreciate the marine fauna, and in its.
Los Manchones Reef: what is peculiar about this place, in addition to swimming with fish of different colors, is that you will be able to see some structures that have been installed at the bottom of the sea.
Both spots are worthy of admiration as they will leave you with your mouth open.
First, in Los Manchones you will find a bronze cross that was placed in mid-1994, the locals submerged it as a tribute to all the men and women who have died at sea, this incredible structure measures 3 meters, weighs 1 ton, and it was 12 meters below the sea.
Underwater Museum of Art (MUSA) was formed in 2009 and aims to show the interaction between art and science of environmental conservation.
You will find here more than 450 submerged statues strategically located so that they form an eye that can be seen from the surface. It is known as the largest artificial reef in the world.
You cannot leave Isla Mujeres if you did not know its enigmatic lyrics and/or without trying a traditional marquesita.
Walk through its tourist walk and take some crafts. Once it has gotten dark, it's time to go back. Take all the photos you want, you will never want to forget this day. Thank you for visiting Isla Mujeres.
Use these tags to read more related posts and reviews:
---
Let us know if this article was useful for you