Reynosa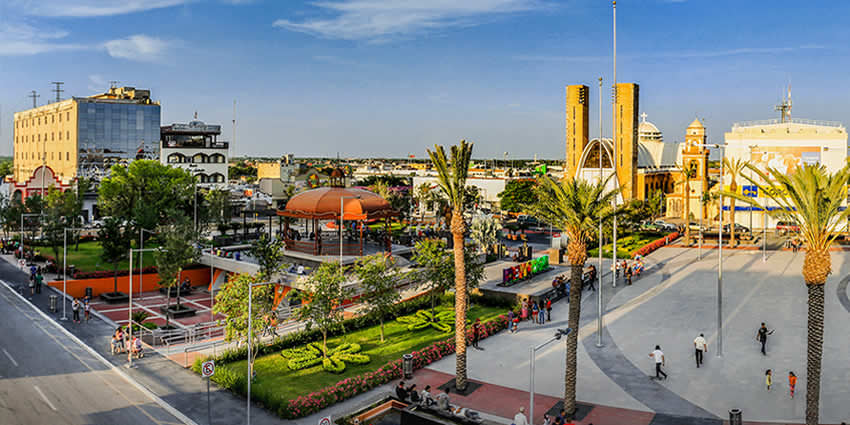 Reynosa is a border city in the northern part of Tamaulipas, Mexico. It is also the municipal seat of Reynosa Municipality.
Reynosa is the largest and most populous city in the state of Tamaulipas, followed by Matamoros, Nuevo Laredo, Ciudad Victoria, Tampico, and Río Bravo. In addition, the international Reynosa–McAllen Metropolitan Area counts with a population of 1,500,000 inhabitants, making it the third largest metropolitan area in the Mexico–U.S. border after San Diego–Tijuana and El Paso–Juárez. Reynosa is the 30th largest city in Mexico and anchors the largest metropolitan area in Tamaulipas.
The city is located on the southern bank of the Rio Grande in the international Reynosa–McAllen Metropolitan Area, directly across of the Mexico-U.S. border from Hidalgo, Texas. The city is about 11 miles (18 km) south of McAllen.
Reynosa extends across 3,156.34 sq kilometers (1218.66 sq. miles).
As of 2013, the city of Reynosa has a population of 672,183. If the floating population is included in the census count, the population can reach up to approximately 1,000,000.
Reynosa has a semi-arid climate with short, mild winters and hot summers.
Winters are mild and dry with a January high of 22 °C (72 °F) and a low of 11 °C (52 °F) although temperatures can fall below 10 °C (50 °F).
Summers are hot with a July mean of 30 °C (86 °F) and temperatures can exceed 40 °C (104 °F) anytime from May until August.
The average annual precipitation is 452 millimetres (18 in), with most of it being concentrated in the summer months though the months May and June are the wettest.
Reynosa was founded on 14 March 1749 with 297 inhabitants by Carlos Cantú under the command of José de Escandón y Helguera the Count of Sierra Gorda. But due to flooding in the area on the 4 July 1802, they decided to move five miles to the east keeping the same margin between them and the Rio Grande. It was not until 1926 that the state government recognized Reynosa as a city.
Reynosa was first named Villa de Nuestra Señora de Guadalupe de Reynosa. The pioneers of the Villa proceeded from El Nuevo Reino de León, especially from Monterrey, Cadereyta, Cerralvo and El Pilón. The town was composed with 50 families. It was given the name of Reynosa as a tribute to the town with the same name in Spain, birthplace of the Viceroy de Güemes y Horcasitas.
Between 1846 and 1848, Reynosa was captured and temporarily held by the United States Army.
You can dial 078 from any phone, where you can find free information about tourist attractions, airports, travel agencies, car rental companies, embassies and consulates, fairs and exhibitions, hotels, hospitals, financial services, migratory and other issues.
Or dial the toll-free (in Mexico) number 01-800-006-8839.
You can also request information to the email correspondencia@sectur.gob.mx
MORE EMERGENCY NUMBERS:
General Information: 040 (not free)
National Emergency Service: 911
Radio Patrols: 066
Police (Emergency): 060
Civil Protection: +52(55)5683-2222
Anonymous Complaint: 089
Setravi (Transport Mobility): +52(55)5209-9913
Road Emergency: 074
Cruz Roja: 065 o +52(55)5557-5757
Firefighters: 068 o +52(55)5768-3700
Use these tags to read more related posts and reviews:
---
Let us know if this article was useful for you