Bacalar and Mahahual are leading tourist preferences in southern Quintana Roo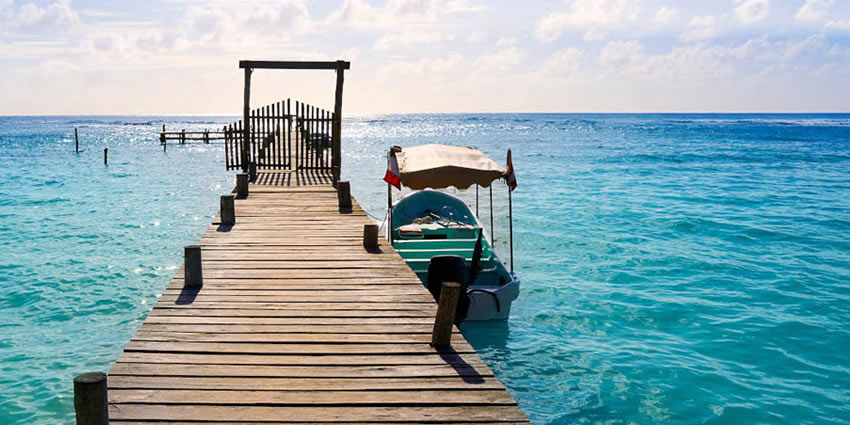 The southern region of Quintana Roo is home to some of the most enchanting destinations in the country, and two places that have been gaining significant attention from tourists are Bacalar and Mahahual.
Bacalar and Mahahual have become the leading tourist preferences in southern Quintana Roo.
These two coastal places offer a unique blend of natural beauty, cultural richness, and adventure, making them top choices for travelers seeking an off-the-beaten-path experience.
Bacalar: The Lagoon of Seven Colors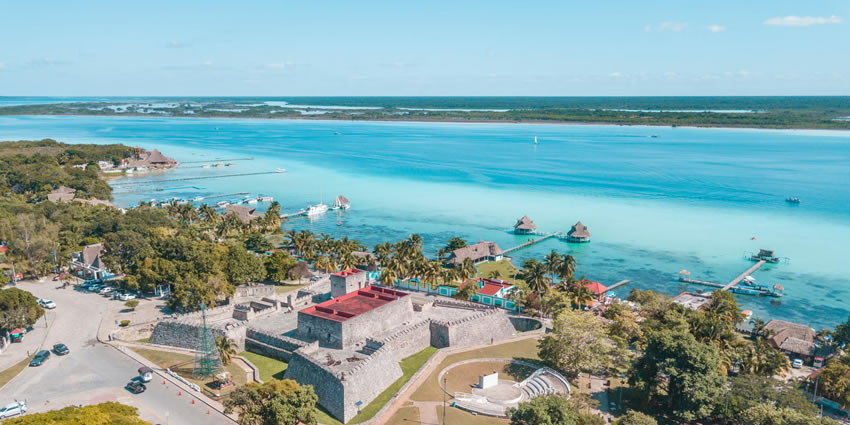 Bacalar is located just north of the Belize border. Bacalar is often referred to as the "Lagoon of Seven Colors" due to its breathtakingly vibrant and diverse shades of blue and turquoise water.
This picturesque town offers a laid-back and peaceful ambiance.
Bacalar is an ideal destination for relaxation and immersion in nature. The charm of Bacalar lies in its simplicity, authentic local cuisine, and the opportunity to disconnect from the hustle and bustle of modern life.
The main attraction of Bacalar is its stunning freshwater lagoon, which stretches for more than 40 km. Tourists can indulge in various activities such as kayaking, stand-up paddleboarding, and sailing while marveling at the unique colors of the lagoon.
The nearby Cenote Azul is a natural sinkhole with crystal-clear water, that attracts visitors seeking to swim and snorkel in its refreshing depths. Surrounded by lush vegetation, Cenote Azul offers a tranquil escape.
Mahahual: The Hidden Caribbean Paradise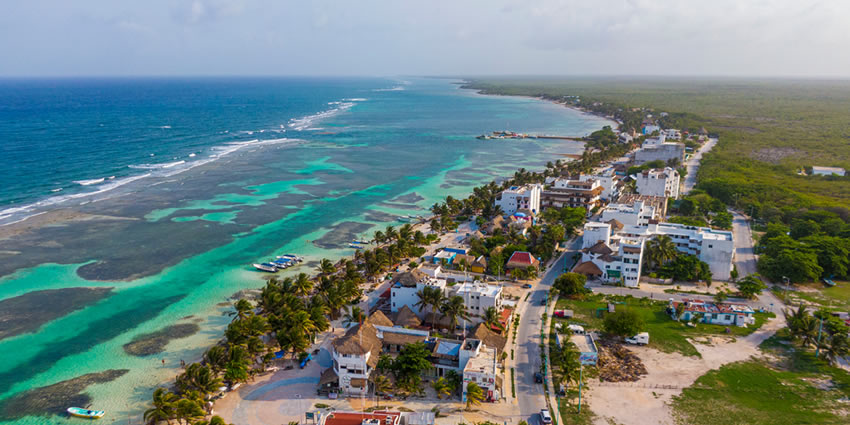 Mahahual is situated along the Costa Maya on the Caribbean coast of Mexico. Mahahual was once a small fishing village and has now transformed into a sought-after eco-tourism destination.
The allure of Mahahual is its laid-back atmosphere and stunning white sandy beaches.
Mesoamerican Reef is just a short distance offshore. This reef attracts divers and snorkelers from all over the world, offering an unforgettable experience exploring the diverse marine life and vibrant coral formations.
The town's seaside promenade, known as the Malecón, is lined with charming shops, restaurants, and bars, where tourists can enjoy local cuisine and unwind with stunning ocean views.
Mahahual's commitment to sustainable tourism and preserving its natural beauty adds to its appeal for conscious travelers seeking authentic and eco-friendly experiences.
Emerging Cultural and Adventure Tourism
While both Bacalar and Mahahual boast stunning natural settings, they also offer a rich cultural heritage and various adventure opportunities for tourists and vacationers.
In Bacalar, curious and adventurous tourists can explore the well-preserved ancient Maya ruins of Chacchoben, which provides a fascinating insight into the region's rich historical significance.
Mahahual offers immersive excursions to nearby Mayan archaeological sites like Kohunlich and Dzibanche, adding a captivating touch of ancient culture and heritage to the idyllic beach holiday experience.
Adventure enthusiasts are not left disappointed, as both destinations offer exciting activities such as jungle trekking, zip-lining, and birdwatching in the surrounding areas.
The Sian Ka'an Biosphere Reserve, a UNESCO World Heritage Site, is also easily accessible from both locations, providing an opportunity to witness diverse wildlife and explore unspoiled landscapes.
Accessibility and Responsible Tourism
Both Bacalar and Mahahual are well-connected to major transportation hubs, with the Chetumal International Airport being the closest gateway, ensuring convenient access for travelers from around the world.
The relatively underexplored nature of both places has contributed to a focus on responsible and sustainable tourism. Local communities are actively involved in preserving natural resources and promoting environmentally friendly tourism.
Bacalar and Mahahual have emerged as leading tourist preferences in southern Quintana Roo due to their awe-inspiring natural beauty, rich cultural heritage, and commitment to responsible tourism.
Travelers seeking a balance between adventure, relaxation, and cultural exploration will find these two destinations to be the perfect choice for an unforgettable vacation experience.
As these 2 cozy towns continue to gain popularity, it's crucial for visitors to respect and preserve the local environment and heritage to ensure their sustainability for generations to come.
Use these tags to read more related posts and reviews:
---
Let us know if this article was useful for you