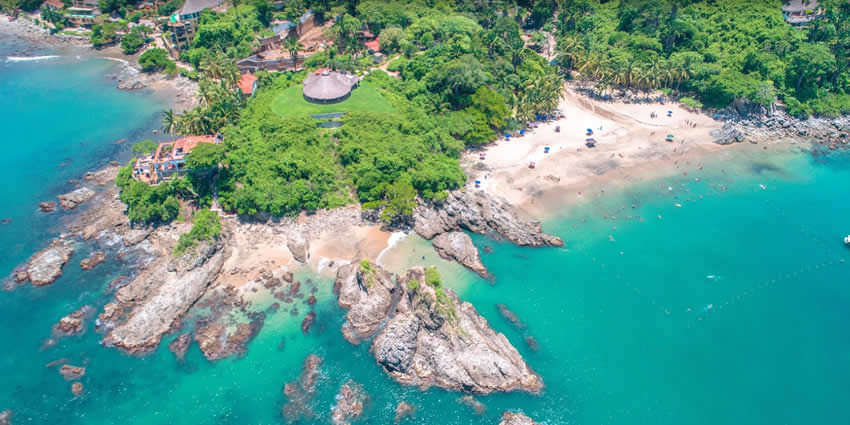 Sayulita
Sayulita is a village about 40 km (25 miles) north of downtown Puerto Vallarta in the state of Nayarit, Mexico, with a population of approximately 5,000.
It is called by the Mexican government a "Magical Town" for its colorful ambience and richness and convergence of cultures; not only Mexican, but international as well.
The pre-Columbian indigenous inhabitants of the area were most likely small bands of the semi-nomadic Cuyuteco which came in contact with Spanish Conquistadores in 1524 for the first time when Fernando Cortes de Buenaventura discovered 100,000 indigenous population split into 40 tribal communities.
In 1530, Nuño Beltrán de Guzmán's account of his battle with the Cuyutecos at Valle gave name to the Bay of Banderas, as the natives carried colorful banners.
Civic sites identified in the region include Ixtapa, Valle, and Ixtlan del Rio. These sites were most likely tributary outposts of the Aztatlan kingdom centered in northern present-day Nayarit.
Like most of the greater Banderas Bay area, the sheer remoteness and thick jungle prevented permanent European colonization until the late 19th century.
The area developed thanks to the collection of coconut for oil production and export. Coconut oil production was controlled by a sole company first owned by Don Marcial Nuño and later by the Camarena family, when the latter was expelled from the area, but a decrease in the international pricing brought the industry to a decline.
The ejido of Sayulita was not established until 1941 after the government expropriated the private Hacienda and returned the land to the people dividing it into five villages in 1936.
Known for its consistent rivermouth surf break, Sayulita was "discovered" by roving surfers in the late 1960s with the construction of Mexican Highway 200.
The area became famous with Hollywood celebrities when The Night of the Iguana, which was filmed in Puerto Vallarta, showed the beauty and seclusion of the area to Ava Gardner, Richard Burton and wife Elisabeth Taylor.
Today, Sayulita is a prosperous growing village of approximately 5,000 residents. Hailed as a popular hippie and off-the-beaten-path travel destination, Sayulita offers a variety of recreational activities such as horseback riding, hiking, jungle canopy tours, snorkeling, and fishing. Still a mecca for beginning surfers of all ages, Sayulita also attracts tourists to its numerous art galleries and casual and hipsters cafes and restaurants.
Sayulita is frequented by native Cora and Huichol peoples whose artwork and beadwork is inspired by their cosmology, which is in turn aided by use of peyote, the psychedelic cactus sacred to the tribe.
The town is a part of the newly designated "Riviera Nayarit", the 160km coastal corridor from Litibú to San Blas. Its natural beauty and easy access to Puerto Vallarta have made Sayulita real estate some of the most sought after in all of Mexico.
Growing ecological awareness and stricter zoning enforcement have caused development to be regulated in order to help safeguard the environment and quality of life. Sayulita has a medical office with an English-speaking doctor and pharmacist, a number of internet cafes, and a wide variety of open-air eateries, some located right on the sand beach. In recent years, yoga has also become a fashionable magnet to the area and digital nomads are choosing the town as an affordable base thanks to the facilities, the easy access to an international airport in Puerto Vallarta and the many activities on offer.
Buses from Puerto Vallarta run every 15 min $2-$4 (1:15/1:30 hours).
Taxi from Puerto Vallarta $15-$19 (0:35 min).
Buses from Tepic via Mezcales $15-$33 (2:50/3:50 hours) run hourly.
Taxi from Tepic $40-$55 (1:55 hours).
You can dial 078 from any phone, where you can find free information about tourist attractions, airports, travel agencies, car rental companies, embassies and consulates, fairs and exhibitions, hotels, hospitals, financial services, migratory and other issues.
Or dial the toll-free (in Mexico) number 01-800-006-8839.
You can also request information to the email correspondencia@sectur.gob.mx
MORE EMERGENCY NUMBERS:
General Information: 040 (not free)
National Emergency Service: 911
Radio Patrols: 066
Police (Emergency): 060
Civil Protection: +52(55)5683-2222
Anonymous Complaint: 089
Setravi (Transport Mobility): +52(55)5209-9913
Road Emergency: 074
Cruz Roja: 065 o +52(55)5557-5757
Firefighters: 068 o +52(55)5768-3700
Use these tags to read more related posts and reviews:
---
Let us know if this article was useful for you