Hurricane Delta smashes into Cancun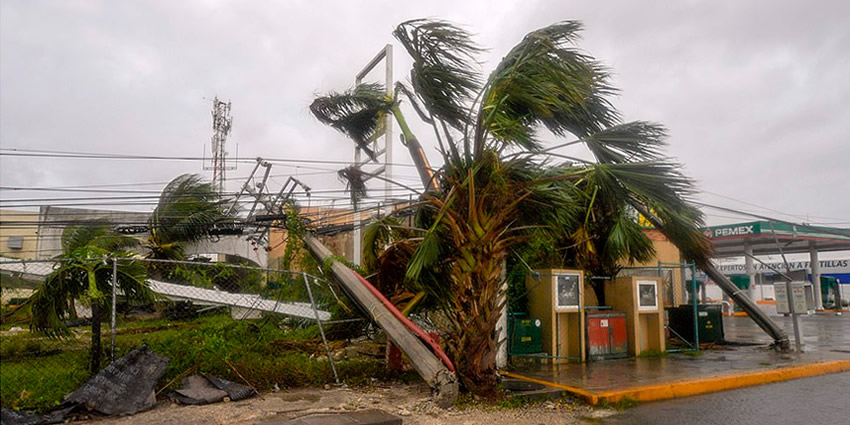 Hurricane Delta has ruined dream vacations for thousands of tourists who were forced to pack into crowded emergency shelters rife with the risk of spreading coronavirus as fierce winds and torrential rains battered Mexico's top resort destination in Cancun.
Hurricane Delta made landfall at about 5:30 am as an extremely dangerous category 2 hurricane with winds of up to 110 mph downing nearly 100 trees and knocking out power along the northeastern coast of the Yucatan Peninsula.
The Hotel Association of Cancun said more than 40,000 tourists were evacuated from resorts in and around Cancun on Tuesday night as the hurricane's winds topped 145mph before it weakened as it approached land.
About 50 miles south of Cancun the four-star Hard Rock Hotel Riviera Maya was transformed into an emergency shelter as hundreds of guests were packed into common-area rooms like sardines.
As of 7 am CDT Wednesday Hurricane Delta was centered about 25 miles south of Cancun in Puerto Morelos and was traveling northwest at a speed of between 15 and 20 mph as wind speeds decreased slightly to about 105 mph.
The US National Hurricane Center in Miami warned of a storm surge that could raise water levels up to 13 feet and bring flash flooding inland.
There were no immediate reports of deaths or injuries, but about 39,000 people had been evacuated in the states of Quintana Roo and Yucatan, and about 2,700 people had taken refuge in storm shelters in the two states.
The storm is expected to continue affecting the Mexican coast through the end of the day before veering north toward the US Gulf Coast.
Thousands of Quintana Roo residents and tourists checked in to dozens of government shelters to wait out the storm after everyone the state was put under a 19:00 curfew on Tuesday.
Since Monday, local residents have formed long lines at supermarkets and hardware stores to load up on food and supplies to protect their homes.
Throughout the day Tuesday evacuations of low-lying areas, islands, and the coastline expanded as Delta exploded over warm Caribbean waters, increasing in strength by 80mph in just 24 hours to become a major Category 4 hurricane.
Much of Cancun's hotel zone was cleared out as guests were bused to inland shelters. In Cancun alone, the government opened 160 shelters.
More than 40,000 tourists in Cancun and neighboring resorts were evacuated, the head of the area's hotel association.
Early Wednesday, some 300 guests and nearly 200 staff from the Fiesta Americana Condesa hotel awoke in the sweltering classrooms of the Technological Institute of Cancun campus where they had been moved the day before.
All of the windows had been covered with plywood so they couldn't see what was happening, but they said the howling winds started around 02:00 and there had been heavy rain.
The power – and with it the air conditioning – had been knocked out early Wednesday so it was steamy as tourists awoke from the used their cell phone lights to get up and make their way for the first cup of coffee.
State tourism officials said more than 40,000 tourists were in Quintana Roo, a fraction of what would normally be there. Delta's damage comes on top of months of pandemic-induced lockdown that has devastated the state's tourism industry.
At the Cancun Convention Center, 400 tourists from hotels and rental properties bunked for the night.
Delta was forecast to spend several hours lashing the Yucatan Peninsula before moving into the Gulf of Mexico and re-strengthening before a strike on the US Gulf Coast later in the week.
Mexico put the commander of its navy in charge of the federal response. President Andres Manuel Lopez Obrador said Tuesday that 5,000 federal troops and emergency personnel were being made available in Quintana Roo to aid in storm efforts.
Local and state officials urged residents to move to shelters.
The Yucatan peninsula was hit on the weekend by Hurricane Gamma, a smaller storm that nonetheless damaged property and forced restaurants and attractions to close, including the famed Chichen Itza pyramids.
Use these tags to read more related posts and reviews:
---
Let us know if this article was useful for you