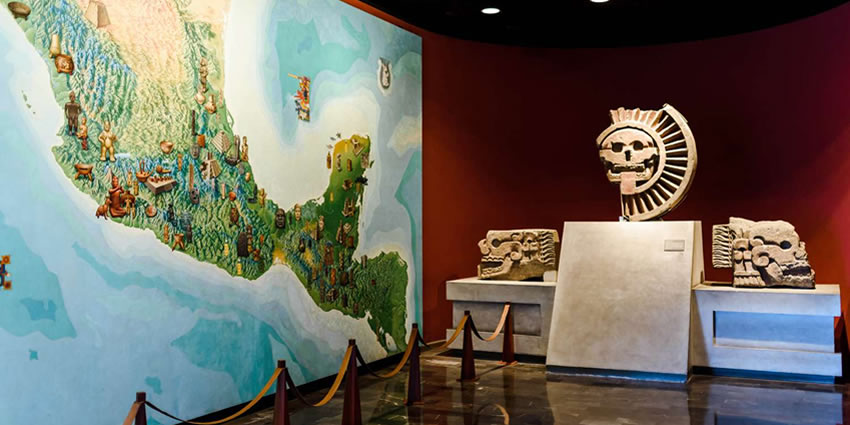 Mexico City museums
Mexico City is known for its cultural richness and its vast number of museums which showcase Mexico's rich history, and cultural heritage and also house world-class collections that attract visitors from around the world.
Mexico City stands out as one of the world's premier destinations for museum enthusiasts. With its rich history, vibrant culture, and diverse art scene, the city boasts an impressive array of museums that cater to every interest.
Cultural heritage of Mexico City
Mexico City's museums offer a fascinating journey through the country's intricate cultural tapestry. Each museum contributes to the city's narrative, offering a multifaceted exploration of its history, art, and culture.
From the ancient civilizations of the Aztecs and Maya to the colonial era and modern Mexico, these museums are a treasure trove of artifacts that provide a comprehensive overview of Mexico's indigenous cultures.
For art enthusiasts, Mexico City is a haven.
The Museo Frida Kahlo offers an intimate glimpse into the life and works of the iconic artist. The Palacio de Bellas Artes showcases a stunning collection of Mexican and international art, spanning from the 16th century to the present day.
The museums themselves are often architectural wonders. The Soumaya Museum, designed by architect Fernando Romero, is a gleaming structure that houses an extensive art collection, including works by European masters like Rodin and Dali.
Exploring these buildings is an aesthetic experience in itself.
Museums serve as educational hubs, providing valuable insights into various fields. The Museum of Templo Mayor, located adjacent to the Aztec Templo Mayor ruins, is an archaeological marvel that educates visitors about Aztec civilization.
Many museums in the city offer informative exhibits in both English and Spanish.
By visiting museums, you actively contribute to the preservation of cultural and historical heritage. These institutions play a crucial role in safeguarding artifacts, artworks, and traditions for future generations.
Your support helps ensure that these treasures endure the test of time.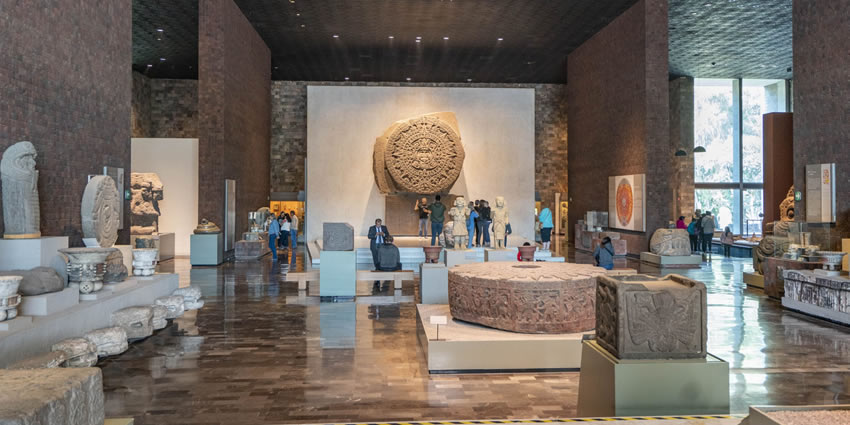 Museums have a unique ability to inspire and stimulate creativity.
Whether you're an artist seeking inspiration, a history buff delving into the past, or a traveler curious about diverse cultures, Mexico City's museums provide a source of inspiration that transcends boundaries.
Mexico City boasts an extraordinary array of must-visit museums that showcase the country's rich cultural tapestry. These are just a few highlights of museums, each contributing uniquely to Mexico City's status as a global cultural hub.
Anthropology and History:
National Museum of Anthropology (Museo Nacional de Antropología)
National Museum of History (Museo Nacional de Historia)
Anahuacalli Museum (Museo Anahuacalli)
Templo Mayor Museum (Museo del Templo Mayor)
Art Museums:
Museum of Modern Art (Museo de Arte Moderno)
Soumaya Museum (Museo Soumaya)
Tamayo Contemporary Art Museum (Museo Tamayo Arte Contemporáneo)
National Museum of Art (Museo Nacional de Arte)
Franz Mayer Museum (Museo Franz Mayer)
Carrillo Gil Art Museum (Museo de Arte Carrillo Gil)
National Museum of San Carlos
Specialized and Themed Museums:
Frida Kahlo Museum (Museo Frida Kahlo)
Memory and Tolerance Museum (Museo Memoria y Tolerancia)
Museum of Popular Art and Industries (Museo de Arte Popular)
Chocolate Museum (Museo del Chocolate)
Leon Trotsky Museum (Museo Casa de León Trotsky)
Cultural and Historic Sites:
National Palace (Palacio Nacional)
Palace of Fine Arts (Palacio de Bellas Artes)
Museum of the City of Mexico (Museo de la Ciudad de México)
Science and Technology:
Universum, the Museum of Science (Universum, Museo de las Ciencias)
Nature and Environment:
Papalote Museo del Niño (Children's Museum)
La Venta Museum Park (Parque-Museo La Venta)
This list is not exhaustive, and there are many more museums in Mexico City with varied focuses and themes. The city's museum landscape reflects its rich history, vibrant art scene, and commitment to preserving and showcasing cultural heritage.
The National Museum of Anthropology is the most visited museum in the country.
The museum holds one of the most important collections of pre-Hispanic art. It is a treasure trove of archaeological and ethnographic artifacts, providing a comprehensive look into the roots of Mexican rich history.
Exhibition Halls:
Hall of Prehistory
Mexica Hall
Maya Hall
Oaxaca Hall
Gulf Coast Hall
Gulf Cultures Hall
Gulf Coast Cultures Hall
Oaxaca Cultures Hall
Chiapas Cultures Hall
Northern Cultures Hall
The amount of time you need to explore the museum depends entirely on your level of interest, the speed at which you move through the exhibits, and whether you want to go deep into each room or take a quick look.
On average, visitors can spend 2 to 4 hours exploring the museum.
For a more complete and leisurely visit, you may need a whole day.
Some visitors prefer to split their visit over several days.
Check the museum's schedule as there may be special exhibits or events.
Check the museum's opening and closing times to plan your visit.
Use these tags to read more related posts and reviews:
---
Let us know if this article was useful for you