Cancun Destination Guide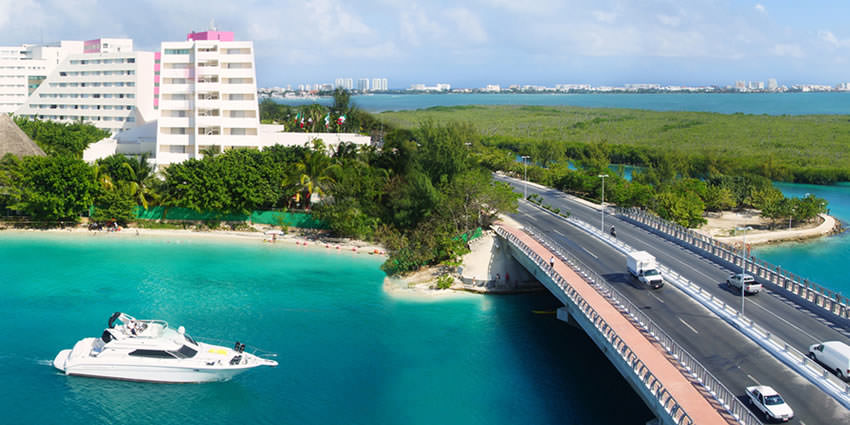 Cancun is one of the most important resort destinations in Mexico. Founded in 1970, Cancun rapidly became known around the world for its spectacular turquoise blue waters and magnificent natural wonders.
Now a day, Cancun is a top worldwide destination with millions of people visiting per year.
Cancun is divided into two zones:
Downtown: In the city, you will find all the amenities and services of a developed community such as banks, restaurants, schools, churches, foreign consulates, markets, hospitals, etc.
Hotel Zone: The hotel zone is the "tourist zone" where you will find all the fun activities and entertainment such as world-class shopping, amazing hotels and resorts, fantastic restaurants, and, of course, the blue sea beaches that make Cancun an incredible place.
Things to See and What to do in Cancun
But Cancun is by far more than just a destination with beautiful beaches. Amazing Cancun Activities and sightseeing are available for your enjoyment.
Cancun Tours include the amazing Chichen Itza Tour which was recently named a New 7 Wonder of the World, the ecological Xcaret Tour, the picture-perfect Tulum & Xel-Ha Tour, and the cultural Coba Tour, the complete Cozumel Tour, and a lot more.
How about the World's Famous Lobster Dinner Cruise, the Wild Booze Cruise Caribbean Carnival, a party cruise to Isla Mujeres, the adventurous ATV & Speed Boat Tour, or the incredible Jungle Tour, just to name a few.
How to get there?
As a Top World Destination, Cancun is very accessible from every corner of the globe.
All major airlines have direct or nonstop service to Cancun. Cancun International Airport is the only airport available in the area and every year more than 8 million passengers pass through its doors.
There are several companies that provide transportation services from the Cancun International Airport to any hotel in Cancun.
Once in Cancun, taxis, and buses are available from all the hotels and locations in downtown and the hotel zone.
Use these tags to read more related posts and reviews:
---
Let us know if this article was useful for you