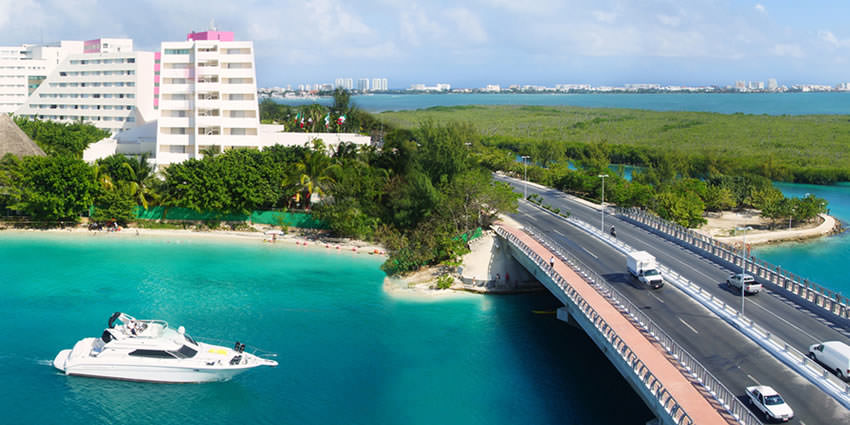 Cancun destination guide
Cancun is one of the most important resort destinations in Mexico.
Cancun's history as a modern tourist destination began relatively recently, and Cancun rapidly became well-known around the world for its spectacular turquoise blue waters and magnificent natural wonders.
It was a relatively small village, primarily focused on fishing and trading.
Cancun as we know it today was founded as a tourism project in the early 1970s. The government identified the potential of the area's beautiful beaches and proximity to ancient Mayan ruins to attract tourists.
Cancun officially opened as a tourist destination on August 20, 1970, when the first nine hotels welcomed their guests. The area rapidly grew in popularity and became a popular hub for international tourism.
Today, Cancun is one of the most visited tourist destinations in Mexico.
Cancun is divided into two zones:
Cancun Downtown: In Cancun's downtown area, you will find all the amenities and services of a developed community such as banks, restaurants, schools, churches, foreign consulates, markets, hospitals, etc.
Hotel Zone: The hotel zone is the "tourist zone" where you will find all the fun activities and entertainment such as world-class shopping, amazing hotels and resorts, fantastic restaurants, and, of course, beaches.
Things to see and what to do in Cancun
But Cancun is much more than just a place with beautiful beaches. For tourist enjoyment, there are many exciting fun activities and entertainment available, as well as sightseeing and tourist attractions.
If you're seeking adventure, you can embark on thrilling water sports such as snorkeling and diving in the crystal-clear waters of the Great Maya Reef or take a scenic boat tour to the captivating Isla Mujeres.
For those intrigued by history and culture, the nearby iconic Tulum ruins, offer a glimpse into Mexico's rich pre-Columbian heritage.
Indulge in the vibrant nightlife at Cancun's renowned clubs and bars, savor Mexican cuisine at local restaurants, or shop for unique souvenirs at bustling markets. Cancun promises an unforgettable experience.
So, as you plan your trip to Cancun, remember that it's not just about the beaches – it's about the endless possibilities for adventure, entertainment, and exploration that make this destination truly exceptional.
How to get there?
Cancun is very accessible, all major airlines have direct or nonstop service to Cancun International Airport, the only airport available in the area and every year more than 8 million passengers pass through its doors.
There are several transportation options from the Cancun International Airport to any place. Once in Cancun, taxis, and buses are available from all the hotels and locations in downtown and the Hotel Zone.
Use these tags to read more related posts and reviews:
---
Let us know if this article was useful for you