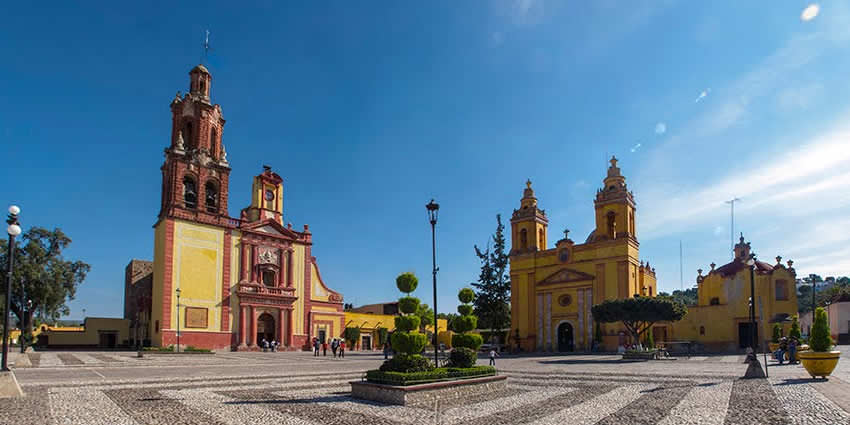 Cadereyta de Montes
Cadereyta de Montes is a city and municipality in Querétaro, Mexico.
The municipality is the second most extensive in the state.
The city was founded in 1640, and received its current name in two stages: first in 1642 in honor of Viceroy Don Lope Díez de Armendáriz, marqués de Cadereyta, and then in 1904 after the lawyer Ezequiel Montes. From its conception during the Spanish rule of Mexico, the city was intended to become quite important. It received the status of Alcaldía mayor in 1689, thus becoming the dominant city in this part of the state. It was a post from which the main trade routes were defended from attacks by the indigenous people of the Sierra Gorda.
A famous greenhouse called Finca Schmoll is in the city, preserving a large collection of desert plants open to the public.
The population of the municipality grew from 51,688 in 2000 to 57,204 in 2005.
This is the entrance to the Sierra Gorda of Queretaro, but it is also a place where the semi-desert meets the water. This area has the privilege of having a huge variety of ecosystems with multicolored flowers, vineyards and botanic gardens framed by the red walls of the Queretaro mountains.
You can hike, fish, climb or admire its religious buildings, and visit two of the most diverse cacti greenhouses in the Americas. When you visit Cadereyta, be sure to see its impressive caves and the Las Ranas and Toluquilla archeological sites.
You can dial 078 from any phone, where you can find free information about tourist attractions, airports, travel agencies, car rental companies, embassies and consulates, fairs and exhibitions, hotels, hospitals, financial services, migratory and other issues.
Or dial the toll-free (in Mexico) number 01-800-006-8839.
You can also request information to the email correspondencia@sectur.gob.mx
MORE EMERGENCY NUMBERS:
General Information: 040 (not free)
National Emergency Service: 911
Radio Patrols: 066
Police (Emergency): 060
Civil Protection: +52(55)5683-2222
Anonymous Complaint: 089
Setravi (Transport Mobility): +52(55)5209-9913
Road Emergency: 074
Cruz Roja: 065 o +52(55)5557-5757
Firefighters: 068 o +52(55)5768-3700
Use these tags to read more related posts and reviews:
---
Let us know if this article was useful for you