Piedras Negras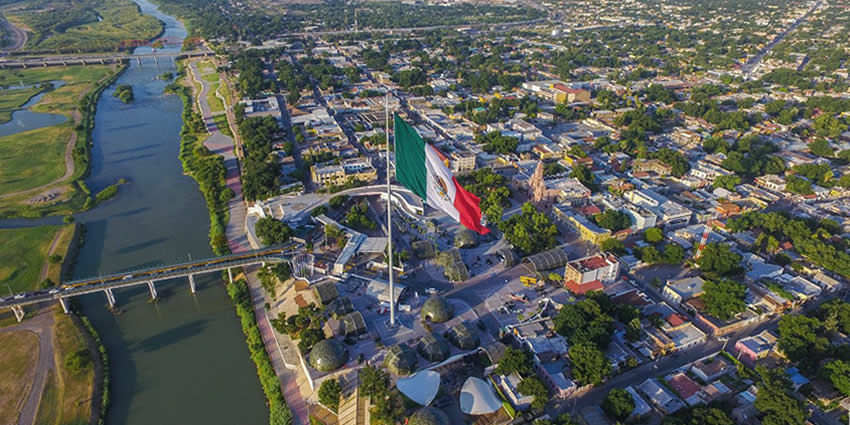 Piedras Negras (Black stones) is a city and seat of the surrounding municipality of the same name in the Mexican state of Coahuila.
It stands at the northeastern edge of Coahuila on the U.S.-Mexico border, across the Río Bravo (Rio Grande) from Eagle Pass in the U.S. state of Texas.
In the 2012 census the city had a population of 163,595 people, which accounted for 91 percent of its municipality's total population of 163,595.
The municipality's relatively small area includes some minor localities outside the city limits. The Eagle Pass and Piedras Negras area is connected by the Eagle Pass-Piedras Negras International Bridge, Camino Real International Bridge, and the Eagle Pass Union Pacific International Railroad Bridge.
Piedras Negras in music, television, and film:
1992: "Safe Side" (reference to the nickname of Piedras Negras, "The Safe Border") by Texas singer-songwriter James McMurtry on album Candyland
1993: Like Water for Chocolate
2004:"Joe Mark Arizmendi"
2007: No Country for Old Men (scene in the town square were filmed in Piedras Negras)
The Northern Region of Coahuila has approximately 300,000 inhabitants. According to the National Institute of Statistics, Geography and Data Processing (INEGI), in 2005 the population of the municipio of Piedras Negras was 143,915 inhabitants, equal to 5.77% of the population of Coahuila. 17% of the population of Piedras Negras came from other states, 3% were foreigners, and the rest were born in Coahuila. Piedras Negras has a high population growth due partly to its status as a border city fueled by U.S.-bound exports from several factories and also by persons who hope to cross the border into the United States. It is estimated that in a couple of years it will become the third most populated city of the state of Coahuila, surpassing Monclova. Nowadays Piedras Negras has more than 200,000 inhabitants.
Climate
The climate of the region is semi-arid and hot. During summer the temperatures often surpass 45 °C (113 °F). The hottest months are May through September with a daily average (mean) temperature between 26 °C (79 °F) and 31 °C (88 °F).
The high temperatures recorded in Piedras Negras have earned it recognition as one of the hottest cities in the country.
Highest precipitation months are May, June and September with an average monthly downfall in excess of 80 millimetres (3.1 in) but that is highly sporadic lending to frequent drought conditions. The period of lowest precipitation is between December through March, with a monthly average of 30 millimetres (1.2 in).
Natural resources
This region generates a large amount of the national production of coal, one of the most economically important non-metallic minerals in the state.
Founded in 1849, the city was renamed Ciudad Porfirio Díaz in 1888, in homage to President Porfirio Díaz. It reverted to its original name following the Mexican Revolution.
In spanish "Piedras Negras" translates to "black stones" – a reference to coal deposits in the area.
Across the river, coal was formerly mined on the US side at Dolchburg, near Eagle Pass. This mine closed around 1905, after a fire.
Mexico currently operates two large coal-fired power plants named "José López Portillo" and "Carbón 2" located 30 miles (48 km) south of Piedras Negras.
On June 15, 1850, a group of 34 men (commanded by Andrés Zapata, Gaspar Salazar and Antonio Ramírez) met with Colonel Juan Manuel Maldonado to give the news that they had created a pass point at Piedras Negras, to the right of the Rio Grande, south of Fort Duncan. They named it Nueva Villa de Herrera, but it later became Villa de Piedras Negras. In Otto Schober's "Breve historia de Piedras Negras," the local historian points out that the 34 men were repatriates (Mexican Americans) who arrived on June 15, 1850, in what was then called "Colonia Militar de Guerrero en Piedras Negras."
In 1855, the town was looted by a small force of 130 Texans who had been organized by Texas slaveholders for a punitive expedition against a nearby border settlement of fugitive slaves and Indians. The force was led by a captain of the Texas Rangers, and had recently been "repelled by a superior force of Negroes, Indians, and Mexicans who were waiting in ambush" inside Mexico, but they then looted Piedras Negras on the journey back to Texas.
Due to the discovery of huge deposits of coal at the region, in 1881 a railroad track was begun, finishing in 1883. With this construction, the regional economy flourished and on December 1, 1888, it was granted the status of city; this time with the name of Ciudad Porfirio Díaz. After the fall of Diaz in 1911, the city reverted to being Piedras Negras, Coahuila.
On April 26, 2004 floods killed 31 people with up to 60 reported missing.
On April 24, 2007, an F4 tornado struck the city, killing three people there and seven in Eagle Pass, Texas.
On June 14-15, 2013 over 10,0000 homes were flooded, but only one death suffered.
Piedras Negras' main tourist attractions are:
The Macro Plaza (Designed and Built by Cesar Dominguez, AIA, LEED AP) a large square surrounded by restaurants, shops and other businesses.
Plaza de las Culturas (Cultures' Plaza), a new park completed in 2005. The Plaza is a homage to Mexico's three main indigenous cultures: Aztec, Mayan, and Olmec. It features a replica of a pyramid representative of the style of each of the cultures, the biggest one being a replica of the Pyramid of the Sun, located in Teotihuacan, near Mexico City.
La Gran Plaza
Plaza de las Culturas
Plaza de Toros Monumental "Arizpe"
Macroplaza I
Macroplaza II
Mercado Zaragoza, known simply as El Mercado ("the Market"), a traditional Mexican market where one is able to buy a variety of hand-made arts and crafts from the state: vases, leatherworked items, clay and ceramic wares, as well as traditional Mexican candy from the region.
Catedral de Piedras Negras (Diócesis de Piedras Negras)
El Santuario de Nuestra Señora de Guadalupe, Built in 1859 of ashlar, cement and wood, this church has survived the battles of the Cristero movement in 1927 and an explosion in 1934, leading to its renovation in 1935. The construction of its current towers began in 1950.
Santuario de Nuestra Señora de Guadalupe (Construido en 1859 de cemento y madera, este santuario sobrevivió los movimientos Cristeros en 1927 y una explosión en 1934, se remodeló en 1935. La construcción de sus torres empezó en 1950).
The ruins of San Bernardo Mission (18th century)
Presidio militar de Monclova Viejo (1773 ruins)
Antiguo Hotel del Ferrocarril (Ruinas)
Gran Bosque Urbano – El Vergel
Centro de Desarrollo Comunitario Ejido Piedras Negras
Centro de Desarrollo Comunitario Col. Presidentes
Centro de Desarrollo Comunitario Col. Doctores
Centro de Desarrollo Comunitario Col. Lazaro Cárdenas
Centro Cultural Multimedia 2000
Teatro del IMSS (Hospital General de Zona #11)
Teatro de la Ciudad "José Manuel Maldonado Maldonado"
Auditorio de Piedras Negras
Asta Bandera Monumental "Puente Internacional II" (50 mts.)
Asta Bandera Monumental "La Gran Plaza" (120 mts.)
Monumento a Venustiano Carranza (Blvd. Carranza)
Monumento al Centenario de la Independencia (Inaugurado el 16 de septiembre de 1910 por el presidente Porfirio Díaz, ubicándolo entre las calles Zaragoza y Fuentes, para ser trasladado posteriormente a la Plaza Central de la Colonia Roma el 15 de julio de 1963)
Monumento a los Niños Héroes de Chapultepec (Macroplaza I)
Monumento a las víctimas de la inundación del 04/04/04 y el tornado del 24/04/07 en Villa de Fuente
Monumento al Venado Cola Blanca
Monumento '"Héroes de Coahuila"
Estadio Piedras Negras
Estadio Sección 123
The Handicrafts Museum
Museo del Niño "Chapulín" (En Construcción)
Antigua Presidencia Municipal (Próximamente, Museo de la Frontera Norte)
The Culture House
Casa de la Cultura
Casa de las Artes
The Hunting and Fishing Club
De La Ventana Caverns
Infoteca
Paseo del Río
Casa Redonda o Maestranza (Donde se constuyeron los cañones constitucionalistas)
Misión de San Bernardo (Guerrero, Coah. / 40 km de Piedras Negras)
Edificios de Telégrafos y Correos
Edificio de la Universidad Autónoma de Piedras Negras
Antigua Hacienda de San Isidro
International Day of the Nacho
The International Day of the Nacho takes place every October 21. It was initiated in the 1990s in the United States and Mexico to commemorate the invention of nachos by Ignacio "Nacho" Anaya in 1943 at El Moderno restaurant in the border town of Piedras Negras, Coahuila.
Bike Fest
For 12 years in a row, the Annual Bike Fest has attracted visitors from 41 different cities in Mexico and the United States. Activities last for 2-3 days and include concerts, food sales, acrobatic shows, a drive through town and a drawing with a brand new bike as the grand prize. The 2016 prize was a Harley Davidson Sportster. The 2016 Bike Fest brought a revenue of 1.5 MDP (million pesos), roughly $37,875.00 USD.
Commercial air service is available via Aeropuerto Internacional de Piedras Negras.
You can dial 078 from any phone, where you can find free information about tourist attractions, airports, travel agencies, car rental companies, embassies and consulates, fairs and exhibitions, hotels, hospitals, financial services, migratory and other issues.
Or dial the toll-free (in Mexico) number 01-800-006-8839.
You can also request information to the email correspondencia@sectur.gob.mx
MORE EMERGENCY NUMBERS:
General Information: 040 (not free)
National Emergency Service: 911
Radio Patrols: 066
Police (Emergency): 060
Civil Protection: +52(55)5683-2222
Anonymous Complaint: 089
Setravi (Transport Mobility): +52(55)5209-9913
Road Emergency: 074
Cruz Roja: 065 o +52(55)5557-5757
Firefighters: 068 o +52(55)5768-3700
Use these tags to read more related posts and reviews:
---
Let us know if this article was useful for you