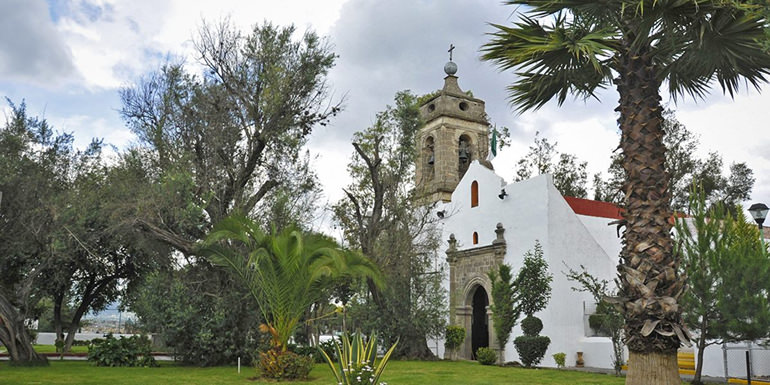 Cuautitlán Izcalli
Cuautitlán Izcalli is a city and municipality in State of Mexico, Mexico. The name comes from Náhuatl and means 'your house among the trees.'
By 2005 Mexican national intermediary (conteo) census figures, the city of Cuautitlán Izcalli is the sixth-most populous in the state, with its population of 477,872 dominating a municipality of 498,021 people.
Cuautitlán Izcalli municipality was created in the 1970s, carved mostly out of Cuautitlán de Romero Rubio (now simply 'Cuautitlán'). Originally planned as the first self-sufficient city in the neighbourhood of Mexico City, the city's design was based on European and American cities and included an industrial, a residential and several green areas.
After the 1985 Mexico City earthquake, however, the plans fell apart due to a large influx of people searching for zones, such as Cuautitlán Izcalli, with no seismic danger.
Cuautitlán Izcalli is home of the Centro Episcopal Mexicano visited by Pope John Paul II during his 1991 visit to the country. You can find the largest San Benedict's Abbey in Mexico and the second largest music auditorium, Teatro San Benito Abad, in the urban area of Mexico City.
On 9 June 2014, Pope Francis erected the new Izcalli Diocese to serve the area, with territory taken from the Cuautitlán Diocese; the two dioceses are both among the suffragan sees in the Ecclesiastical Province of the Roman Catholic Archdiocese of Tlalnepantla in Tlalnepantla.
You can dial 078 from any phone, where you can find free information about tourist attractions, airports, travel agencies, car rental companies, embassies and consulates, fairs and exhibitions, hotels, hospitals, financial services, migratory and other issues.
Or dial the toll-free (in Mexico) number 01-800-006-8839.
You can also request information to the email correspondencia@sectur.gob.mx
MORE EMERGENCY NUMBERS:
General Information: 040 (not free)
National Emergency Service: 911
Radio Patrols: 066
Police (Emergency): 060
Civil Protection: +52(55)5683-2222
Anonymous Complaint: 089
Setravi (Transport Mobility): +52(55)5209-9913
Road Emergency: 074
Cruz Roja: 065 o +52(55)5557-5757
Firefighters: 068 o +52(55)5768-3700
Use these tags to read more related posts and reviews:
---
Let us know if this article was useful for you