Evening picnic in the Bosque de Chapultepec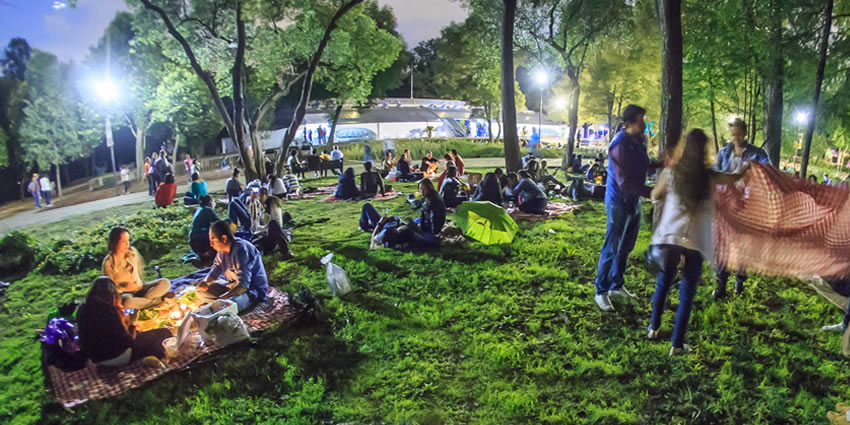 Mexico City has many attractions for residents and tourists.
But Mexico City is known not just for its numerous museums, colonial architecture, and archaeological sites, it also has something for nature lovers to pay attention to. Mexico City is rich in parks and green areas.
Mexico City also offers a lot of outdoor activities, and if you are a nature lover, and if you're in the mood, have a picnic. Mexico City has plenty of places to picnic to enjoy, from city parks to former monasteries and even archaeological ruins.
Time to welcome the spring season and with it comes good weather and the desire to enjoy outdoor activities. This is also common in Mexico City, where inhabitants gather in parks and gardens to spend the day with family and friends.
A good place is half the success, so where to have a picnic? If you decide to organize a full-fledged picnic for the whole day, then it is better not to go somewhere at random, but to come up with some good places in advance.
There are some excellent places for a picnic in Mexico City are:
Ex-Culhuacán Convent
Ecological Park Loreto and Peña Pobre
Bosque de Chapultepec (Chapultepec Forest)
Cuicuilco Archaeological Zone
Tlalpan Forest
University City
National Cinematheque, whose parkland includes the Gabriel Figueroa Film Forum to enjoy an outdoor movie
Parque Hundido
Museo Tamayo Parks, where you can combine a picnic with a visit to the museum
Viveros de Coyoacán, a natural sanctuary surrounded by wildlife
Ecological Park Xochimilco, where you can also take an excursion in the famed multicolored boats
Desert of the Lions, a forest of 1,500 hectares
Evening picnic in the Bosque de Chapultepec
But without a doubt, there is a place that is worth highlighting for its importance and the entertaining activities it offers. That is the Bosque de Chapultepec, which some consider the lungs of Mexico City, is also the largest urban park in the country.
It has an artificial lake, museums, and a Zoo and offers a large number of activities. Chapultepec is one of the must-see attractions throughout the Aztec capital and one of the best places to set up your picnic thanks to its extensive green areas and lush trees.
That being said, if you are looking for a new experience, here is one of the best activities to consider: on the second Saturday of each month there is a great night picnic, between the hours of 20:00 and 23:00 o'clock, to enjoy as a couple or with friends.
This entertaining activity, which is free of charge, allows you to bring your own comfortable picnic blanket, basket with ready-made meals, easy to transport and eat, and better yet, a good bottle of wine.
Don't forget to clean up after a picnic and make sure you don't forget anything.
Good weather and a great picnic!
Use these tags to read more related posts and reviews:
---
Let us know if this article was useful for you