The world's best diving in Cozumel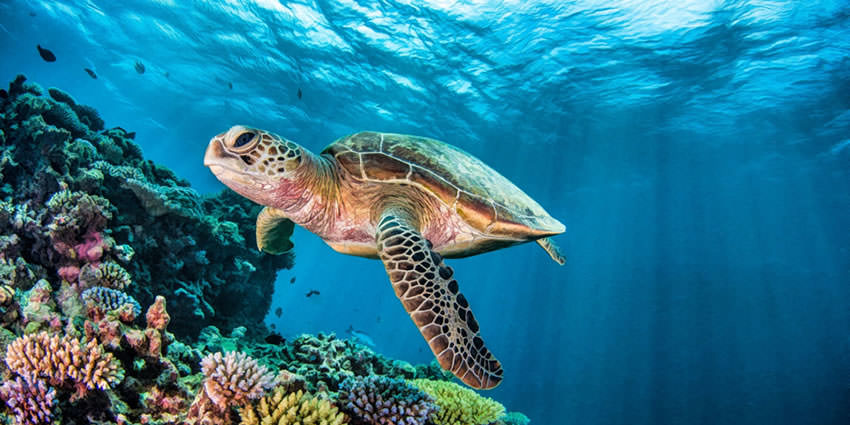 Diving in Cozumel, the third largest island in Mexico, is considered one of the best diving experiences in the Mexican Caribbean, perhaps even in the world. Cozumel is a subtropical paradise still intact.
Having the ideal climate for diving throughout the year, Cozumel is one of the most beautiful and at the same time the most hidden places for diving. The island of Cozumel is located off the Yucatan peninsula and can be easily reached by ferry from Playa del Carmen.
Cozumel is part of the second-largest coral reef in the world.
The west coast of the island, from the extreme south almost to San Miguel, stands out for its topography.
Reefs and diving in Cozumel, and extraordinary coral formations in shallow waters are only the tips of the Iceberg of the marine adventures that can be enjoyed in Cozumel.
The famous Colombia and Palancar reefs form a ring around the southern tip of Cozumel making you fall in love with these natural wonders. These two reefs are treasures of the sea and gifts of nature.
The coast is part of the National Marine Park that is under protection.
Fishing is not allowed, for this reason, you can enjoy the diverse and abundant marine life.
Marine life in Cozumel
Cozumel is home to a huge number of marine life. When diving, you can see turtles, nurse sharks, blacktip and reef sharks, moray eels, blowfish, and stingrays.
The southern reefs are deeper and the massive corals are covered with bright sponges. Corral formations here create a network of unusually beautiful canals.
Northern reefs are shallower. There are many small marine creatures here.
Scuba divers cross here with turtles, stingrays, barracudas, moray eels, sharks, lobsters… Shallow reefs are brightly colored with many different colors, and divers drift along with exotic corals, sponges, and marine life.
The shallower reefs are also the best place for day and night boat dives. If you dive at dusk, you can see much more marine life, including squid.
The underwater nightlife in Cozumel is very beautiful. Often divers are looking for seahorses, but they are hiding somewhere and it is rather difficult to find them.
There are many dive centers in Cozumel. Diving is done from all kinds of boats. In case, if you are on the mainland, then the most convenient option is to sail by boat directly from Playa Del Carmen.
Morning dives with two cylinders are standard. Due to the currents (going from south to north), the dive boats follow the divers as they sail along the reef before going up right next to the boat.
Experienced divers start from deeper places, they can dive to a depth of twenty-five meters. Dives can be made along the famous Punta Sur, Colombia, and Palancar Reefs.
This is followed by a surface interval, followed by a second dive further north to smaller reefs such as Paso Del Cedral, Tormentos, and Chankanaab.
Those looking to dive for a few days get a huge variety of dive sites on the island. The best diving in Cozumel can be found in both the north and south. There are more than 40 diving spots on the island. Here are some of the most popular diving spots in Cozumel:
Santa Rosa Wall
Colombia Wall
Palancar Reef
Palancar Horseshoe
Punta Tunich
Barracuda Reef
Paradise Beach
Aerolito de Paraiso
The diving season in Cozumel lasts all year round. Nevertheless, the period from December to April is considered seasonal, at this time there are a lot of tourists in Cozumel who come from all over the world.
The period from May to September is considered the rainy season, but the water starts to warm up. Late summer and autumn are considered off-season due to occasional hurricanes, but the water temperature is at its warmest, up to around 29°C.
It is believed that May – July is the best time to dive in Cozumel because there are fewer people, good weather, warm water, and no hurricanes.
Typically, the strongest currents occur between seasons, and these currents can bring more sharks and eagle rays.
The west coast is the best side to stay on Cozumel. The east side is undeveloped, making it a great place for an interesting road trip, and there are some nice spots for lunch as well.
Grand Park Royal Cozumel Hotel has award-winning architecture and interior design.
It is recognized as one of the best hotels in Cozumel. This 5-star hotel and resort in Cozumel are perfect for experiencing this fascinating island and enjoying excellent facilities, service, and activities.
Enjoy the evocative Mayan-inspired atmosphere, dip into its infinity pools with oceanview jacuzzis, relax at hotel's SPA, or taste the delicious local cuisine. Your holiday or celebration at Grand Park Royal will surpass your dreams!
Use these tags to read more related posts and reviews:
---
Let us know if this article was useful for you