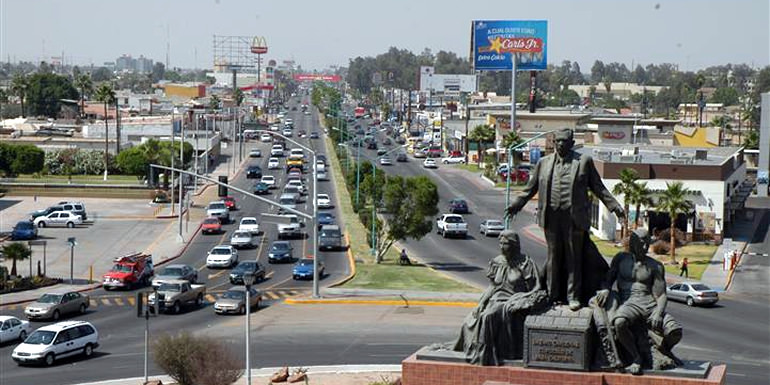 Mexicali
Mexicali is the capital city of the Mexican state of Baja California and the seat of the Municipality of Mexicali. Mexicali is situated on the Mexico–United States border adjacent to its sister city Calexico, California, with which it forms a dual-state, international population center, Calexico–Mexicali.
Mexicali became the national center for the aerospace industry in Mexico when Rockwell Collins (former Hughes Tool Company) established an operation there in 1966. Rockwell Collins is the oldest company under the maquiladora program nationwide.
Mexico's drinking age is 18 years old (vs. 21 in the United States) which makes it a common weekend destination for many high school and college students from Southern California.
The Mexicali Valley is one of the largest and most fertile valleys in Mexico. Over fifty different crops are grown in the valley, which is similar in production to the Imperial Valley.
National and international industries have invested in Mexicali and surrounding cities to take advantage of its tax-free status given to the industry. The Mexicali Valley is a primary source of water for the region, which is the largest irrigation district in Mexico.
The nearby Cerro Prieto volcano is adjacent to the Cerro Prieto Geothermal Power Station, which creates high volumes of pollutants, among them, mercury. As of 2014, the government is creating a zone of exclusion, due to the alarming amount of pollutants and contamination that has permeated throughout miles around the geothermal plant of Cerro Prieto.
Climate
Because of its low annual precipitation, Mexicali has an arid climate (BWh). Under the criteria for the Köppen climate classification, Mexicali maintains desert weather temperatures every year.
On December 12, 1932, the city experienced snowfall. Rainfall usually occurs in the winter months of December, January, and February. Although Summer is extremely dry in Mexicali, one of every two days there is an end moisture content.
In 2008, during the months of July and August, there were several heavy thunderstorms that let down large amounts of rain and hail. Summer rainfall in the city is infrequent.
During wintertime, Mexicali is affected by the snow storms that pass by the town of La Rumorosa located in the Sierra de Juárez, about 45 minutes west of the city, causing a decrement in temperature that lasts from two days to one week.
The summer temperatures in Mexicali are significantly higher than in Tijuana, the other major city in Baja California. This is caused by the temperatures in Tijuana being moderated by the ocean, but nearby inland areas such as Mexicali being significantly hotter.
However, the hot desert climate seen in Mexicali is actually not unusual for similar parallels, seen in Baghdad, Iraq for example.
Earthquakes
On October 15 of 1979, an earthquake of 6.6 ° struck the valley and urban area of ​​Mexicali.
Between February and March of 2008, more than 500 earthquakes occur in the valley and urban zone of Mexicali.
On December 30 of 2009, an earthquake of 5.9 ° hits the city and valley area.
On April 4 of 2010, an earthquake of 7.2 ° occurs in the valley area of ​​Mexicali.
The City of Mexicali has a population of almost 690,000, according to the 2010 census, while the population of the entire metropolitan area reaches almost 1 million making the city and metropolitan area the second most populous in Baja California.
The residents of Mexicali (Mexicalenses) call themselves "Cachanillas" (due to a local plant, the cachanilla, used by the Cucapah tribe to build shacks) and are from culturally diverse backgrounds, and it is among the most ethnically diverse cities in Mexico, with people from various Native American, European, African, East Asian, and Middle Eastern origins.
There is a very popular song called "Puro Cachanilla" also known as "El Cachanilla" that identifies people from Mexicali.
The city itself had a 2005 census population of 653,046, whereas the municipality's population was 895,962. It is the 13th largest municipality in Mexico as of the Census 2005 with population estimates exceeding one million alone.
The population is constantly growing due to the number of maquiladoras in the area, lack of urban planning, and migrational aspects, like seasonal labor and the constant in-and-out flow of immigrants to the U.S. or into Mexico.
The city claimed to have the largest per capita concentration of residents of Chinese origin in Mexico, around 5,000 until 2012 when the Tijuana La Mesa District surpassed that number at 15,000 Chinese immigrants.
The Chinese immigrants came to the area as laborers for the Colorado River Land Company, an American enterprise that designed and built an extensive irrigation system in the Valley of Mexicali.
Some immigrants came from the United States, often fleeing anti-Chinese policies there, while others sailed directly from China. Thousands of Chinese were lured to the area by the promise of high wages, but that never materialized.
Since 2000, new migrants from China to Mexicali come from many of the same areas as before 1960, with perhaps 90% from Guangdong or Hong Kong.
The word Mexicali is the union of the names Mexico and California; it is said that this name was imposed in 1902 by Colonel Agustín Sanginés, then political head of the Northern District.
Although the official name is Mexicalense, the term cachanilla is common, a plant found in these lands, particularly alongside irrigation water channels.
There is also the Chicali hipocorístico to refer to the city, although its use is informal and probably a chicanismo, or part of a marginal jargon, however, is employed de facto within the cachanilla culture and had a clear example of its use in the magazine The Chicali News.
The Spaniards arrived in the area after crossing the Sonoran Desert's "Camino del Diablo" or Devil's Road. This led to the evangelization of the area by Catholic missionaries and also to the reduction of native populations in the region.
Nowadays, indigenous Cocopah people still inhabit a small government-protected corner of the Colorado River delta near the junction of the Hardy and Colorado. The Cocopah mostly work on agricultural ejidos or fishing.
The early European presence in this area was limited to Anza's and subsequent Spanish expeditions across the Colorado Desert and subsequent travelers on the Sonora Road opened by them.
Also, the presence of the Jesuits attempted to establish a mission in what is now Fort Yuma. They left after a revolt by the Yuma in 1781.
After this, the Spanish had little to do with the northeastern corner of the Baja California Peninsula, perceiving it as an untamable, flood-prone desert delta. Later in the 1820s, the Mexican authorities reopened the Sonoran Road and restored peaceful relations with the Yuma People.
The Sonoran Road provided a route for American fur trappers, and later American troops of Kearny and Cooke passing through the area during the Mexican–American War.
The annexation of most of Alta California soon was followed by the California Gold Rush that saw a flood of gold seekers from Mexico on the Sonora Road, especially from Sonora, and from the United States via the Southern Emigrant Trail.
Herds of cattle and sheep have driven into California across this desert trail also.
This route became a U. S. Mail and stagecoach route in 1857 when the San Antonio-San Diego Mail Line and in 1858 Butterfield Overland Mail route passed along the Alamo and New Rivers and established stations there including its New River Station in the vicinity of a Laguna along the New River in what is now Colonia Hidalgo, Mexicali in 1858.
This mail route remained in use until 1877 when the Southern Pacific Railroad came to Yuma making it obsolete.
Late 19th century
In the mid-19th century, a geologist working for the Southern Pacific Railroad came to the delta area, discovering what the native Yumans had known for centuries: that the thick river sediment deposits made the area prime farming land.
These sediments extended far to the west of the river itself, accumulating in a shallow basin below the Sierra de Cucapá. However, from this time period until the 1880s, the area was almost completely unpopulated, mostly due to its harsh climate.
In 1888, the federal government granted a large part of northern Baja state, including Mexicali, to Guillermo Andrade, with the purpose of colonizing the area on the recently created border with the United States.
However, around 1900, the only area with any real population, aside from the Cocopah, was concentrated in Los Algodones, to the east of Mexicali.
20th century
In 1900, the U.S.-based California Development Company received permission from the government of Díaz to cut a canal through the delta's Arroyo Alamo, to link the dry basin with the Colorado River.
To attract farmers to the area, the developers named it the "Imperial Valley". In 1903, the first 500 farmers arrived; by late 1904, 405 km² of the valley were irrigated, with 10,000 people settled on the land harvesting cotton, fruits, and vegetables.
The concentration of small housing units that straddled the border was called Calexico on the U.S. side and Mexicali on the Mexican side.
Led by Los Angeles Times publisher Harry Chandler, one company controlled 800,000 hectares of land in northern Baja California by 1905 and began to build the irrigation system for the Valley.
However, instead of using Mexican labor to dig the ditches, Chandler brought in thousands of Chinese laborers. Mexicali became culturally Chinese influenced.
The Mexican side was named Mexicali (a portmanteau composed of "Mexico" and "California") by Coronel Agustín Sanguinéz. Initially, the area belonged to the municipality of Ensenada.
The town of Mexicali was officially created on 14 March 1903 when Manuel Vizcarra was named as the town's first authority and Assistant Judge (juez auxiliar). On January 29, 1911, Mexicali was briefly "liberated" by the Liberal Party of Mexico during the Mexican Revolution.
Mayor Baltazar Aviléz declared the municipality of Mexicali on November 4, 1914, and called for elections to the creation of the first ayuntamiento or Municipality, which was then headed by Francisco L. Montejano.
In the 20th century, the Colorado Riverland Company, a U.S.-based company, was dedicated to renting Mexican land to farmers; however, these farmers were almost always foreigners, such as Chinese, East Indians, and Japanese.
The Mexicans were employed only as seasonal laborers. This situation led to the agrarian conflict known as the "Asalto a las Tierras" (Assault on the Lands) in 1937. in which Mexican land was taken by Mexicans.
Agricultural production continued to increase during the 20th century.
Cotton became the most important crop and it help develop the textile industry. In the early 1950s, the Mexicali Valley became the biggest cotton-producing zone in the country, and in the 1960s, production reached more than half a million parcels a year.
Currently, the Valley still is one of Mexico's most productive agricultural regions, mostly producing wheat, cotton, and vegetables.
The city of Mexicali is one of Mexico's most important exporters of asparagus, broccoli, carrots, green onions, lettuce, peas, peppers, radishes, and tomatoes to the world.
The government of the municipality was reorganized when the Baja California territory became the 29th state in 1953.
21st century
Today Mexicali is an important center for maquiladora (assembly plant) production in automotive, aerospace, telecommunications, metallurgical, and health items as well as manufacturing and exporting products to various countries.
The 2010 Baja California earthquake occurred on Easter Sunday about 60 km south-southeast of Mexicali. This very large magnitude 7.2 earthquakes occurred at 15:40:40 local time (UTC−8) according to the U.S. Geological Survey.
With a maximum Mercalli intensity of VII (Very strong), it was felt in northern Baja California near the United States–Mexico border and was also felt in western cities such as Tijuana, San Diego, Los Angeles, and parts of Arizona.
Visitors from the U.S. cross by foot or by car from Calexico, United States, every day. Tourists are mainly attracted to local taco stands, restaurants, pharmacies, bars, and dance clubs.
Near the border, within walking distance, there are many shops and stalls selling Mexican curios and souvenirs.
Antiguo Edificio de la Cervecería Mexicali Este histórico edificio fue construido el 4 de julio de 1923. Aaquí fue elaborada la cerveza "Mexicali", la más famosa de su época. El arroz era traído de Estados Unidos y la malta de Bohemia. La cerveza era tipo casera.
Construido de madera con una cubierta de concreto que daba el aspecto de granito. En el tercer piso, había un molino que trituraba el arroz a base de fuego, después era llevado a un batidor; en el mismo piso funcionaba otro molino que refinaba la malta y después de un período de cuatro meses de reposo la cerveza salía a la venta.
Antiguo Palacio de Gobierno, hoy Edificio de Rectoría de la UABC, fue onstruido durante el período del Gobernador del Territorio de Baja California en 1916, el Coronel Esteban Cantú. Su estilo arquitectónico es francés.
La construcción inició en junio de 1919 y fue terminada por José Inocente Lugo el 15 de septiembre de 1922. Fue sede del Ayuntamiento de Mexicali durante el período del Gobernador Abelardo L. Rodríguez. En 1957 pasa a ser propiedad de la UABC.
Edificio de la Colorado River Land, Co. Era el año de 1902 cuando se creó esta compañía, manejada desde la Ciudad de México y propiedad del Valle de Mexicali por casi cuatro décadas.
En 1904 se obtuvieron 185.000 pero se sembraron 400.000 hectáreas, llegando a ser uno de los más importantes productores de algodón en el mundo. Teniendo alrededor de 8000 empleados de México, China, India y Japón. En ese tiempo la producción diaria era de 25 toneladas (55.200 libras) de algodón. Fue el más importante productor de algodón en el noroeste de México.
Actualmente funciona como oficinas para diversas empresas privadas y es uno de los edificios más bellos de la ciudad.
Plaza de Toros "Calafia"
Fue inaugurada el 16 de noviembre de 1975. Tiene capacidad para 11.500 personas, es el principal escenario para las corridas de toros y eventos masivos en Mexicali. Cuenta con un ruedo que es usado también en los famosos espectáculos mexicanos llamados "charreadas" y festivales artísticos así como conciertos de reconocidos artistas nacionales y extranjeros.
Plaza de los Tres Poderes. En la explanada del Centro Cívico podemos encontrar los edificios de los tres niveles de gobierno construidos en abril de 1977, con el propósito de simplificar a las personas los trámites en la administración pública. En el centro de los edificios fue construido un monumento que representa los cuatro municipios del Estado, actualmente el Estado cuenta con un quinto municipio, Playas de Rosarito. El monumento que parece ser un cactus gigante sostiene una esfera dorada que representa el sol; este fue construido durante el período del gobernador Milton Castellanos Everardo.
Escuela Cuauhtémoc (Hoy Casa de la Cultura) Edificada en la década de los años 1920 con el auge en la Ciudad de la construcción de escuelas y edificios públicos y privados debido al inminente polo de desarrollo industrial y agrícola.
Edificio del Instituto de Bellas Artes Este edificio fue creado como Banco Agrícola Peninsular en 1927, primera institución de crédito oficial en el distrito y en el país, años más tarde este edificio sería utilizado como Instituto de Bellas Artes del Estado, se localiza en la Ave. Álvaro Obregón y Calle Pedro. F. Ramírez
Catedral de Nuestra Señora de Guadalupe Ya con una población permanente, Mexicali vio nacer al Templo de Nuestra Señora de Guadalupe en 1917, donde se ofició por primera vez una misa de Navidad meses después de su construcción.
Hoy, ese templo casi centenario es la sede del obispado de Mexicali, en otras palabras, es la Catedral de Mexicali, y está ubicada en el corazón de su centro histórico, a un par de cuadras de la línea fronteriza.
Escuela de Artes de la UABC El edificio de la hoy escuela de artes de la UABC, construido entre 1923-1925, funcionó como Palacio Municipal de Mexicali de 1926 a 1986.
Escuela Primaria Federal Leona Vicario En 1923, se concluye la construcción de una de las edificaciones más emblemáticas de la ciudad de Mexicali. La escuela primaria federal Leona Vicario, que abrió sus puertas el 1 de abril de 1924, en un principio, sólo para niñas, aunque la demanda obligó a que sus servicios se extendieran para varones.
En 1997 fue declarada Patrimonio Cultural de la Ciudad y es la única escuela de la primera mitad del siglo XX que se mantiene operando.
Hotel del Norte Un cuarto de siglo después, se fundó el Hotel del Norte, mismo que aún continúa en operaciones. Con un estilo arquitectónico único, evitando las aristas puntiagudas, impuso una etapa en la arquitectura de Mexicali que fue seguido por otras edificaciones de la época que aún se encuentran de pie en el Centro Histórico de la Ciudad.
La Pagoda La Pagoda es un monumento ubicado en la Plaza de la Amistad en Avenida Madero y Calle Melgar, fue inaugurada por el Honorable XIV Ayuntamiento de Mexicali en el año 1995, este monumento es en honor a la gran importancia de la comunidad y cultura china en la ciudad, lleva por nombre "A Ciudades Hermanas Mexicali y Nan Jing".
El Tecolote Este edificio se construyó debido a un incendio en "El Tecolote" ubicado en la esquina suroeste de la avenida Reforma y la calle Azueta en 1922 y el señor Mr. W.C. Allen y sus socios Beyers y Wittigton decidieron construir uno nuevo en la esquina del bulevar López Mateos y la calle Melgar en 1924, su razón social era "ABC CLUB" y posteriormente cambió a "ABW CLUB"; para los mexicalenses fue siempre "El Tecolote".
En 1927 sufrió un incendio por lo que se reconstruyó hasta su clausura por disposición del presidente Lázaro Cárdenas en 1935. Hace poco fue restaurado y funge como una tienda de conveniencia Oxxo.
Locomotora 2703 del Ferrocarril Sonora-Baja California Ubicado entre Av. de la Industria y Nacozari, en la Colonia Nacozari frente a la Estación del Ferrocarril de Mexicali, propiedad de Ferromex.
Teatro del Estado
Teatro de Casa de Cultura de Mexicali
Teatro del CREA
Teatro Universitario de Mexicali, is mainly used for UABC ceremonies and occasionally for plays
Teatro al Aire Libre de Rectoría which hasn´t been used in the last 30 years
Teatro del Seguro Social was inaugurated in the 1970s
Teatro al aire libre del Centro de Enseñanza Técnica y Superior CETYS unveiled on September 2006
Teatro del Centro de Enseñanza Técnica y Superior CETYS
IMAX Theatre at the Sol del Niño Museum
Centro Estatal de las Artes with multiple theaters and convention centers
Galerias del Valle, holds a Walmart Supercenter, a 12-screen movie theater Cinepolis, two casinos, and a food court, plus a large array of stores that sell many items needed for daily living. It is located on Boulevard Lazaro Cardenas at Calle 11.
Museo Sol del Niño
Sol del Niño, en Mexicali, es un museo interactivo, enfocado a mostrar la explicación científica de algunos fenómenos de la naturaleza. Está enclavado en el parque Vicente Guerrero, a pocos minutos del centro histórico de la ciudad y del cruce fronterizo con Calexico, California. El edificio donde se constituye fue, muchos años antes, una despepitadora y este hecho lo liga de un modo estrecho con el origen de la ciudad.
Instituto de Investigaciones Culturales: Museo UABC El Centro de Investigaciones Culturales, el lugar está dividido en dos partes, el área de investigación y la del museo.
A grandes rasgos, el área de investigación cuenta con maestros y doctores que realizan estudios socioculturales en el estado. La parte que está abierta al público es el museo, que cuenta con 2 exposiciones, una permanente sobre los primeros pobladores del estado de Baja California. Entre ellos los cucapá, una etnia indígena que continúa luchando hasta el día de hoy.
En esa área, de exposición permanente, se cuenta con maniquís, artesanías, artefactos, entre otras cosas interesantes que despertará el interés de los niños. En la segunda es la que cambian periódicamente para el público, suele ser la carta fuerte del museo.
Centro de Desarrollo Humano Integral Centenario Este lugar no es solo un parque, es un espacio de 14 hectáreas donde por solo siete pesos que cuesta la entrada puedes disfrutar de un sinfín de actividades recreativas como lo son los deportes, siempre que se va a un sitio de estos lo primero que se piensa es que se limitan a tener canchas de basquetbol, fútbol, softball o béisbol, este no es el caso de este centro pues también tiene de fútbol rápido, americano y frontón, en todos se pueden organizar torneos.
For recreation, Mexicali has bath halls, bowling alleys, traditional cantinas, car clubs, strip clubs, movie theaters, museums, a zoo, a convention center, supermarkets, and fast food restaurants for every choice of food.
Parque Vicente Guerrero Una gran opción para pasar un rato en familia, con amigos o simplemente ir a ejercitarse un rato o meditar es el Parque Vicente Guerrero pues sin ningún costo se puede disfrutar de las áreas que tiene el lugar como lo son juegos, asadores, rampas para patinar, ir en bicicleta o simplemente correr.
El lugar lleva muchos años y es conocido por su ambiente sano y cálido. Se organizan eventos musicales o algunos talleres para niños, mujeres o adultos en general, cuentan con el vagón de la ciencia donde ponen a los niños a ejercitar la mente y pasar un rato agradable con otros niños haciendo actividades de su edad para que no se aburran mientras están afuera.
Hay varias tiendas para que puedan comer, consumir botanas o tomar algo. Afuera generalmente hay puestos para que las personas conozcan otras culturas, en algunas fechas se encuentras las personas de la región de Oaxaca que llegan a Mexicali a compartir un poco de lo que viven en su tierra como la comida, nieves, ropas, músicas, instrumentos musicales, y recuerdos para cualquier ocasión.
Se le atiende a las personas muy bien y hay espacio para poner el carro y no batallar pues la entrada está muy cerca.
Bosque y Zoológico de la Ciudad
Espaciosa área con juegos para niños, museo botánico, zoológico, cafetería, prados verdes asadores, teatro al aire libre y lago y parque acuático. Servicios y atractivos que ofrece: Áreas verdes, asadores, chapoteadero, juegos recreativos, el lago para pasear en las lanchas, un aviario, juegos infantiles, tobogán gigante, tren de vìa,jardín botánico desértico, paseo de las culturas prehispánicas, zoològico,mini zoo, sala de audiovisual, museo de historia natural, teatro al aire libre, casa del oso, palapas,, tienda de souvenirs, tirolesa, restaurante el lago, fuente de sodas, área para caminar, trotar, estacionamiento.
Además de eventos artísticos que se están presentando, Casa de la energía, tiene área de comida.
Juventud 2000 Áreas verdes, áreas para niños con capacidades diferentes, gimnasio, alberca, circuito de bicicleta, enfermería, estacionamiento, etc. Se imparten clases de diversas disciplinas deportivas.
Estadio B'Air (Anterior Nido de las Águilas)
El estadio fue edificado en la ciudad deportiva de Mexicali, Baja California entre los años de 1972 y 1973, fue concebido como parque para la práctica del deporte a nivel aficionado. En 1975 con motivo de la incorporación de club Águilas de Mexicali se convirtió en la sede del equipo.
Ciudad Deportiva Son las instalaciones donde los deportistas de alto rendimiento llevan a cabo su entrenamiento para competencias a nivel municipal, estatal, nacional e internacional, al igual donde cualquier individuo puede gozar de las instalaciones para ejercitarse y convivir de una manera sana.
Cuanta con múltiples áreas para practicar una variedad de deportes diferentes como lo son tenis, box, tiro con arco, natación, entre otros. Cuenta con estadio de béisbol, alberca olímpica, pista de caminata y auditorio donde se juega basketball.
Está ubicada entre calles Calzada Aviación y Cuauhtémoc. La ciudad deportiva es una facilidad que ayuda a entrenar a todos los aspirantes deportistas de Mexicali, desde los equipos representativos, atletas profesionales, hasta futuros olímpicos.
Mexicali also has the Baja Prog festival, a series of progressive rock concerts that take place on four consecutive days in springtime. It is hosted by CAST, a progressive rock band from Mexicali.
Mexicali hosts Baja Prog, one of the world's most important events in progressive rock. Since 1997, Baja Prog has been in the eyes of the world for being an event gathering the best bands of the progressive rock scene.
Fiestas del Sol
Es un evento llevado una vez al año desde 1976 en Mexicali, cuenta con eventos musicales, juegos mecánicos, área de comida, antojos, exposiciones y promociones de ventas, shows entre muchas cosas más.
Centro de espectáculos Promocasa Es un foro donde se llevan a cabo muchos eventos, desde conciertos con artistas nacionales e internacionales, así como de la Orquesta de Mexicali, también se renta para conferencias y deportes.
El box es algo que mantiene a los mexicalenses muy al tanto de este lugar pues quieren ser parte de este tipo de atracciones. Cuando se llevan a cabo las Fiestas del Sol y feria de las Fiestas del Sol, el palenque abre sus puertas para recibir el Torneo de Gallos y espectáculos musicales.
Mexicali hosts four main shopping malls, the most visited being Plaza La Cachanilla, located a mile away from the US border. The mall hosts a variety of shops, which sell a wide array of items, ranging from cheap Mexican curios to expensive imports.
The Plaza La Cachanilla also represents a common place for people to socialize, especially during Summer days when the weather reaches high temperatures, many families come and spend the day inside the air-conditioned mall.
Land
Mexicali is located at a Junction of major interstates and federal highways.
These include Interstate 8, leading from San Diego to the Arizona Sun Corridor where the cities of Phoenix and Tucson dominate, Federal Highway 2, which leads east to San Luis Río Colorado and west to Tijuana, and Federal Highway 5 connecting San Felipe with Mexicali.
Other roads lead southwest to Ensenada or north to the Imperial Valley.
The road system in the city of Mexicali and its conurbation is very complex. Over the urban area, long boulevards are traversed from one end of which most are 6 lanes with a median of 2 lanes.
The backbone of the city is Lazaro Cardenas Boulevard extending from east to west. This boulevard is 24.5 km long and consists of 6 lanes (3 in each direction), a shoulder in each direction, and ridges of 3 lanes creating a wingspan of 50 meters.
In certain sections, the boulevard is made of 8 to 10 lanes. Other important boulevards include Adolfo Lopez Mateos, Benito Juárez, Anáhuac, Justo Sierra, Venustiano Carranza, Manuel Gómez Morin, Francisco L. Montejano, Cetys, Héctor Terán Terán, Independencia and Heroico Colegio Militar, among others.
There are two corridors within the city: the New River Ecological Corridor, which is guided in the ancient New River bed, and the Palaco Industrial Corridor, which crosses the southern Industrial zone of Mexicali.
There is also the beltway, located in the east of the city, connecting Lazaro Cardenas Blvd. with Islas Agrarias Blvd. and the road to Colonia Abasolo, and this in turn with the Airport Road.
Within the urban area, there are vehicular bridges, like the Lázaro Cárdenas-Benito Juárez Blvds. underpass, Héctor Terán Terán-San Felipe Hwy underpass, Adolfo López Mateos-Independencia Bridge, and Lázaro Cárdenas-Adolfo Lopez Mateos Distributor.
The latter has a 15-m high bridge which makes it the highest in northwestern Mexico. It was also designed with first-world seismic technology, and would withstand earthquakes of similar intensity as the one that occurred on April 4, 2010.
On 6 January 2011 at a press conference, the city of Mexicali, led by Francisco José Pérez-Tejada Padilla, along with the state governor José Guadalupe Osuna Millán, unveiled the modernized Palaco Industrial Corridor.
This project would have been the largest and most expensive in the history of road infrastructure in Mexicali with an initial investment of 285 million pesos and 546 million more for the installation of the Express Line 1 (Fast Transportation bus line), with a total investment of 831 million pesos.
The new Palaco Industrial Corridor began construction in March 2011, with 6 lanes and berms at the edges that included two additional lanes to service the BRT. Its opening was planned for Wednesday, March 14, 2012.
However, the project sits unable to be used since the Chief Architect for the project, who is the brother of the City Mayor, mismeasured the lanes on which the buses were to travel on, which ended up being more narrow than needed, rendering the whole project useless.
Nobody knows where the tonnes of unused cement lay and what was done with it and the money was never spent.
Metropolitan transit
In the past 10 years, the public transport system has improved with the implementation of modern units. Currently, there are over 40 routes across the city and its urban area, where companies like Atusa Plus, Getusmex, among others, offer this service.
The fees for bus service marked by the Municipal Transportation System are:
Modern service unit with A/C: 13.00 pesos, although they change the amount in units which have no Air Conditioning on.
Standard service unit without A/C: 6.50 pesos
Air
The city is linked to other Mexican cities by the Mexicali International Airport, which serves the city and the surrounding towns.
Sea
The proposed canal linking the Gulf of California with Mexicali, by way of Laguna Salada, would provide sea transportation to and from the Gulf from other important west coast cities and regional inland centers such as San Diego, Ensenada, and Phoenix.
You can dial 078 from any phone, where you can find free information about tourist attractions, airports, travel agencies, car rental companies, embassies and consulates, fairs and exhibitions, hotels, hospitals, financial services, migratory and other issues.
Or dial the toll-free (in Mexico) number 01-800-006-8839.
You can also request information to the email correspondencia@sectur.gob.mx
MORE EMERGENCY NUMBERS:
General Information: 040 (not free)
National Emergency Service: 911
Radio Patrols: 066
Police (Emergency): 060
Civil Protection: +52(55)5683-2222
Anonymous Complaint: 089
Setravi (Transport Mobility): +52(55)5209-9913
Road Emergency: 074
Cruz Roja: 065 o +52(55)5557-5757
Firefighters: 068 o +52(55)5768-3700
Use these tags to read more related posts and reviews:
---
Let us know if this article was useful for you