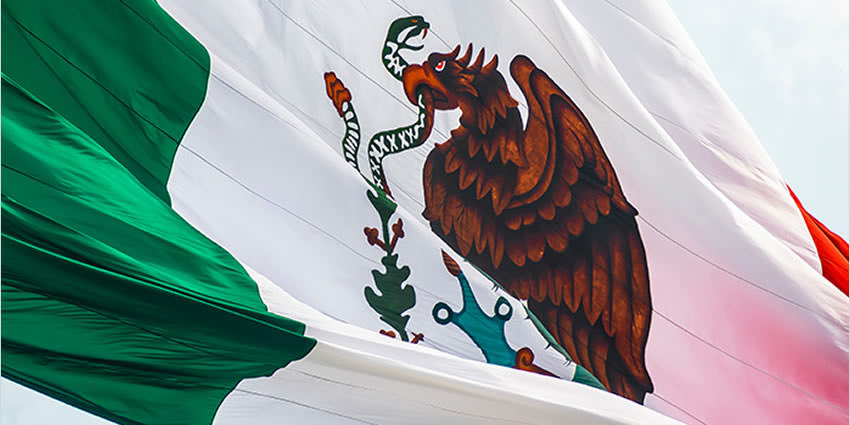 Frequently asked questions about Mexico
Mexico is a land of vibrant colors, rich cultural heritage, and mesmerizing landscapes.
From the bustling streets of Mexico City to the serene beaches of the Riviera Maya, Mexico is a carpet of diverse landscapes that leaves a lasting impression on all who visit this amazing country.
Wander the cobbled streets of colonial cities such as San Miguel de Allende, where Spanish colonial architecture blends harmoniously with indigenous influences and the sounds of church bells mingle with the laughter of street vendors.
In the countryside, Mexico boasts diverse landscapes, towering cacti, and shoreless deserts that give way to covered hills and lush rainforests, home to a rich variety of flora and fauna.
Ancient ruins such as the pyramids of Teotihuacan and the amazingly well-preserved Palenque and Chichen Itza testify to Mexico's rich history and the complex pre-Columbian civilizations that once flourished in its land.
The beauty and diversity of Mexico extend beyond its landscapes and into its cultural heritage.
Whether it's the traditional Day of the Dead festivities or the pulsating energy of Mexico City's nightlife, the country is a feast for the senses and an invitation to delve into its rich cultural fabric.
Mexico is truly a land of contrasts and contradictions, where modernity and tradition coexist in perfect harmony. This is a country that leaves an indelible impression and unforgettable impressions on all who visit it.
Mexico City, the capital of Mexico, is one of the largest and most dynamic cities in the world.
With a population of over 21 million people, it is the most populous city in Mexico and one of the largest in the Americas. Mexico City is full of character, with a rich history and vibrant culture that make it a must-visit destination for travelers from around the world.
Mexico City has a rich history that dates back to the Aztec times. It was once the capital of the powerful Aztec empire. The city was established by the Spanish in the 16th century and has since become a hub of political, economic, and cultural activity in Mexico.
Today, Mexico City is a prosperous enormous, and modern metropolis with a thriving business district, numerous museums, and world-class dining, shopping, and entertainment options of all kinds.
One of the most distinctive features of Mexico City is its rich cultural heritage.
Mexico City is home to numerous museums, including the National Museum of Anthropology, which showcases the history and culture of Mexico's indigenous peoples, as well as the Museum of Modern Art, which features works by Mexican and international artists.
Mexico City also boasts an impressive array of colonial-era architecture.
Its stunning Metropolitan Cathedral is the largest cathedral in the Americas, and the Palacio de Bellas Artes is a beautiful Art Deco theater that is a popular venue for concerts and performances.
Despite its rich history and cultural offerings, Mexico City is also a modern and forward-thinking city that is constantly evolving. The city is home to a thriving tech scene, with numerous startups and established tech companies operating in the area.
Mexico City is also a hub of innovation and creativity, with numerous festivals and events taking place throughout the year, such as the Mexico City International Film Festival, the International Book Fair, and the Mexico City International Dance Festival.
Mexico City is a must-visit destination for travelers interested in history, culture, and innovation. With its rich history, thriving cultural scene, and dynamic business landscape, Mexico City is a city that offers something for everyone.
Whether you're interested in exploring nearby ancient ruins, admiring beautiful works of art, or taking in the energy of a bustling metropolis, Mexico City is a city that will not disappoint you.
The Mexican peso (MXN) is the official currency of Mexico and one of the most widely used currencies in the world. The peso has a rich history, with roots dating back to the colonial era when Spanish silver coins were used as currency in Mexico.
The peso is made up of 100 centavos, and the banknotes come in denominations of 20, 50, 100, 200, 500, and 1000 pesos. Mexican coins come in denominations of 1, 2, 5, 10, and 20 pesos, as well as 5, 10, and 20 centavos.
Mexico has a robust and stable economy, and the peso is a reflection of the country's economic stability and growth.
Over the years, the Mexican government has implemented various economic reforms to strengthen the peso and maintain stability in the financial markets. These reforms have helped to make the peso a reliable and stable currency.
Spanish is the official language of Mexico, and it is widely spoken by the country's 130 million residents.
Spanish is a Romance language that originated in Spain and has since spread to many parts of the world, including Mexico, where it has become an integral part of the country's cultural and linguistic heritage.
In Mexico, Spanish is used in a wide range of contexts, from daily conversation and business dealings to education and the media.
The Spanish language in Mexico has its own unique dialect and pronunciation, which makes it distinct from the Spanish spoken in other countries. Despite this, Spanish is widely understood throughout the Spanish-speaking world.
There are also many indigenous languages spoken in Mexico, including Nahuatl, Maya, Zapotec, and Mixtec. These languages are an important part of Mexico's cultural heritage, and they reflect the diversity and richness of the country's linguistic landscape.
Whether you are a tourist visiting Mexico, a student studying the language, or a business person working in the country, Spanish is a key tool for communication and cultural exchange.
Mexico is a country with a rich culture and history, making it a popular tourist destination for those looking to explore new places. With a mix of ancient ruins, stunning beaches, and bustling cities, there is something for everyone in Mexico.
Here are some of the most popular tourist destinations in Mexico:
Cancun is a tropical paradise located on the Yucatan Peninsula and is known for its crystal-clear waters, white-sand beaches, and vibrant nightlife. From snorkeling and scuba diving to exploring the Mayan ruins, there is no shortage of things to do in Cancun.
Mexico City is a hub of culture, history, and commerce. From visiting the ancient pyramids of Teotihuacan to wandering the streets of Coyoacan, there is no shortage of amazing things to see and do in Mexico City.
Playa del Carmen is a popular beach town known for its clear turquoise waters, vibrant nightlife, and unique shopping. With a mix of beach clubs and traditional Mexican markets, Playa del Carmen is the perfect destination for you.
Tulum is a cozy small town on the Riviera Maya known for its well-preserved nearby ruins, stunning beaches, and relaxed vibe. Whether you are interested in exploring the ancient ruins or simply soaking up the sun, Tulum is the perfect destination for you.
Cabo San Lucas is a popular resort town known for its stunning beaches, world-class golf courses, and thriving nightlife. If you are looking to relax on the beach or party the night away, Cabo San Lucas is the perfect destination for you.
Whether you are looking to explore the ancient ruins, relax on the beach, or immerse yourself in the culture of Mexico, there is no shortage of amazing destinations to choose from. There is something for everyone in this incredible country.
Mexico is a country located in the southern part of North America, and it has a diverse climate due to its vast size and geography. From tropical rainforests to deserts, Mexico has a range of climates to offer, making it a popular destination for tourists all year round.
The climate in Mexico can be divided into six main regions: the Pacific coast, the Gulf coast, the Yucatan Peninsula, the central plateau, the Sierra Madre Occidental, and the Sierra Madre Oriental.
The Pacific coast of Mexico has a tropical climate, with high temperatures and high humidity all year round.
This region is home to some of the country's most popular tourist destinations, such as Acapulco and Puerto Vallarta, which are known for their beautiful beaches and warm waters.
The Gulf coast of Mexico experiences a tropical climate, with high temperatures and high humidity throughout the year.
This region is also popular with tourists, who come to enjoy the warm waters and lush vegetation. The Yucatan Peninsula, on the other hand, has a tropical savanna climate, characterized by hot, humid summers and warm, dry winters.
The central plateau of Mexico has a temperate climate, with mild temperatures and low humidity. This region is home to Mexico City, the country's capital, and is known for its history, culture, and architecture.
The Sierra Madre Occidental and the Sierra Madre Oriental are mountain ranges that run through Mexico and they have a cooler, more temperate climate than the rest of the country.
This region is popular with hikers, trekkers, and outdoor enthusiasts, who come to enjoy the stunning scenery and cool temperatures.
Mexico has a diverse climate that offers a range of opportunities for tourists and outdoor enthusiasts. Whether you are looking for a tropical paradise or a cooler, more temperate climate, Mexico has something to offer everyone.
The best time to travel to Mexico depends on your preferences and the specific regions you plan to visit. Generally, Mexico can be divided into three main climate zones:
High season (December to April)
This is considered the best time to visit many parts of Mexico.
From December to May, tourist destinations such as the Riviera Maya and Puerto Vallarta are especially popular. The weather is dry and pleasant during these months, making it ideal for beach vacations and outdoor activities.
Shoulder season (May to June, September to November)
These months offer a good balance between lower prices and relatively good weather.
May and June can be warm and a bit humid in some areas, while September and November might have occasional rain showers. It's a great time to explore cultural attractions and enjoy fewer crowds.
Low season (July to August)
These months are the wettest in many parts of Mexico due to the rainy season. If you don't mind occasional rain showers and higher humidity, you can find good deals on accommodations and enjoy a quieter experience at popular tourist spots.
Remember that Mexico is a large country with diverse climates, so the best time to visit can vary by region.
For example, Mexico City has a mild climate year-round, making it a good destination anytime. On the other hand, if you're planning to visit the Yucatan Peninsula, it's best to avoid hurricane season, which typically runs from June to November.
Mexico is a country with a rich and complex history, dating back to the ancient civilizations of the Maya and Aztecs. From colonization to revolution, Mexico has experienced many significant events that have shaped its identity and culture.
The first known civilization in Mexico was the Olmecs, who lived in the Gulf of Mexico region from 1400 to 400 BCE. They were followed by the Maya, who developed a sophisticated society with advanced astronomical understanding, architecture, and writing.
The Aztecs emerged as a dominant civilization in the 14th century, building their empire in central Mexico and creating the city of Tenochtitlan, which was one of the largest cities in the world at the time.
In 1521, Hernán Cortés arrived in Mexico and began the colonization of the Aztec Empire. Mexico became a Spanish colony for nearly 300 years, during which time the indigenous was heavily suppressed and Catholicism was established as the dominant religion.
Mexico gained independence from Spain in 1821, following a war led by Father Miguel Hidalgo and other revolutionary leaders.
However, Mexico struggled to establish stability and democracy in the years following independence, and the country was ruled by a series of dictators and military leaders.
The Mexican Revolution took place from 1910 to 1920, leading to significant changes in the country's politics and society.
The revolution resulted in the establishment of the Mexican Constitution in 1917, which provided for a more democratic government and ensured the rights of workers and peasants.
Throughout the 20th century, Mexico experienced significant economic and political growth, with the discovery of oil and the establishment of a more stable political system.
Mexico is now a modern country with a rich culture and history, considered one of the most important countries in Latin America.
Mexico's history is a timeline of ancient civilizations, colonization, revolution, and growth. It is a country with a rich cultural heritage and a proud identity, and its history continues to shape its present and future.
Use these tags to read more related posts and reviews:
---
Let us know if this article was useful for you