Progreso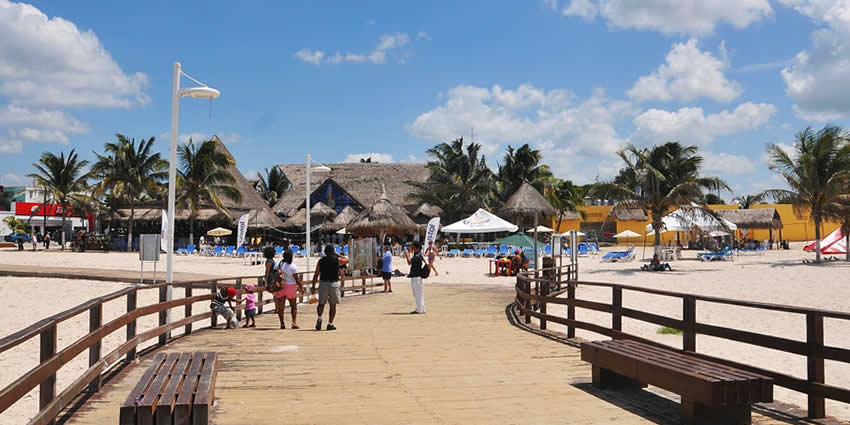 Progreso is a port city in the Mexican state of Yucatán, located on the Gulf of Mexico in the north-west of the state some 30 minutes north of the state capital Mérida (the biggest city on the Yucatán Peninsula) by highway.
As of the Mexican census of 2010, Progreso had an official population of 37,369 inhabitants.
The city is also the municipal seat of the surrounding municipality of the same name. The municipality's area is 270.10 sq km and its population at the census was 49,454 inhabitants.
Progreso is a center for both the fishing industry and the container industry. All containers arrive in Progreso and are distributed to Yucatán, Campeche, and Quintana Roo.
Progreso also is one of the newest ports for large cruise ships and an emerging balneario resort destination. Passengers disembark on a very long pier, the Terminal Remota opened in 1989 that juts out 6.5 km into the Gulf of Mexico.
Passengers are taken to shore to visit Progreso, Mérida, or the Maya civilization archaeological sites of Uxmal and Dzibilchaltun.
During the months of July and August, the beaches fill with thousands of mostly local tourists, as it is traditional in these months for well-to-do residents of Mérida to leave the city and spend the summer in the cooler seaside environment.
Despite its coastal location and fairly humid climate, Progreso has a semi-arid climate.
There is little variation in average temperatures though the winter months from December to March are noticeably cooler. Precipitation is scarce throughout the year but is more abundant from June to October.
On average, there are 36 days with measurable rainfall.
You can dial 078 from any phone, where you can find free information about tourist attractions, airports, travel agencies, car rental companies, embassies and consulates, fairs and exhibitions, hotels, hospitals, financial services, migratory and other issues.
Or dial the toll-free (in Mexico) number 01-800-006-8839.
You can also request information to the email correspondencia@sectur.gob.mx
MORE EMERGENCY NUMBERS:
General Information: 040 (not free)
National Emergency Service: 911
Radio Patrols: 066
Police (Emergency): 060
Civil Protection: +52(55)5683-2222
Anonymous Complaint: 089
Setravi (Transport Mobility): +52(55)5209-9913
Road Emergency: 074
Cruz Roja: 065 o +52(55)5557-5757
Firefighters: 068 o +52(55)5768-3700
Use these tags to read more related posts and reviews:
---
Let us know if this article was useful for you