Iguala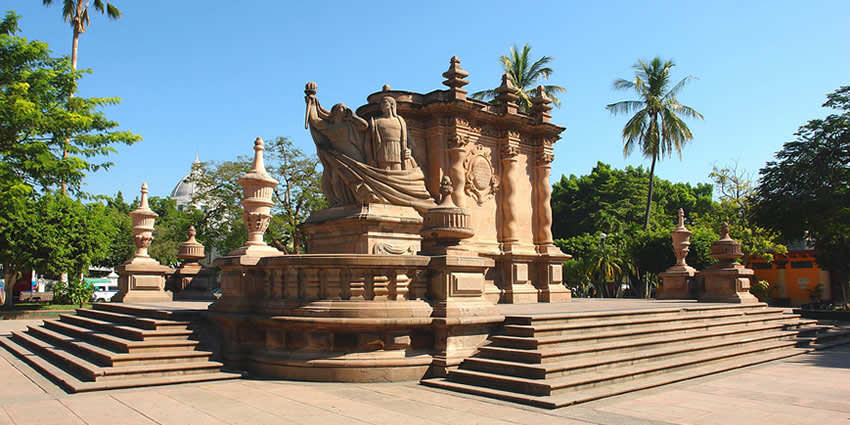 Iguala, known officially as Iguala de la Independencia, is a historic city located 102 km (63 mi) from the state capital of Chilpancingo, in the Mexican state of Guerrero in southwestern Mexico.
The city of Iguala stands on Federal Highway 95 about 130 km (81 mi) SSW of Mexico City.
Iguala is the municipal seat of the Municipality of Iguala de la Independencia, located in the north-central part of the state.
The city had a 2005 census population of 110,390 and the municipality 128,444. The area of the municipality is 567.1 km2 (219.0 sq mi).
The city is the third-largest community in Guerrero, after Acapulco and Chilpancingo.
General Vicente Guerrero was the first military leader to swear allegiance to the Mexican flag in Acatempan, on March 12, 1821. On February 24, the Plan de Iguala had been signed by Agustín de Iturbide and Vicente Guerrero, ending the long Mexican War of Independence.
Gaining independence from Spain was represented by the first national flag, known as the Flag of the Three Guarantees, which was made by José Magdaleno Ocampo. Thus, Iguala is called the birthplace of the Flag of Mexico.
The San Francisco Church (Iglesia de San Francisco) is a landmark in the city, built in the 19th century in the Neoclassical style. It is surrounded by Tamarind trees, and for them Iguala is known as "la Ciudad Tamarindera" (the Tamarindo city).
The Lagoon of Tuxpan (Laguna de Tuxpan), is a lake in the city known for its beauty.
The Iguala Flag Fair is held in late February annually. It is one of the most important annual festivities for the people of Iguala.
It is celebrated with a parade of floats, cockfights, and Mexican handcrafts and folk art exhibitions. Iguala's local artisans create gold and silver jewelry.
You can dial 078 from any phone, where you can find free information about tourist attractions, airports, travel agencies, car rental companies, embassies and consulates, fairs and exhibitions, hotels, hospitals, financial services, migratory and other issues.
Or dial the toll-free (in Mexico) number 01-800-006-8839.
You can also request information to the email correspondencia@sectur.gob.mx
MORE EMERGENCY NUMBERS:
General Information: 040 (not free)
National Emergency Service: 911
Radio Patrols: 066
Police (Emergency): 060
Civil Protection: +52(55)5683-2222
Anonymous Complaint: 089
Setravi (Transport Mobility): +52(55)5209-9913
Road Emergency: 074
Cruz Roja: 065 o +52(55)5557-5757
Firefighters: 068 o +52(55)5768-3700
Use these tags to read more related posts and reviews:
---
Let us know if this article was useful for you