Lagos de Moreno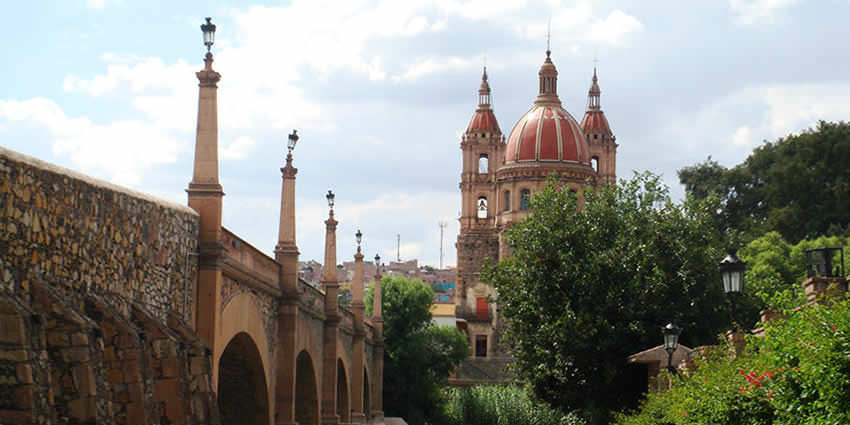 Lagos de Moreno is a city and its surrounding municipal area of the same name, located in the extreme northeastern part of the state of Jalisco in Mexico. It is part of the macroregion of Bajío.
At the 2010 census the city had a population of 153,817 inhabitants, making it the 6th largest city in the state of Jalisco.
The city serves as the municipal seat of the municipality, which has an area of 2,648.22 km² (1,022.48 sq mi) and a population of 153,817 inhabitants, and includes many other outlying small communities, the largest of which are Paso de Cuarenta (San Miguel de Cuarenta) and Los Azulitos.
Lagos de Moreno is occasionally known as the "Athens of Jalisco" because of the numerous writers and poets who were born there.
Important industries include food processing, including milk and dairy products, vegetable oils, and meats, and manufacturing, of footwear and agricultural machinery.
The origins of Lagos de Moreno date to its founding as Pechichitlán or Teziziatlan by Ahnuvic VII in about 1028 BCE. Then the city served as a capital for the Chichimecatlalli fiefdom.
The city's modern history started on 31 March 1563, when it was founded as Villa de Santa María de los Lagos, by Captain Don Hernando Martel and around 100 colonist families.
The city was renamed Lagos de Moreno in memory of insurgent General Pedro Moreno (1775-1817), a founding father of Mexico, who led forces against Spain in the War of Mexican Independence.
Lagos de Moreno has a subtropical highland climate with mild temperatures year round.
Winters are mild with an average maximum temperature of 23 °C (73.4 °F) in January although nighttime temperatures are often cold, with an average minimum temperature of 3 °C (37.4 °F).
Many days are sunny, averaging around 15-19 clear days per month and precipitation is low.
Nighttime temperatures regularly fall below 0 °C (32.0 °F) but extended periods of frost are rare.
The wet season, which runs from June to October sees an increase in precipitation and humidity with July and August being the wettest months.
The record high was 42.0 °C (107.6 °F) on March 26, 1942 and the record low was −9.0 °C (15.8 °F) on January 24, 1955.
The city is served by the Francisco Primo de Verdad National Airport.
You can dial 078 from any phone, where you can find free information about tourist attractions, airports, travel agencies, car rental companies, embassies and consulates, fairs and exhibitions, hotels, hospitals, financial services, migratory and other issues.
Or dial the toll-free (in Mexico) number 01-800-006-8839.
You can also request information to the email correspondencia@sectur.gob.mx
MORE EMERGENCY NUMBERS:
General Information: 040 (not free)
SNational Emergency Service: 911
Radio Patrols: 066
Police (Emergency): 060
Civil Protection: +52(55)5683-2222
Anonymous Complaint: 089
Setravi (Transport Mobility): +52(55)5209-9913
Road Emergency: 074
Cruz Roja: 065 o +52(55)5557-5757
Firefighters: 068 o +52(55)5768-3700
Use these tags to read more related posts and reviews:
---
Let us know if this article was useful for you