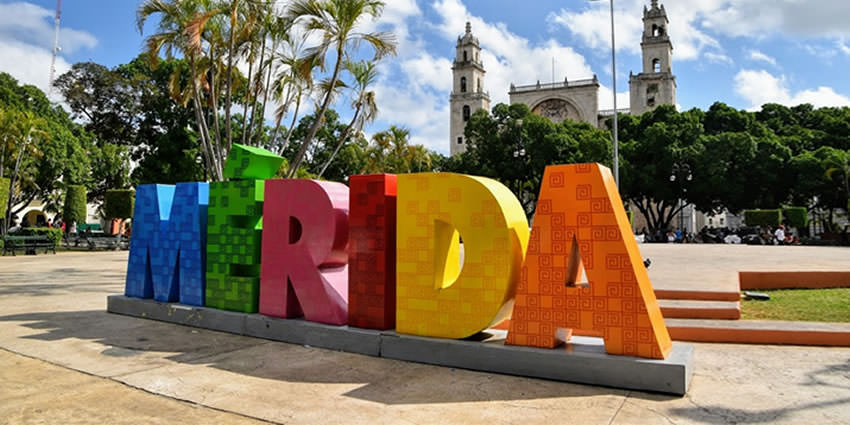 Things to do in Merida
Merida is known as the "White City" due to its abundant use of white limestone in construction. Merida is the capital and largest city of Yucatan. If you're seeking an authentic Mexican experience, Merida is a must-visit destination.
What to do in Mérida?
Start your journey in the historic center, starting with a visit to Plaza Grande, the heart of Merida, where you'll discover many of the city's top attractions. Don't miss the vibrant iconic MÉRIDA letters here.
One of the architectural marvels is the 15th-century Cathedral of San Idelfonso, the oldest in mainland America. Inside, you'll find the awe-inspiring "Christ of Unity," one of the world's largest indoor wooden sculptures of Jesus Christ crucified.
On Fridays at 20:30, a captivating light and sound show is a must-see.
Adjacent to the Cathedral is the Macay Museum, showcasing modern and contemporary art. Connected to the Cathedral is the Passage of the Revolution, a modern-style gallery with an impressive vaulted ceiling.
The Casa de Los Montejo was built between 1543 and 1549 by Francisco de Montejo.
Today, Casa de Los Montejo is a house museum, preserving its colonial-era charm. This Plateresque architectural masterpiece offers a glimpse into colonial life with its five rooms and a well-preserved garden.
Explore further within Plaza Grande and discover the Municipal Palace, dating back to 1735 and formerly used as a prison. If you're in Mérida on a Monday at 21:00, catch a traditional Yucatecan dance show.
Visit the second floor to gaze out over the square from its windows.
The Government Palace, featuring 27 murals by the renowned painter Fernando Castro, is another palace of interest around the square. You can explore these murals in the art gallery on the second floor.
Along Calle 60 and Calle 57, you'll find the central headquarters of the Autonomous University of Yucatán, housed in a beautiful 16th-century white building. Enjoy exhibitions, shows, and the University Serenade on Fridays at 21:00.
For a 100% local experience and a place to relax, consider Parque Hidalgo. This park is also an excellent spot for finding affordable stalls and cheap good restaurants where you can enjoy the tasty local cuisine.
Another park is the Parque de Santiago, where a dance with music from the 40s is held on Tuesday evenings, and a little further away there is the Parque de las Américas – where various activities take place on Sundays.
Another park with a wonderful nighttime atmosphere is Parque de Santa Lucia. Every Thursday at 21:00, you can enjoy a serenade featuring Yucatecan music, traditional dances, and vibrant costumes.
Guided bus tours depart from this square, taking you through the center of Mérida, Paseo Montejo, and its magnificent mansions. Buses leave at 10:00, 13:00, 16:00, and 19:00 (Sundays at 13:00 and 15:00).
The bus tour lasts about 1:30 hours.
At one end of this square stands the Church of Santa Lucia, beautifully restored and vibrant today. In the past, it was a cemetery, and remnants of this history can still be seen in the little square at its entrance.
If you're a Mexican art enthusiast, then visit the Nahualli Gallery, home to artists Abel Vázquez and Melva Medina, showcasing their paintings and sculptures to the public. So you can enjoy their work.
For a deeper immersion into local life, explore Parque de San Juan with the church of San Juan Bautista, the central fountain of La Negrita, and the arch of San Juan, one of the city's few remaining arches.
Paseo de Montejo, inspired by the Champs Elysees in Paris, is one of Mérida's great attractions, stretching over 5 km. Explore the elegant mansions along the avenue: Casa Peón de Minarete, Casa Quinta Montes Molina, and Casas Twins.
The avenue is interrupted by the Monument to the Homeland. Nearby, you'll find the Temple of La Candelaria, which houses unique altarpieces saved from burning during the 1910 revolution.
Do you like to visit the local markets?
Then go to the Lucas de Gálvez market where you can find everything from street food to goodies to take home, or the Bazar García Rejón, another market that you can visit, especially if you want to buy handicrafts.
If you find yourself with extra time during your stay in Mérida, don't miss the opportunity to embark on exciting excursions in the surrounding areas. Here are some suggested remarkable options:
Route of the Convents
Discover the enchanting villages and historic convents on the famed Route of the Convents. Key stops along this route include Oxkutzcab, Maní, Chumayel, Mama, Tekit, Tecoh, and Acanceh.
Immerse yourself in the rich cultural heritage of these picturesque locations.
Puuc Route
The Puuc Route offers a combination of awe-inspiring activities.
From exploring ancient Mayan temples to taking refreshing dips in cenotes and even venturing into mystical caves.
Highlights of the Puuc Route include the remarkable archaeological sites such as Uxmal, Kabah, Sayil, X-Lapak, Labná, and Oxkintok, as well as the captivating Calcehtok and Loltún Caves.
If you don't have a car, consider booking an excursion to make the most of this experience.
Celestún Excursion
Venture to Celestún for a unique opportunity to witness flocks of flamingos in their natural habitat. With a bit of luck, you'll encounter hundreds of these majestic birds. Don't miss the chance to join this fascinating tour.
Chichen Itza
A visit to the Yucatan Peninsula wouldn't be complete without exploring the iconic Chichen Itza. This tour includes transportation, entrance fees, a knowledgeable guide, a delicious lunch, and a refreshing visit to a cenote.
Immerse yourself in the wonder of this ancient Mayan site.
Mayan Ruins Exploration
Mérida is surrounded by several remarkable Mayan ruin sites: Kabah, Uxmal, and Ek Balam. Taking a tour that allows you to visit multiple sites in a single day. Ek Balam, in particular, is a hidden gem you won't want to miss.
Mayapán
Discover the lesser-known yet equally captivating ancient city of Mayapán. You can explore this site on your own or opt for a guided tour from Mérida. Mayapán's historical significance is a true marvel to behold.
Cenote Adventures
The Yucatan Peninsula boasts an abundance of cenotes, and these natural sinkholes are perfect for cooling off on a hot day. If you have a car, consider organizing a day of cenote hopping.
For those without a vehicle, we recommend two excellent cenote tours:
Excursion to the Cuzamá Cenotes
Homún Cenotes Tour
Mérida, with its rich cultural heritage, is one of the most intriguing cities in Yucatan. Whether you're interested in history, nature, or adventure, there's something here for every traveler to discover and enjoy.
Use these tags to read more related posts and reviews:
---
Let us know if this article was useful for you