Monument to the Revolution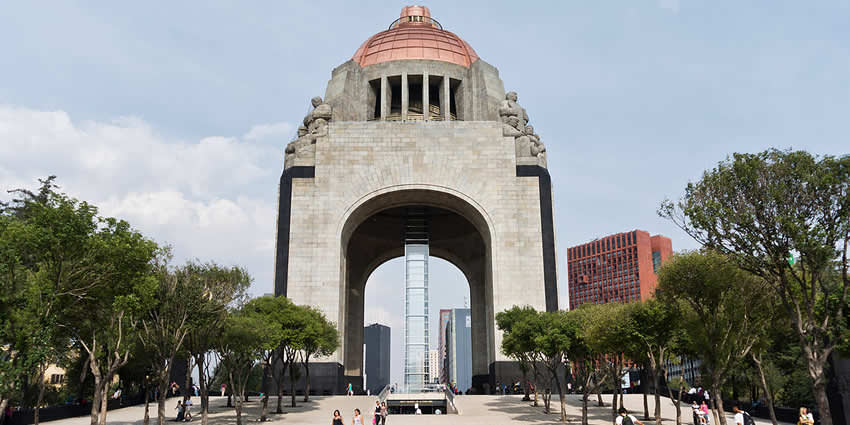 The Monument to the Revolution (Monumento a la Revolución) is a landmark and monument commemorating the Mexican Revolution. It is located in Plaza de la República, which crosses at the heart of the major thoroughfares Paseo de la Reforma and Avenida de los Insurgentes in downtown Mexico City.
The building was initially planned as the Federal Legislative Palace during the regime of Porfirio Díaz and "was intended as the unequaled monument to Porfirian glory." Considered the tallest triumphal arch in the world, it stands 67 metres (220 ft) in height.
The project was planned 1897, and the government allocated 5 million pesos for it. Since the building was a major public project, there was a competition to design it, ultimately won by a Frenchman, Émile Bénard. The government's selection of a Frenchman as architect, who produced a neoclassical design with "characteristic touches of the French renaissance", points to government officials' aim to demonstrate Mexico's rightful place as an advanced nation. Díaz laid the first stone in 1910 during the centennial celebrations of Independence, when Díaz also inaugurated the Monument to Mexican Independence ("The Angel"). Rather than local Mexican materials used in the stone façade, the design called for Italian marble and Norwegian granite.
Although the Díaz regime was ousted in May 1911, President Francisco I. Madero, "the Apostle of Democracy," continued the legislative building's construction until 1912, when the money ran out. The structure remained unfinished until 1938, and completed during the presidency of Lázaro Cárdenas. The open building was designed by Carlos Obregón Santacilia in an eclectic Art Deco and Mexican socialist realism style, over the existing cupola structure of the Palacio Legislativo Federal (Federal Legislative Palace). Oliverio Martínez designed a stone sculpture for the structure, with Francisco Zúñiga as one of his assistants.
The structure also functions as a mausoleum for the heroes of the Mexican Revolution of 1910, Francisco "Pancho" Villa, Francisco I. Madero, Plutarco Elías Calles, Venustiano Carranza, and Lázaro Cárdenas. Revolutionary general Emiliano Zapata is not buried in the monument, but in Cuautla, Morelos. The Zapata family has resisted the Mexican government's efforts to relocate Zapata's remains to the monument.
Metro station Revolucion.
If you walking along the Paseo de la Reforma from Chapultepec to Historic Center, then just take left after the Monument to Columbus (Columbus roundabout).
You can dial 078 from any phone, where you can find free information about tourist attractions, airports, travel agencies, car rental companies, embassies and consulates, fairs and exhibitions, hotels, hospitals, financial services, migratory and other issues.
Or dial the toll-free (in Mexico) number 01-800-006-8839.
You can also request information to the email correspondencia@sectur.gob.mx
MORE EMERGENCY NUMBERS:
General Information: 040 (not free)
National Emergency Service: 911
Radio Patrols: 066
Police (Emergency): 060
Civil Protection: +52(55)5683-2222
Anonymous Complaint: 089
Setravi (Transport Mobility): +52(55)5209-9913
Road Emergency: 074
Cruz Roja: 065 o +52(55)5557-5757
Firefighters: 068 o +52(55)5768-3700
Use these tags to read more related posts and reviews:
---
Let us know if this article was useful for you