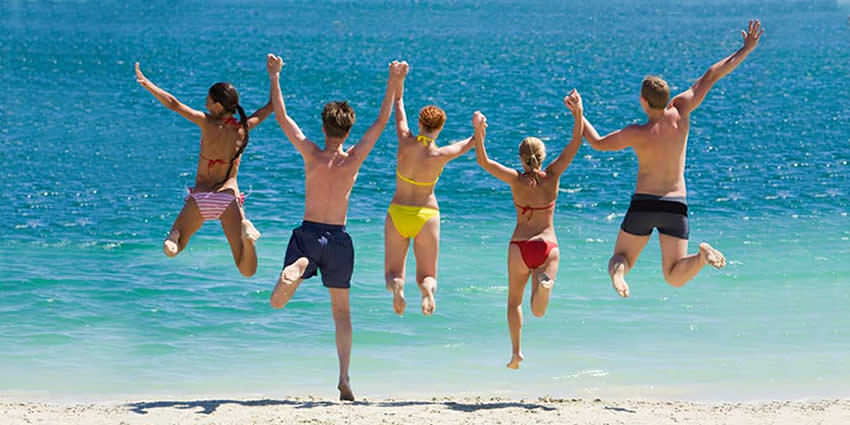 How to find the best cheap vacation packages to Mexico
Mexico offers a world of enchantment for travelers of every kind, drawing over 41 million visitors in 2018. The country boasts magnificent beaches, astonishing architectural treasures, and amazing scenery.
There's no shortage of things to do in Mexico either. Are you ready to experience the best of what Mexico has to offer?
You can try out adrenaline-pumping activities in rock climbing and alpinism, scuba diving, and snorkeling enjoy tasty local dishes and wines, join in colorful local festivals, or go on a short sea cruise and live a unique experience by the sunset, aboard.
So, how to find and book cheap vacation packages to Mexico?
Be Flexible With Your Dates
Booking your Mexican holiday outside of peak season can save you a huge amount on accommodation and transport costs.
April, May, October, and November are the best times to find cheap Mexico packages and special offers. Weekend stays also cost more than midweek breaks as do weekend flights.
The climate in Mexico's generally mild, with little temperature fluctuation from season to season. So, there's no reason to cram in with the crowds during the busy summer months.
Choose Your Destinations Wisely
Busier tourist destinations are more expensive than out-of-the-way resorts and hotels. So, consider staying a little out of town or a few blocks away from the beach if you want to spend time in tourist hotspots.
Alternatively, you can avoid these popular destinations entirely. These are some cheaper yet equally satisfying alternatives to Mexico's touristic favorites:
Isla Holbox instead of Cancun
Guadalajara as an alternative to Mexico City
Palenque in place of Chichén Itzá
These lesser-known spots offer many of the seaside, cultural, and city attractions of their busy, touristy counterparts. You'll also find it much easier to find good deals in these places if you're looking for cheap hotels in Mexico.
Look Beyond Hotel Ratings
Although it can put your mind at ease, there's no need to book five-star accommodation when you're traveling abroad. Many smaller establishments don't meet the physical criteria for hotel ratings such as concierge staff or nightly turn-down.
If you don't place a high priority on these high-end extras when you travel, you're better off booking a smaller hotel that offers excellent service despite its lack of five-star facilities.
You don't want to end up staying in a dive though, so check review sites for first-hand accounts and photographs from travelers who've visited these types of hotels before.
It's totally possible to find a wonderful small bed and breakfast option, or even a backpacker that offers great service and clean facilities as well as low prices.
The most important part is to ensure that the hotel you choose offers all the things you consider important during a vacation. You can often save a lot of money by foregoing extras that you probably won't use, such as room service.
Browse Flight and Accommodation Comparison Websites
Instead of trawling through the internet for hours, rather compare prices via websites like Expedia, Kayak, and Priceline. These sites often have packages that include flights and accommodation as part of one package.
It's a good idea to sign up for newsletters from these websites for daily or weekly emails about all the best deals available on travel to Mexico. Another alternative is requesting price alerts if you want to stay on top of all the latest travel deals as they happen.
Make sure you're comparing apples to apples when perusing these deals though. A more expensive option may come with cost-saving benefits that you won't get with cheaper deals.
Choose All-Inclusive Packages
All-inclusive packages can mean big savings when you travel to Mexico. Booking cheap all-inclusive resorts in Mexico is also the easiest way to set up your travel budget.
Since all-inclusive deals often include all your meals and most of your activities, you needn't worry about price fluctuations during your trip.
You'll also know exactly what you're doing on which days so you needn't worry about planning every detail in advance, researching the best prices, or arranging transport to different attractions.
Many all-inclusive resorts offer free access to sports equipment and beach activities, so that's one less thing to worry about too.
What's more, these hotels often have arrangements with attractions in the area, so you know you're getting the best prices when you book an all-inclusive package with them.
Booking Cheap Vacation Packages to Mexico
Usually, cheap all-inclusive trips to Mexico are time-sensitive, so it helps if you're ready to book and pay your deposit at a moment's notice. Many tourism providers allow you to book with your credit card online, which is a quick way to secure your spot.
Use Your Loyalty Points
We all sign up for loyalty cards without ever really taking advantage of the perks they offer.
If you're a frequent traveler, there's a chance you've got some loyalty points stashed on a card somewhere. These can offer significant savings when you travel to Mexico.
Some of the best loyalty cards for travelers include:
Marriot Rewards
JetBlue True Blue
Delta Sky Miles
Visa cards from major banks
If you intend to use travel perks earned on a credit card, it's important to pay off the outstanding balance on your card every month.
Make the Most of Your Mexico Vacation
We try to give you all the best tips and information about your upcoming travels to Mexico. Once you've perused all the best and truly cheap vacation packages and made your selection, it's time to start planning the rest of your trip.
Keep reading to find out where to go and what to do during your visit.
Use these tags to read more related posts and reviews:
---
Let us know if this article was useful for you