Things to do in Acapulco, Mexico's famous beach resort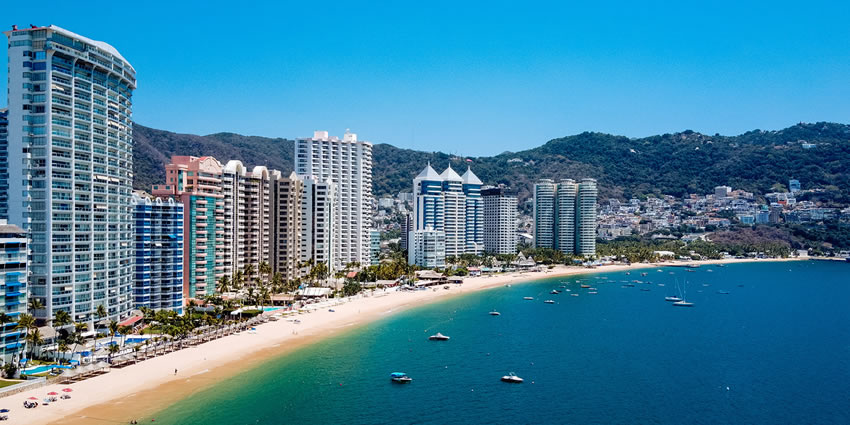 Acapulco, often referred to as the "Pearl of the Pacific", is a beach resort city situated on the southwestern coast of Mexico.
Acapulco has been a sought-after destination for travelers and Hollywood stars alike since the 1950s. Its natural beauty, vibrant culture, and impressive history make it an excellent choice for anyone seeking a memorable vacation experience.
The city's landscape is nothing short of breathtaking. With its golden sandy beaches stretching for miles, framed by rocky cliffs and lush vegetation, Acapulco offers a picturesque setting for sunbathing, swimming, and water sports.
Acapulco boasts a rich history that dates back to pre-Columbian times when it was inhabited by Nahuatl-speaking indigenous people.
Later, the Spanish explorers arrived and left their mark on the city's architecture and culture. The Fort of San Diego, a colonial-era fortress, stands as a testament to this past, now serving as the Acapulco Historical Museum, offering insights into the city's heritage.
The city's vibrant culture can be experienced through its lively nightlife, folkloric performances, and colorful markets. The Zocalo, the main square, is a hub of activity where locals and visitors mingle, and traditional music and dance performances often take place.
Acapulco's cuisine is also a highlight, featuring delectable seafood dishes, spicy salsas, and refreshing tropical fruits.
One of the main reasons to visit Acapulco is its year-round warm weather, making it an excellent destination to escape cold winters or rainy seasons in other parts of the world.
The city's hospitality industry offers a wide range of accommodations, from luxury resorts and boutique hotels to budget-friendly options, ensuring that travelers of all preferences and budgets can find suitable lodging.
Water activities are abundant in Acapulco, making it an ideal destination for adventurers and water sports enthusiasts. From snorkeling and scuba diving to jet skiing and parasailing, there are endless opportunities to explore the marine wonders of the Pacific Ocean.
Furthermore, Acapulco's central location on Mexico's Pacific coast makes it a convenient base to explore nearby attractions. If you're interested in history and archaeology, you can take day trips to the ruins of Tehuacalco or the colonial city of Taxco.
For nature lovers, the Sierra Madre mountains offer hiking and eco-tourism opportunities.
Acapulco is a city that captivates visitors with its breathtaking scenery, vibrant culture, and a wide array of activities.
Whether you seek relaxation on a sandy beach or crave thrilling adventures on the water, Acapulco has something special to offer. Its warm climate and diverse attractions make Acapulco a must-visit destination for travelers and vacationers.
Acapulco is a breathtaking tropical destination known for its stunning beaches, vibrant nightlife, and rich cultural heritage. Acapulco offers a diverse array of activities for every traveler.
Here's a guide on what to see and do in Acapulco:
Acapulco's Historical Sites
Take a step back in time by visiting Acapulco's historical landmarks.
The Fort of San Diego, built in the 17th century, houses the Acapulco Historical Museum and offers insights into the region's past.
The Capilla de la Paz, or Chapel of Peace, provides stunning views of the city and the bay, in addition to its beautiful architecture and serene atmosphere.
Acapulco Botanical Garden
For nature enthusiasts, the Acapulco Botanical Garden is a serene escape. Explore the diverse collection of tropical plants, including orchids, cacti, and palms, within a lush setting.
The garden offers a peaceful environment to relax and connect with nature.
Mercado Municipal
To experience local culture and cuisine, visit the Mercado Municipal or Municipal Market.
Browse through the colorful stalls offering fresh produce, handicrafts, souvenirs, and delicious street food. It's an excellent place to immerse yourself in the local flavors and interact with the friendly locals.
Acapulco's Nightlife
As the sun sets, Acapulco comes alive with a vibrant nightlife scene. The Zona Dorada, or Golden Zone, is a hotspot for clubs, bars, and restaurants. Enjoy live music, dance the night away, and experience the city's lively party atmosphere.
Acapulco's Gorgeous Beaches
Acapulco is synonymous with its pristine beaches, and no visit is complete without spending time on the shore.
Playa Condesa and Playa Icacos are among the most popular, boasting soft sands, clear waters, and a wide range of beachside amenities.
For a more laid-back atmosphere, head to Playa Caleta and Playa Caletilla, where you can find local food vendors and rent beach umbrellas.
La Quebrada Cliff Divers
A must-see attraction in Acapulco is the daring cliff divers at La Quebrada.
These skilled divers perform jaw-dropping jumps from heights of over 100 feet into the narrow ocean cove below. The dives take place daily, and you can catch the most spectacular performances during the evening, with the divers illuminated by torches.
Water Sports and Adventure
Thrill-seekers will find plenty of excitement in Acapulco.
From parasailing and jet skiing to snorkeling and scuba diving, the waters of Acapulco are an adventure playground. The warm climate and crystal-clear waters make it an ideal destination for exploring the underwater world.
Isla de la Roqueta
Embark on a short boat trip to Isla de la Roqueta, a picturesque island offering a variety of activities. Enjoy snorkeling, hiking, and exploring the underwater statues at the submerged Virgin of Guadalupe shrine.
The tranquil beaches and crystal-clear waters make it a perfect spot for a day trip.
Papagayo Park
For a family-friendly outing, head to Papagayo Park. The park features playgrounds, picnic areas, and a small zoo, making it a fantastic spot for a fun day out with kids.
Acapulco's tropical climate means it's enjoyable year-round, but it's essential to stay hydrated and protect yourself from the sun.
Whether you're seeking relaxation, adventure, or cultural experiences, Acapulco has something to offer every traveler, ensuring an unforgettable vacation in this tropical paradise.
While Acapulco itself offers a plethora of attractions and activities, there are also some enchanting destinations just a short trip away. If you have a day to spare, consider embarking on one of these memorable day trips from Acapulco:
Barra Vieja
Located about 30 minutes east of Acapulco, Barra Vieja offers a tranquil escape from the bustling city.
This serene beach destination is known for its picturesque shoreline and delicious seafood. Many beachside restaurants offer fresh catches of the day, giving you the opportunity to savor authentic Mexican seafood dishes while relaxing on the golden sands.
Pie de la Cuesta
Situated about 30 minutes northwest of Acapulco, Pie de la Cuesta is a peaceful beach town known for its spectacular sunsets. This tranquil destination is perfect for unwinding, swimming, and enjoying water sports like water skiing and jet skiing on the lagoon side.
If you're seeking a serene day away from the crowds, Pie de la Cuesta won't disappoint.
Coyuca Lagoon
For a unique natural experience, consider visiting Coyuca Lagoon, about an hour's drive northwest of Acapulco. This vast freshwater lagoon is surrounded by lush vegetation and mangroves, making it an excellent spot for a relaxing boat ride.
You can spot various bird species, enjoy a traditional Mexican lunch, or try your hand at waterskiing or kayaking.
Laguna de Tres Palos
About an hour's drive east of Acapulco, Laguna de Tres Palos is another beautiful lagoon worth exploring.
Its calm waters are ideal for water sports like fishing, jet skiing, and birdwatching. You can also take a boat tour to discover the rich biodiversity of the area, including various bird species and local wildlife.
Before embarking on any day trip, ensure you have enough time to explore the destination and return to Acapulco comfortably.
With these captivating one-day trip options, you can make your vacation in Acapulco even more memorable by experiencing the diverse beauty that Mexico's surrounding areas have to offer.
1 USD = approx. 17-19 MXN (2023)
Acapulco, with its stunning beaches and vibrant atmosphere, offers an unforgettable vacation experience that doesn't have to break the bank. Here's a budget-friendly guide to the travel costs, including accommodation and food prices in Acapulco:
Accommodation Prices in Acapulco
Acapulco provides a wide range of accommodation options suitable for different budgets. The city offers everything from luxurious beachfront resorts to budget-friendly hotels and cozy guesthouses.
Prices for accommodation can vary depending on the location, amenities, and season.
Budget Accommodation: You can find hostels or guesthouses with prices ranging from $15 to $40 per night. These places offer comfortable, basic amenities and are usually located a bit farther from the main tourist areas.
Mid-Range Hotels: For mid-range hotels, expect to pay around $50 to $120 per night. These hotels often have better facilities, such as swimming pools, restaurants, and proximity to the beach.
Luxury Resorts: Acapulco is home to some iconic luxury resorts that offer top-notch amenities and breathtaking views. Prices for these resorts can range from $150 to $400 or more per night, depending on the season and the specific resort.
Food Prices in Acapulco
One of the joys of visiting Acapulco is indulging in its delicious Mexican cuisine. The city boasts a wide array of eateries, catering to all budgets and tastes.
Street Food and Local Eateries: Acapulco's street food scene is a must-try for any traveler on a budget. Tacos, quesadillas, and other local delights can be found for as little as $1 to $5 per dish.
Local eateries and taquerías offer hearty meals at affordable prices, ranging from $5 to $10 per person.
Mid-Range Restaurants: For a more comfortable dining experience, mid-range restaurants in Acapulco charge around $10 to $30 for a meal, depending on the menu and location.
Fine Dining: Upscale restaurants and beachfront dining establishments may have higher prices, with meals ranging from $30 to $60 or more per person.
Tips for Saving Money in Acapulco
Consider staying in budget accommodations or hostels, especially if you plan to spend most of your time exploring the city and its attractions.
Opt for local eateries and street food stalls to experience authentic Mexican flavors without breaking the bank.
Look out for meal deals and special offers at restaurants, particularly during lunchtime.
Use public transportation or walk whenever possible to save on transportation costs.
Take advantage of free or low-cost attractions, such as visiting public beaches, exploring historical sites, and enjoying natural parks.
Bargain at local markets and street vendors to get the best prices on souvenirs and handicrafts.
With proper planning and a bit of budget-conscious decision-making, Acapulco can be an affordable and unforgettable destination for travelers of all backgrounds.
Embrace the beauty of the city, savor its culinary delights, and create cherished memories without exceeding your travel budget.
1 USD = approx. 17-19 MXN (2023)
If you're a backpacker seeking an exciting and budget-friendly adventure, Acapulco has plenty to offer. With its stunning beaches, vibrant nightlife, and rich cultural experiences, Acapulco is a backpacker's paradise.
Here are some suggested budgets to help you plan your backpacking trip to Acapulco:
Budget Backpacker: $30 – $50 per day
For budget-conscious backpackers, Acapulco can be a rewarding destination with a bit of planning and smart choices.
Stay in hostels or budget guesthouses where dorm beds can cost as low as $15 to $25 per night. Opt for street food and local eateries, where you can enjoy delicious tacos, quesadillas, and other Mexican delights for as little as $5 to $10 per meal.
Use public transportation like buses or shared taxis to get around the city, which can cost around $1 to $3 per trip.
Many of Acapulco's beaches and public spaces are free to enjoy. Take advantage of happy hour deals and affordable bars and clubs in the Zona Dorada to enjoy the city's vibrant nightlife without breaking the bank.
Mid-Range Backpacker: $50 – $100 per day
For those looking to enjoy a bit more comfort and convenience, a mid-range budget allows for a more diverse range of experiences.
Choose mid-range hotels or guesthouses with better amenities and locations, which may cost around $40 to $80 per night. Dine at a mix of local eateries and mid-range restaurants, where meals can range from $10 to $30 per person.
Use taxis or rideshare services for more flexibility, which may cost around $5 to $20 for short distances.
Enjoy a mix of budget-friendly bars and some slightly more upscale venues to experience the best of Acapulco's nightlife scene.
Comfortable Backpacker: $100+ per day
For backpackers who want to experience Acapulco with a touch of luxury and splurge on special activities.
Treat yourself to comfortable hotels or beachfront resorts, which may cost $80 to $150 or more per night. Indulge in a mix of dining experiences, including mid-range and upscale restaurants, with meals costing $30 to $60 or more per person.
Use taxis or rideshares more frequently, allowing for greater convenience and time savings.
Experience the city's nightlife with visits to popular clubs and beachfront bars, with some higher spending on drinks and entertainment.
Remember that these suggested budgets are rough estimates and can vary based on personal preferences and travel styles. Acapulco is a destination that offers something for every type of backpacker, whether you're on a tight budget or seeking a more luxurious experience.
Embrace the adventure, soak up the vibrant culture, and create unforgettable memories as you explore the wonders of Acapulco.
Getting around in Acapulco is relatively easy, offering various transportation options to suit every traveler's preferences and budget.
Getting around in Acapulco is an exciting and straightforward experience, with various transportation options to suit every preference and budget. Whether you choose to ride a taxi, hop on a bus, or use ride-sharing apps, getting around the city is convenient and accessible.
Taxi
Taxis are a convenient and popular mode of transportation in Acapulco. You can find them easily throughout the city, particularly at tourist hotspots, hotels, and major attractions.
Always ensure that the taxi driver uses the meter or agrees on a fare before starting the ride to avoid any misunderstandings. While hailing a taxi on the street is possible, it's safer to use official taxi stands or ask your hotel to arrange a reliable taxi service for you.
Public Buses
Acapulco has an extensive public bus network that connects various neighborhoods and attractions. The buses are an economical option for getting around the city. Look for buses marked "Acabús" or "Costera" as they serve the main tourist areas.
These buses are usually well-maintained and air-conditioned, providing a comfortable ride. Be prepared for some crowded buses during peak hours, especially along the Costera Alemán (the main beachfront avenue).
Uber and Ride-Sharing Apps
As of my knowledge cutoff in September 2021, ride-sharing apps like Uber were available in Acapulco.
Using these services can be a convenient and safe way to travel, especially if you prefer the comfort of a private vehicle. Just ensure you have access to a reliable internet connection, as some areas might have spotty coverage.
Colectivos
Colectivos are shared vans that operate on specific routes in and around Acapulco. They are an affordable and popular option among locals. While they may not always have designated stops, you can typically flag them down along their route.
These vans can get crowded, but they provide an authentic experience and an opportunity to interact with local residents.
Rental Cars
For travelers who prefer more independence and flexibility, renting a car is an option worth considering.
Rental agencies can be found at the airport and throughout the city. Keep in mind that traffic in Acapulco can be challenging, particularly during peak tourist seasons. Be sure to familiarize yourself with local driving laws and customs before hitting the road.
Walking
Exploring Acapulco on foot is an excellent way to immerse yourself in the city's charm.
Many attractions, restaurants, and shops are within walking distance of the tourist areas. However, be cautious and aware of your surroundings, especially in less-traveled areas.
Stick to well-lit and populated areas, particularly during the evening.
Acapulco, one of Mexico's most iconic coastal destinations, offers a delightful mix of stunning beaches, vibrant nightlife, and rich cultural experiences. To make the most of your visit, it's essential to choose the right time to travel.
The best time to visit Acapulco is during the dry season, which typically extends from November to April. This period boasts pleasant weather with warm temperatures, making it ideal for various outdoor activities. T
he rainy season spans from May to October, characterized by higher humidity and occasional heavy rainfall. While the scenery during the rainy season can be lush and beautiful, some activities may be limited due to the weather.
Best Months to Visit
November: November marks the beginning of the dry season when the temperatures start cooling down. It's a great time to visit before the peak tourist season kicks in, allowing you to enjoy the city's attractions without overwhelming crowds.
December – February: These months are the peak tourist season in Acapulco, as many travelers seek to escape colder climates. The weather is fantastic, making it the perfect time for beach days, water sports, and exploring the city's landmarks.
March – April: As spring arrives, the weather remains pleasant, and the crowds start thinning out, making it an excellent time to enjoy a more relaxed vacation.
Choosing the right time to visit Acapulco can greatly enhance your experience of this breathtaking coastal destination. Traveling during the dry season, from November to April, ensures favorable weather for a wide range of activities.
Like any tourist destination, Acapulco has its unique safety considerations. By following these essential tips, you can enjoy a safe and enjoyable stay in this stunning coastal city.
Choose Safe Accommodation
Opt for reputable hotels and resorts in well-established tourist areas. These accommodations typically have security measures in place to ensure the safety of their guests. Read reviews and do research to ensure your chosen lodging has positive feedback concerning safety.
Be Mindful of Your Belongings
Pickpocketing and petty theft can occur in crowded tourist areas, so be cautious with your belongings. Use a secure bag with zippers, keep it close to your body, and avoid displaying expensive items like jewelry, cameras, or smartphones in public.
Stay in Well-Lit Areas
During the evening, stick to well-lit and populated areas. Avoid wandering into poorly lit and deserted streets, especially if you're unfamiliar with the surroundings. It's safer to travel with a group, especially at night.
Use Official Transportation
Preferably, use official taxis arranged by your hotel or ones from authorized taxi stands. These are generally more reliable and safer than hailing a random taxi on the street. If using ride-sharing apps like Uber, verify the driver and their car's details before getting in.
Avoid Excessive Alcohol and Drugs
Partying and drinking are common in Acapulco's nightlife, but excessive alcohol consumption can impair your judgment and make you vulnerable to potential risks. Avoid accepting drinks from strangers, and never leave your drink unattended.
Be Cautious on the Beach
While Acapulco's beaches are beautiful, be cautious of strong currents and riptides, especially if you're not a strong swimmer. Only swim in designated areas with lifeguards present. Additionally, avoid leaving your belongings unattended while you go for a swim.
Respect Local Laws and Customs
Familiarize yourself with local laws and customs to avoid any misunderstandings or legal issues. Mexico has specific rules about public behavior, drug possession, and more, and it's essential to adhere to them during your stay.
Keep Valuables Secure
Use hotel safes to store your passports, extra cash, and other valuables when you're not using them. Avoid carrying large sums of money, and consider using a money belt or hidden pouch to keep your cash and important documents safe.
Stay Informed
Stay updated on the latest safety advisories and news about Acapulco. Check with your embassy or consulate for any travel advisories and emergency contact information.
Trust Your Instincts
Above all, trust your instincts. If a situation feels uncomfortable or unsafe, remove yourself from it. If you encounter any problems, seek assistance from hotel staff, local authorities, or other trusted sources.
By following these safety tips and being aware of your surroundings, you can have a fantastic and worry-free experience in Acapulco, savoring all the beauty and excitement this enchanting city has to offer.
Use these tags to read more related posts and reviews:
---
Let us know if this article was useful for you