Popocatépetl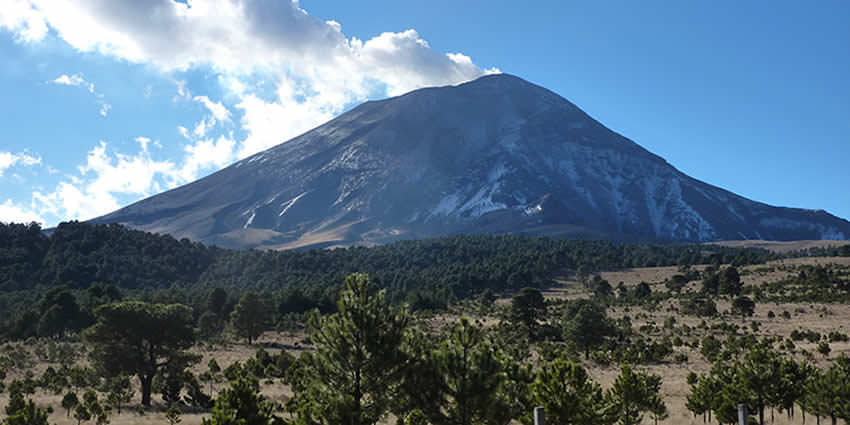 Popocatépetl (Popōcatepētl in nahuatl) is an active stratovolcano, located in the states of Puebla, Mexico, and Morelos, in Central Mexico, and lies in the eastern half of the Trans-Mexican volcanic belt.
At 5,426 m (17,802 ft) it is the second highest peak in Mexico, after Citlaltépetl (Pico de Orizaba) at 5,636 m (18,491 ft).
It is linked to the Iztaccihuatl volcano to the north by the high saddle known as the Paso de Cortés.
Popocatépetl is 70 km (43 mi) southeast of Mexico City, from where it can be seen regularly, depending on atmospheric conditions.
Until recently, the volcano was one of three tall peaks in Mexico to contain glaciers, the others being Iztaccihuatl and Pico de Orizaba.
In the 1990s, the glaciers such as Glaciar Norte (North Glacier) greatly decreased in size, partly due to warmer temperatures but largely due to increased volcanic activity. By early 2001, Popocatépetl's glaciers were gone; ice remained on the volcano, but no longer displayed the characteristic features of glaciers such as crevasses.
Lava erupting from Popocatépetl has historically been predominantly andesitic, but it has also erupted large volumes of dacite. Magma produced in the current cycle of activity tends to be a mixture of the two.
The 1966 Merrie Melodies cartoon Snow Excuse is set on Popocatepetl.
The name Popocatépetl comes from the Nahuatl words popōca "it smokes" and tepētl "mountain", meaning Smoking Mountain.
The volcano is also referred to by Mexicans as El Popo.
The alternate nickname Don Goyo comes from the mountain's association in the lore of the region with San Gregorio (St. Gregory), "Goyo" being a nickname like short form of Gregorio.
The stratovolcano contains a steep-walled, 400 m × 600 m (1,300 ft × 2,000 ft) wide crater. The generally symmetrical volcano is modified by the sharp-peaked Ventorrillo on the NW, a remnant of an earlier volcano. At least three previous major cones were destroyed by gravitational failure during the Pleistocene, producing massive debris avalanche deposits covering broad areas south of the volcano. The modern volcano was constructed to the south of the late-Pleistocene to Holocene El Fraile cone. Three major plinian eruptions, the most recent of which took place about 800 AD, have occurred from Popocatépetl since the mid Holocene, accompanied by pyroclastic flows and voluminous lahars that swept basins below the volcano.
According to paleomagnetic studies, the volcano is about 730,000 years old. The elevation at the peak is 5,450 m (17,880 ft). The volcano is cone shaped with a diameter of 25 km (16 mi) at its base. The crater is elliptical with an orientation northeast-southwest. The walls of the crater vary from 600 to 840 m (1,970 to 2,760 ft) in height. Popocatépetl is currently active after being dormant for about half of last century. In 1991 the volcano's activity increased and since 1993 smoke can be seen constantly emanating from the crater.
The first Spanish ascent of the volcano was made by an expedition led by Diego de Ordaz in 1519. The early-16th-century monasteries on the slopes of the mountain are a World Heritage Site.
Popocatépetl is the most active volcano in Mexico, having had more than 15 major eruptions since the arrival of the Spanish in 1519.
Timeline:
Mid-to late first century CE: A violent VEI-6 eruption may have caused the large migrations that settled Teotihuacan, according to DNA analysis of teeth and bones.
1947: A major eruption.
21 December 1994: The volcano spewed gas and ash, which was carried as far as 25 km (16 mi) away by prevailing winds. The activity prompted the evacuation of nearby towns and scientists to begin monitoring for an eruption.
December 2000: Tens of thousands of people were evacuated by the government, based on the warnings of scientists. The volcano then made its largest display in 1,200 years.
25 December 2005: The volcano's crater produced an explosion which ejected a large column of smoke and ash about 3 km (1.9 mi) into the atmosphere and expulsion of lava.
January and February 2012: Scientists observed increased volcanic activity at Popocatépetl. On January 25, 2012, an ash explosion occurred on the mountain, causing much dust and ash to contaminate the atmosphere around it.
15 April 2012: Reports of superheated rock fragments being hurled into the air by the volcano. Ash and water vapor plumes were reported 15 times over 24 hours.
Wednesday 8 May 2013, at 7:28 p.m. local time: Popocatépetl erupted again with a high amplitude tremor that lasted and was recorded for 3.5 hours. It began with plumes of ash that rose 3 km into the air and began drifting west at first, but later began to drift east-southeast, covering areas of the villages of San Juan Tianguismanalco, San Pedro Benito Juárez and the City of Puebla in smoke and ash. Explosions from the volcano itself subsequently ejected fragments of fiery volcanic rock to distances of 700 m from the crater.
July 4, 2013: Due to several eruptions of steam and ash for at least 24 hours, at least six U.S. airlines canceled more than 40 flights into and out of Mexico City and Toluca airports that day.
27 August–September 2014: CENAPRED reported explosions, accompanied by steam-and-gas emissions with minor ash and ash plumes that rose 800-3,000 m above Popocatépetl's crater and drifted west, southwest, and west-southwest. On most nights incandescence was observed, increasing during times with larger emissions.
1 September 2014: Partial visibility due to cloud cover.
29 and 31 August 2014: The Washington Volcanic Ash Advisory Center (VAAC) reported discrete ash emissions.
7 January 2015: CENAPRED reported that ash from recent explosions coats the snow on the volcano's upper slopes.
28 March 2016: An ash column 2,000 metres high was released, prompting the establishment of a 12-kilometer "security ring" around the summit.
3 April 2016: Popocatépetl erupted, spewing lava, ash and rock.
August 2016: Eruptions continued, with four discrete blasts on August 17.
10 November 2017 at 7:25 local time, eruption continued.
This volcano is monitored by the Deep Earth Carbon Degassing Project.
You can dial 078 from any phone, where you can find free information about tourist attractions, airports, travel agencies, car rental companies, embassies and consulates, fairs and exhibitions, hotels, hospitals, financial services, migratory and other issues.
Or dial the toll-free (in Mexico) number 01-800-006-8839.
You can also request information to the email correspondencia@sectur.gob.mx
MORE EMERGENCY NUMBERS:
General Information: 040 (not free)
National Emergency Service: 911
Radio Patrols: 066
Police (Emergency): 060
Civil Protection: +52(55)5683-2222
Anonymous Complaint: 089
Setravi (Transport Mobility): +52(55)5209-9913
Road Emergency: 074
Cruz Roja: 065 o +52(55)5557-5757
Firefighters: 068 o +52(55)5768-3700
Use these tags to read more related posts and reviews:
---
Let us know if this article was useful for you