Popular vacation destinations in Mexico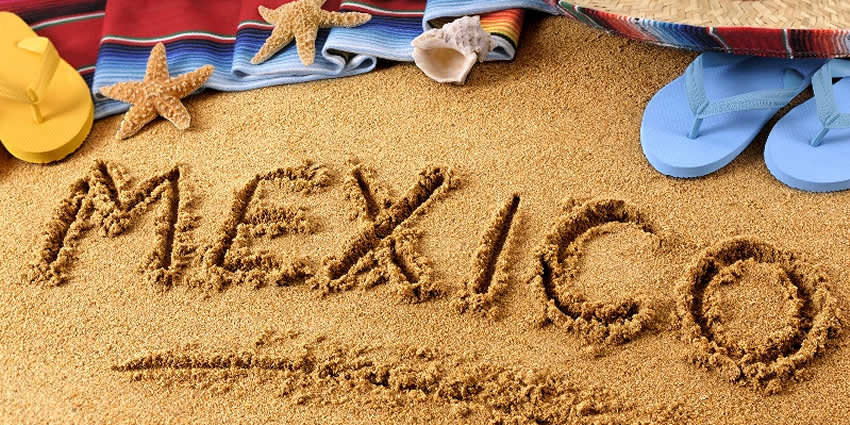 People love going on vacation to escape the everyday routine and immerse themselves in new experiences and environments.
Among the many choices, tropical paradises hold a special allure for most travelers. Tropical destinations offer a chance to relax and unwind under the warm sun, surrounded by the soothing sounds of the ocean.
Mexico stands out as one of the most popular destinations for travelers seeking an unforgettable vacation experience.
With its diverse range of breathtaking locations, from the famous beaches of Cancun and Riviera Maya to the cultural charm of cities like Tulum and Merida, Mexico has something to offer for every traveler's dream.
Whether it's exploring ancient Mayan ruins, indulging in mouthwatering cuisine, or simply lounging on powdery white sands, Mexico's tropical paradise has a magnetic pull that captivates the hearts of millions of vacationers each year.
Cancun: The Iconic Beach Paradise
Cancun is undoubtedly one of Mexico's most famous and popular vacation spots, renowned for its white-sand beaches, crystal-clear turquoise waters, and vibrant nightlife that never fails to captivate visitors.
This coastal city on the Yucatan Peninsula offers a plethora of luxurious resorts, exciting water activities, and world-class entertainment, making it a favorite destination for beach lovers and party-goers alike.
Playa del Carmen: A Laid-Back Bohemian Escape
Located just 1-hour bus drive south of Cancun, Playa del Carmen exudes a bohemian and relaxed atmosphere that appeals to travelers seeking a more laid-back vacation experience.
With a diverse range of boutique hotels, charming cafes, and boutique shops along its pedestrian-friendly Fifth Avenue, Playa del Carmen offers the perfect blend of relaxation and adventure.
Visitors can explore nearby cenotes, indulge in delicious Mexican cuisine, or take a ferry to the picturesque island of Cozumel.
Tulum: A Coastal Paradise with Ancient Ruins
Tulum's unique charm lies in its breathtaking coastal setting and well-preserved Mayan ruins overlooking the turquoise Caribbean Sea. Tulum attracts eco-conscious travelers with its eco-resorts, yoga retreats, and sustainable tourism practices.
Explore the majestic Tulum archaeological site, unwind on its stunning beaches, and experience a harmonious blend of nature and history.
Merida: The Cultural Capital of Yucatan
Nestled in the heart of the Yucatan Peninsula, Merida is known for its rich cultural heritage and vibrant atmosphere. As the cultural capital of Yucatan, Merida boasts charming colonial architecture and colorful markets.
Visitors can explore historic landmarks.
Walk along the Paseo de Montejo, marvel at the grandeur of the Palacio Canton, and indulge in the region's delectable cuisine. With its lively festivals and fascinating history, Merida offers a truly immersive experience of Mexico's cultural tapestry.
Mexico City: A Vibrant Cultural Capital
As the bustling capital of Mexico, Mexico City offers an abundance of cultural treasures and modern delights.
From historic landmarks like the impressive Zocalo and ancient Templo Mayor to world-class museums like the National Museum of Anthropology, the city boasts a rich tapestry of history and art.
Savor authentic Mexican cuisine at street food stalls or dine at top-rated restaurants, making it a foodie's paradise.
Guanajuato: A Colonial Gem with Artistic Flair
The picturesque city of Guanajuato, nestled in the central highlands, enchants visitors with its colorful colonial architecture and winding alleyways. As a UNESCO World Heritage Site, the city is a hub for arts and culture.
Guanajuato also hosts the famous International Cervantino Festival.
Explore the historic Teatro Juarez, the underground streets, and the iconic Callejon del Beso for a truly unique experience.
Guadalajara: The Dynamic Heart of Jalisco
Guadalajara, the capital of Jalisco, is a dynamic city known for its lively atmosphere, rich history, and iconic landmarks. As Mexico's second-largest city, Guadalajara exudes a blend of tradition and modernity, making it an exciting spot for travelers.
Visitors can explore the majestic Guadalajara Cathedral, stroll through the picturesque Plaza Tapatia, and immerse themselves in the Mariachi culture that originated here.
The city's thriving arts scene, tequila distilleries, and mouthwatering street food add to the allure of this cultural gem.
Puerto Vallarta: A Romantic Getaway on the Pacific Coast
Nestled between lush mountains and the Pacific Ocean, Puerto Vallarta captures the hearts of travelers seeking a romantic escape. The cobblestone streets, picturesque Malecon boardwalk, and stunning sunsets make it an ideal destination for couples.
Whether indulging in a beachfront dinner, exploring hidden beaches in Yelapa, or enjoying water sports and nature adventures, Puerto Vallarta offers a blend of romance and adventure.
Los Cabos: The Ultimate Luxury Retreat
Los Cabos, located at the southern tip of the Baja California Peninsula, boasts luxury resorts, world-class golf courses, and breathtaking desert-meets-sea landscapes.
Los Cabos offers a haven for relaxation with a variety of high-end spas, upscale dining experiences, and exclusive beach clubs. Adventure seekers can enjoy activities like deep-sea fishing, whale-watching, and exploring the iconic El Arco rock formation.
Oaxaca: A Cultural Gem in Southern Mexico
Oaxaca's vibrant culture, colonial architecture, and rich indigenous traditions make it a fascinating destination in southern Mexico. The charming city of Oaxaca is a UNESCO World Heritage Site, boasting colorful markets, mezcal tastings, and a delightful culinary scene.
Visitors can also venture to nearby Hierve el Agua, Monte Alban, and the picturesque beaches of Puerto Escondido and Mazunte.
Puebla: A Colonial Gem with Culinary Delights
Puebla, a charming colonial city located in central Mexico, enchants travelers with its well-preserved architecture and culinary wonders. Puebla boasts an impressive array of colonial buildings, including the iconic Puebla Cathedral and the ornate Rosary Chapel.
The city's rich history is evident in its cobblestone streets and colorful facades. Puebla is also celebrated for its mouthwatering cuisine, giving birth to famous dishes like mole poblano and "chiles en nogada".
Visitors can savor the delectable flavors at local markets and traditional eateries while admiring the city's architectural splendor.
Whether you seek beach bliss, cultural immersion, or adventure, these popular Mexico vacation spots offer diverse experiences. From stunning coastlines to ancient ruins, and vibrant cities to tranquil retreats, Mexico's allure remains ever-captivating.
Use these tags to read more related posts and reviews:
---
Let us know if this article was useful for you