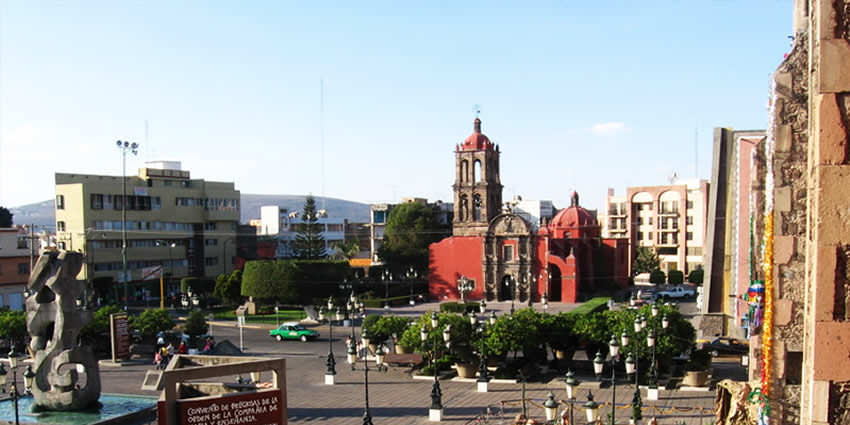 Valle de Santiago
Valle de Santiago is a municipality in the Mexican state of Guanajuato, and also the name of its largest township and municipal seat.
The municipality is located in the southern portion of the state in the Bajío region of central Mexico, and has an area of some 820.1 square kilometres (316.6 sq mi).
The city of Valle de Santiago lies at an elevation of 1,744 metres (5,722 ft) in the east-central part of the municipality, approximately 90 kilometres (56 mi) south of the state capital, Guanajuato.
The height above sea level is 1723 meters.
As of the 2010 census, the city had a population of 68,058 (the ninth-largest community in the state), while the municipality had a population of 141,058.
When the spaniards and the indigenous allies arrived to this valley – precisely on July 25, 1562, the day that Santiago Apóstol was celebrated in the Catholic liturgy – the area was inhabited by "a mixture of Otomíes, Chichimecas and Purépechas". The predominant group, apparently, was that of chichimecas-pames.
The settlement was founded on May 28, 1607. Its founders were Pedro Martinez Rincon, Pedro Rivera, Diego Tamayo, Francisco Gomez, Francisco Santoyo, Silvestre de Aguirre, Luis Fonseca, Antonio Estrada, Andres Cuéllar and Juan Martinez. Cristóbal Martín and Juan Fernández deserve special mention.
They came from the recently founded town of Salamanca.
Its autochthonous name was Camémbaro that in purépecha means "place of absinthe or estafiate". By the way, the europeans used to say to the estafiate the "Mexican wormwood" because of the resemblance to that one but, really, it is not absinthe. Another name that this plant receives is altamisa and is used in traditional herbal medicine mainly against digestive diseases: diarrhea, dysentery, parasites and colic.
You can dial 078 from any phone, where you can find free information about tourist attractions, airports, travel agencies, car rental companies, embassies and consulates, fairs and exhibitions, hotels, hospitals, financial services, migratory and other issues.
Or dial the toll-free (in Mexico) number 01-800-006-8839.
You can also request information to the email correspondencia@sectur.gob.mx
MORE EMERGENCY NUMBERS:
General Information: 040 (not free)
SNational Emergency Service: 911
Radio Patrols: 066
Police (Emergency): 060
Civil Protection: +52(55)5683-2222
Anonymous Complaint: 089
Setravi (Transport Mobility): +52(55)5209-9913
Road Emergency: 074
Cruz Roja: 065 o +52(55)5557-5757
Firefighters: 068 o +52(55)5768-3700
Use these tags to read more related posts and reviews:
---
Let us know if this article was useful for you