Exciting activities on Cozumel Island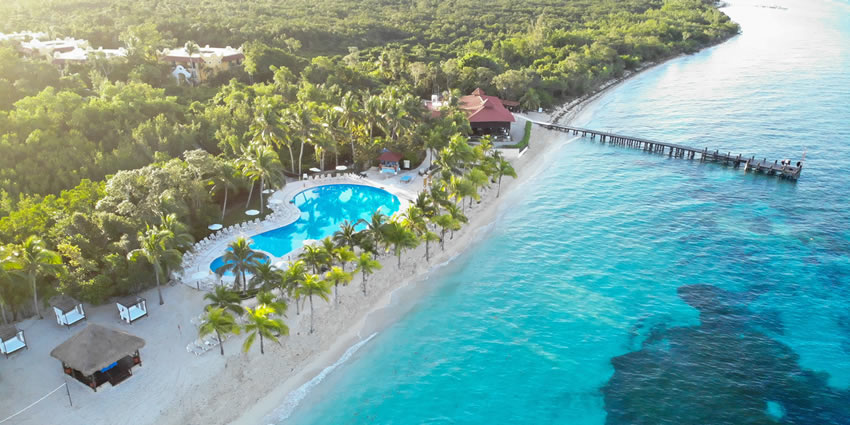 Cozumel Island captivates visitors with its abundant natural beauty and diverse landscapes. With its tropical climate and breathtaking scenery, Cozumel is a haven for nature enthusiasts and those seeking a tranquil escape.
The island's pristine beaches, adorned with powdery white sand and fringed by turquoise waters, invite relaxation and provide the perfect setting for sunbathing, swimming, and water sports.
The Caribbean Sea surrounding Cozumel is a haven for marine life, making it a popular destination for snorkeling and scuba diving. Explore the vibrant coral reefs and encounter colorful fish, sea turtles, and other fascinating underwater creatures.
Beyond the shoreline, Cozumel is blessed with lush jungles, teeming with tropical flora and fauna.
Take a hike or join an eco-tour to discover the island's rich biodiversity. Immerse yourself in the vibrant hues of the tropical forest, listen to the melodies of exotic birds, and catch glimpses of curious wildlife.
As you explore the island's diverse landscapes, you'll encounter stunning natural attractions such as the Punta Sur Ecological Park. Here, you can witness breathtaking views from the park's rugged cliffs, visit a lighthouse, and explore ancient Mayan ruins.
Don't miss the chance to explore the pristine lagoons, mangroves, and wetlands that are home to a variety of bird species.
Cozumel's weather contributes to its allure, with warm temperatures and abundant sunshine throughout the year. The island enjoys a tropical climate, which means you can indulge in outdoor activities and enjoy beautiful surroundings no matter the season.
Whether you prefer to embark on an adventurous journey, immerse yourself in the island's vibrant culture, or simply unwind amidst nature's wonders, Cozumel offers an enchanting blend of landscapes and experiences.
It is a destination where the idyllic combination of sun, sea, and spectacular natural beauty creates a truly unforgettable vacation.
Discover Exciting Activities on Cozumel
Cozumel offers an abundance of thrilling activities that cater to all types of travelers and vacationers.
Whether you are an adventure enthusiast, a nature lover, or someone seeking a relaxing beach vacation, Cozumel has something to offer for everyone. So, let's explore a range of exhilarating activities on Cozumel that will make your trip a memorable one.
Scuba Diving and Snorkeling
Cozumel is known for its crystal-clear turquoise waters and vibrant coral reefs. Dive into an underwater paradise as you explore the famous Palancar Reef or the Columbia Wall.
Snorkelers can also enjoy abundant marine life and colorful coral formations in shallower areas.
Jeep Tours and Off-Road Adventures
Embark on an adrenaline-pumping jeep tour and venture into the heart of Cozumel's lush jungles. Traverse rugged terrains, visit ancient Mayan ruins, and witness breathtaking panoramic views from scenic viewpoints.
Parasailing and Water Sports
Take to the skies and experience the thrill of parasailing, where you'll soar above the coastline and enjoy spectacular views of the island.
Cozumel also offers a range of water sports, including jet skiing, kayaking, and paddleboarding, allowing you to make the most of its pristine beaches and warm waters.
Visit the Chankanaab National Park
Immerse yourself in nature at Chankanaab, a captivating eco-park located on the western coast of Cozumel. Explore botanical gardens, swim in natural lagoons, and even encounter dolphins or manatees during a memorable swim-with-dolphins experience.
Explore Mayan Ruins
Cozumel is surrounded by ancient Mayan ruins that provide a glimpse into the island's rich history.
Visit the San Gervasio archaeological site, an important ceremonial center dedicated to the Mayan goddess Ixchel, or take a ferry to the mainland to explore the famous ruins of Tulum and Chichen Itza.
Experience Cozumel's Vibrant Nightlife
After a day filled with adventures, unwind and immerse yourself in Cozumel's vibrant nightlife. Enjoy live music, dance to Latin rhythms, and indulge in delicious Mexican cuisine at the island's lively bars and clubs.
Relax on Cozumel's Pristine Beaches
Cozumel boasts stunning white-sand beaches that offer the perfect backdrop for relaxation and tranquility. Spend a day sunbathing, swimming, or simply enjoying the breathtaking ocean views.
Visit Cozumel's Museums and Cultural Sites
Dive deeper into Cozumel's cultural heritage by visiting its museums and cultural sites.
Explore the Museo de la Isla de Cozumel, which showcases the island's history, ecology, and marine life, or admire the beautiful architecture of the San Miguel Church in downtown Cozumel.
Whether you're seeking adventure or relaxation, Cozumel promises an unforgettable experience. Plan your itinerary carefully, and make sure to include these exciting activities on your next trip to Cozumel to create lifelong memories of this tropical paradise.
Use these tags to read more related posts and reviews:
---
Let us know if this article was useful for you