Cabo San Lucas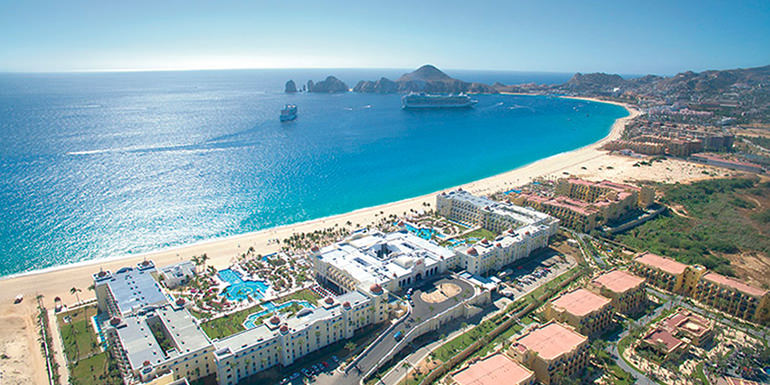 Cabo San Lucas ("Cape Saint Luke"), commonly called Cabo in American English, is a city at the southern tip of the Baja California Peninsula, in the Mexican state of Baja California Sur.
Cabo San Lucas together with San José del Cabo is known as Los Cabos.
Cabo has been rated as one of Mexico's top 5 tourist destinations; it is known for its beaches, scuba diving locations, SPA, the sea arch El Arco de Cabo San Lucas, and marine life.
The Los Cabos Corridor has become a heavily trafficked holiday destination for tourists, with numerous resorts and timeshares along the coast between Cabo San Lucas and San José del Cabo.
Cabo San Lucas has the highest-paying marlin tournament in the world.
Cabo houses a range of wildlife, including rays, sharks, birds, and a range of fish, such as mahi-mahi (dorado), and striped marlin.
In the winter, pods of whales can be observed in the area. They bear their calves in the warm waters of the Gulf of California after completing their 6000-mile migration from Alaska and Siberia.
The distinctive Arco de Cabo San Lucas is a local landmark.
Cabo San Lucas has a desert climate.
During summer, Cabo San Lucas is cooler than San José del Cabo by about 1.5 to 3 °C. Sometimes during the summer, when winds blow from the Pacific Ocean instead of the Gulf of California, the differences in temperatures between San José del Cabo and Cabo San Lucas are higher.
Cabo San Lucas is less rainy than San José del Cabo, although hurricanes can bring heavy rain for long periods.
Hurricane Odile made landfall at Cabo San Lucas on 14 September 2014 and caused widespread damage. Due to the position of the city and orography, local summer thunderstorms do not get near enough to bring rain to the town.
The sea temperature experiences lows of 21–22 °C in winter, and highs of 28–29 °C during the summer months.
As of the 2010 Censo General de Población y Vivienda, the population was 68,463 and has experienced very rapid growth and development. It is the third-largest city in Baja California Sur after La Paz and San José del Cabo (although it is only slightly less populous than San José del Cabo).
The majority of non-Mexican inhabitants in the community originate from the United States, and along with residents from San José del Cabo they account for 80% of the U.S population in the state.
Archaeological excavations have shown evidence of continual human habitation in the area for at least 10,000 years.
When the first Europeans arrived, they encountered the Pericú people, who survived on a subsistence diet based on hunting and gathering seeds, roots, shellfish, and other marine resources. They called the location Yenecamú.
According to the narrative of Hatsutaro, a Japanese castaway, in the book Kaigai Ibun (written by Maekawa, Junzo, and Bunzo Sakai and narrated by Hatsutaro), when he arrived at Cabo San Lucas in May 1842, there were only two houses and about 20 inhabitants.
However, American authors such as Henry Edwards and John Ross Browne claim that Cabo San Lucas's founder was an Englishman named Thomas "Old Tom" Ritchie. John Ross Browne says Ritchie arrived there about 1828, while Edwards says that he died in October 1874.
A fishing village began growing in the area. In 1917, an American company built a floating platform to catch tuna, and ten years later founded Compañía de Productos Marinos S.A. The plant operated for several years.
Cabo San Lucas and San José del Cabo are served by Los Cabos International Airport.
The town is also a popular port of call for many cruise ships. Cabo San Lucas has a small international airfield, which handles air traffic for general aviation flights and air taxi service.
Many tourists get around the area through the numerous local taxis that service the primary parts of Cabo, as well as the Corridor and the airport. Alternatively, there is a system of small buses that are used by locals but also available to tourists, and costing a few pesos tend to be much less expensive than the taxis.
Clubs in Cabo include the Cabo Wabo Cantina, the Baja Brewing Company (also the first microbrewery in Baja California), Pink Kitty Nightclub, Mandala, El Squid Roe, Giggling Marlin, Nowhere Bar, Tiki Bar, the Usual Suspects, and the Jungle Bar.
Restaurants in downtown Cabo include Edith's, Hacienda Cocina y Cantina, and Sunset da Mona Lisa.
Tourists can also ride horses through the desert, charter a boat for fishing, snorkel, and parasail on the beach.
Resort corridor
The corridor is home to a variety of hotels and tourist attractions. High-end resorts in the corridor include the One&Only Palmilla, Esperanza, The Resort at Pedregal, and Las Ventanas al Paraiso.
Medano Beach, located in Chileno Bay, is one of the most frequented beaches in the Corridor. It is home to tropical fish, sea turtles, invertebrates, and sponges. Snorkelers often visit Chileno Bay to observe the underwater sea life.
You can dial 078 from any phone, where you can find free information about tourist attractions, airports, travel agencies, car rental companies, embassies and consulates, fairs and exhibitions, hotels, hospitals, financial services, migratory and other issues.
Or dial the toll-free (in Mexico) number 01-800-006-8839.
You can also request information the email correspondencia@sectur.gob.mx
MORE EMERGENCY NUMBERS:
General Information: 040 (not free)
National Emergency Service: 911
Radio Patrols: 066
Police (Emergency): 060
Civil Protection: +52(55)5683-2222
Anonymous Complaint: 089
Setravi (Transport Mobility): +52(55)5209-9913
Road Emergency: 074
Cruz Roja: 065 o +52(55)5557-5757
Firefighters: 068 o +52(55)5768-3700
Use these tags to read more related posts and reviews:
---
Let us know if this article was useful for you