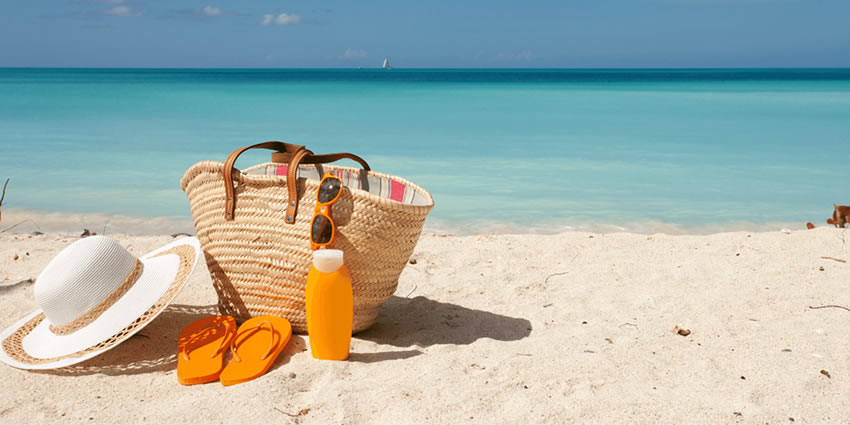 What to bring for a comfortable and enjoyable trip to Mexico
Traveling is a great way to explore new places, experience different cultures, and make lasting memories. Mexico is a popular vacation destination, with tourist arrivals reaching an all-time high of 58 million in 2022.
Mexico is known for its diverse landscapes, from tropical beaches to the desert, and it's important to pack accordingly. Here are some tips on how to prepare for your trip to Mexico and what kind of clothing and gear you should take with you.
Preparing for a trip to Mexico requires some planning, especially when it comes to packing your bags.
Check the weather: Mexico is a large country, and the weather can vary depending on the region you're visiting. Check the weather forecast for the places you'll be visiting and pack accordingly.
Mexico is warm year-round, but it can get chilly in some areas during the winter months, especially at night.
Choose comfortable clothing: Pack comfortable clothing that you can wear during the day and night. Lightweight, breathable fabrics like cotton and linen are great choices, especially for hot and humid regions like the Yucatan Peninsula.
Loose-fitting clothes made from lightweight, breathable fabrics like cotton or linen are ideal for the hot and humid climate. Pack comfortable clothing that can be layered, like t-shirts, shorts, and light jackets.
Bring a few pairs of socks made from breathable and moisture-wicking materials to keep your feet dry and comfortable.
Also, pack a light jacket or sweater for cooler evenings.
Bring a hat and sunglasses: The sun in Mexico can be strong, so it's important to protect your skin and eyes. A wide-brimmed hat and a pair of sunglasses with UV protection will help keep you cool and protect you from the sun's harmful rays.
Pack comfortable shoes: Mexico is a country that's best explored on foot, so it's important to pack comfortable shoes that can handle a lot of walking. Sneakers, sandals, and hiking shoes are all good choices, depending on the activities you have planned.
If you're planning to spend time on the beach, don't forget to pack also flip-flops or buy them in Mexico.
Don't forget your swimwear: Mexico is home to some of the most beautiful beaches in the world, so make sure to pack your swimwear. Also, pack a cover-up or a light shirt to wear over your swimsuit when you're not in the water.
Choose a suit that compliments your figure but also follows the natural shape of your bust, while also being comfortable and practical. This will allow you to enjoy all of Mexico's beautiful beaches and water activities with confidence and comfort.
It's a good idea to pack a sarong or cover-up to wear over your swimsuit when you're out of the water. This will protect you from the sun and provide coverage while you're walking around the beach or town. Optionally, buy it in Mexico.
It's a good idea to choose a pair of comfortable, quick-drying swim trunks that you can wear both in and out of the water. Board shorts are a popular choice, as they are lightweight and can be worn as casual shorts as well.
Bring insect repellent: Mexico is a tropical country, and mosquitoes can be a big problem, especially during the rainy season or in the lush jungle areas. Bring insect repellent with you and apply it regularly to avoid getting bitten.
Gadgets: Pack your camera, smartphone, and other gadgets that you use regularly. Don't forget to pack the necessary cables and chargers, as well as a power bank to keep your devices charged on the go.
Travel documents: Keep all of your important travel documents, like your passport, visa, travel insurance, and hotel reservations, in a safe place. Consider keeping digital copies of these documents on your phone or tablet, just in case you lose the originals.
Toiletries: Pack your toiletries, including your toothbrush, toothpaste, shampoo, conditioner, and soap.
Medications: If you take prescription medications, make sure to pack enough for the duration of your trip. It's also a good idea to pack some over-the-counter medications, like pain relievers and antacids, just in case.
Pack a daypack: A small daypack is useful for carrying essentials like water, snacks, sunscreen, and a camera when you're out exploring. It's also a good idea to keep your passport, money, and other important documents in a secure pocket or pouch.
Overall, when preparing for travel to Mexico, it's best to pack light and pack smart. Choose comfortable clothing and shoes, protect yourself from the sun and insects, and bring a daypack for essentials.
With the right gear, you'll be able to enjoy all that Mexico has to offer!
Use these tags to read more related posts and reviews:
---
Let us know if this article was useful for you