Things to do in Tulum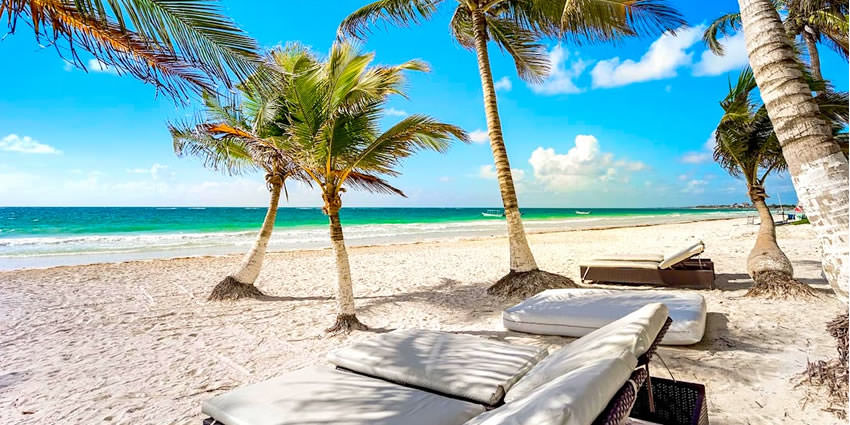 Tulum offers a unique blend of history, natural beauty, and modern charm that beckons travelers from around the world. Tulum boasts a diverse range of attractions, from its ancient Mayan ruins to its pristine beaches and lush jungles.
Tulum is located approximately 130 km south of Cancún.
Tulum is set atop dramatic cliffs overlooking the Caribbean, offering panoramic views of the sea. Below these cliffs lie some of the most beautiful beaches in the world, with soft, powdery white sand and crystal-clear waters.
Tulum is also surrounded by verdant jungles and cenotes, which are natural sinkholes unique to this region. These cenotes serve as natural swimming pools and provide a refreshing escape from the tropical heat.
Tulum has embraced eco-friendly practices, such as using solar power and limiting development in sensitive areas. Tulum's beaches are known for their cleanliness and untouched beauty, making it a prime spot for eco-conscious travelers.
What to see and do in Tulum?
Tulum is home to the Tulum ruins, an ancient Mayan archaeological site perched on the cliffs overlooking the sea. Explore the rich history and culture of the Mayan civilization while taking in breathtaking ocean views.
The pristine beaches of Tulum are a major draw. Whether you're looking to relax on the soft sands, swim in the clear waters, or engage in water sports like snorkeling and scuba diving, Tulum's beaches have something for everyone.
For those seeking adventure, Tulum's beaches provide opportunities for snorkeling, paddleboarding, and kayaking. You can explore the underwater world of the Mesoamerican Barrier Reef, the second-largest coral reef system in the world.
Explore nearby cenotes. Dive into the enchanting cenotes scattered throughout the area. These natural sinkholes offer a unique opportunity for freshwater swimming and exploration in otherworldly cave systems.
Tulum's town center exudes a bohemian charm, with artisan shops, delicious restaurants serving both Mexican and international cuisine, and a lively arts and music scene. You'll find a vibrant cultural hub within a tropical paradise.
Tulum Beach Road: Stroll or bike along Tulum Beach Road, lined with boutique hotels, restaurants, and shops. It's a great place for a leisurely walk and some shopping.
Tulum National Park: This park is adjacent to the Tulum ruins and features a small archaeological site, a beautiful beach, and a walking trail through the mangroves.
Tulum art walk: If you're interested in art, explore the various art galleries and studios in Tulum. You can find a wide range of artwork, from contemporary to traditional Mexican art.
Tulum's dining scene: Tulum is known for its vibrant food scene. Try some of the local seafood dishes and international cuisine in the town's many restaurants and beachfront eateries.
Tulum's commitment to sustainability and eco-friendly practices makes it an ideal destination for environmentally conscious travelers. You can enjoy your vacation while minimizing your impact on the environment.
Whether you seek relaxation on pristine beaches or adventure in cenotes, Tulum offers a truly unique and unforgettable experience. Explore this tropical haven on the Yucatán Peninsula for a vacation like no other.
Beach Bliss: Spend lazy days lounging on the soft, white sands of Tulum's beaches. Playa Paraíso and Playa Ruinas are among the most popular spots to soak up the sun and swim in the crystal-clear waters.
The Tulum area is a hub for yoga and wellness. Join a yoga class or attend a meditation workshop. Immerse yourself in a full retreat program at one of the many yoga studios or wellness centers in the area.
Experience a traditional Mayan clay spa treatment. Many spas in Tulum offer this unique and relaxing experience.
Tulum and its surroundings offer an array of activities, whether you're looking for relaxation, adventure, cultural experiences, or vibrant nightlife. The region's natural beauty and cultural richness ensure that every traveler can find something to enjoy in this tropical paradise on the Yucatán Peninsula.
Coba Ruins: Located about an hour from Tulum, Coba is another ancient Mayan archaeological site. You can climb the Nohoch Mul pyramid for panoramic views of the jungle.
Akumal: Just a short drive from Tulum, Akumal is known for its crystal-clear waters and the opportunity to swim with sea turtles. Snorkeling is a popular activity here.
Xel-Ha Park: This natural aquatic theme park is ideal for a day of water-based activities like snorkeling, tubing, and cliff jumping. It's about a 30-minute drive from Tulum.
Xcaret Park: Located a bit farther from Tulum (around 1.5 hours), Xcaret offers a mix of cultural and natural attractions, including underground rivers, wildlife encounters, and cultural performances.
Chichen Itza: While it's a longer day trip (about 2.5 hours each way), Chichen Itza is one of Mexico's most famous archaeological sites and a UNESCO World Heritage Site. The Kukulkan Pyramid is a must-see.
Sian Ka'an Biosphere Reserve: If you want a more in-depth experience, consider a full-day tour of Sian Ka'an. You can explore the diverse ecosystems, go birdwatching, and take a boat tour through the mangroves.
Xpu-Ha Beach: A less crowded alternative to Tulum's beaches, Xpu-Ha is about a 20-minute drive away. It's known for its serene atmosphere and great beach clubs.
Muyil Ruins and Float in the Sian Ka'an Lagoon: Combine a visit to the Muyil Ruins with a float down the lazy river in the Sian Ka'an Lagoon. This tranquil experience is about a 45-minute drive from Tulum.
Cenote Ik Kil: Located near Chichen Itza, Cenote Ik Kil is a stunning natural sinkhole where you can swim in its refreshing waters. It's a popular stop on the way to or from Chichen Itza.
Tulum Monkey Sanctuary: This sanctuary is just a short drive from Tulum and offers the opportunity to see and learn about spider monkeys and other local wildlife.
Remember to book your tours or plan your day trips in advance, as some attractions may have limited availability or require reservations. Enjoy exploring these nearby attractions from Tulum!
Tulum's nightlife scene offers a unique twist with beachside parties at popular beach clubs. The place is a unique blend of tropical vibes, beachfront parties, and bohemian charm.
Enjoy music, cocktails, and dancing right on the sand under the stars. If you happen to visit during a full moon, don't miss the legendary full moon parties that light up the beaches with fire dancers and live music.
While it may not rival the bustling nightlife of some larger cities, Tulum offers a laid-back yet lively atmosphere that's perfect for those looking to dance the night away under the stars.
Tulum's full moon parties are legendary. These events typically take place on the beach during the full moon and feature fire dancers, drum circles, and a vibrant, bohemian atmosphere. They provide a unique opportunity to celebrate nature and dance until dawn.
Remember that Tulum's nightlife is known for its casual dress code, so you can often dance the night away in your beach attire. However, some upscale venues may have a more elegant dress requirement, so it's a good idea to check ahead of time.
Enjoy a night party beach atmosphere sobbing cocktails and watching the moonlight reflect off the ocean. Tulum's nightlife is an unforgettable experience that complements the city's overall bohemian and laid-back vibe.
Tulum: The Relaxed Retreat
Tulum, situated about 129 km south of Cancun, is known for its laid-back and bohemian atmosphere.
Its beaches boast soft, white sands that meet the calm, turquoise waters of the Caribbean Sea. The accommodations here are characterized by boutique hotels, eco-friendly resorts, and beachfront cabanas, often embracing a rustic aesthetic.
In terms of activities, Tulum offers a chance to explore ancient Mayan ruins, including the iconic clifftop Tulum Ruins.
Cenotes, natural sinkholes, are plentiful in the area, inviting visitors to swim and snorkel in their crystal-clear waters. Tulum is also known for its wellness and yoga retreats, making it a hub for relaxation and self-discovery.
Cancun: The Energetic Hub
Cancun, located on the northeastern coast of the Yucatan Peninsula, presents a vibrant and energetic atmosphere. Its wide, sandy beaches are famous for their lively ambiance, especially in the Hotel Zone, where luxury resorts abound.
Cancun accommodates various budgets, offering everything from upscale resorts to budget-friendly hotels and all-inclusive options.
Cancun is a hub for water sports enthusiasts, with opportunities for snorkeling, scuba diving, and parasailing.
Its nightlife is renowned, with numerous bars and clubs catering to different tastes. Additionally, Cancun provides easy access to attractions like Xcaret Park, where visitors can explore natural wonders and cultural exhibits.
***
Tulum offers a tranquil and eco-conscious escape, while Cancun provides a dynamic and all-inclusive vacation experience. Your choice between the two depends on your preferred atmosphere and activities, both promising a delightful Mexican getaway.
Use these tags to read more related posts and reviews:
---
Let us know if this article was useful for you