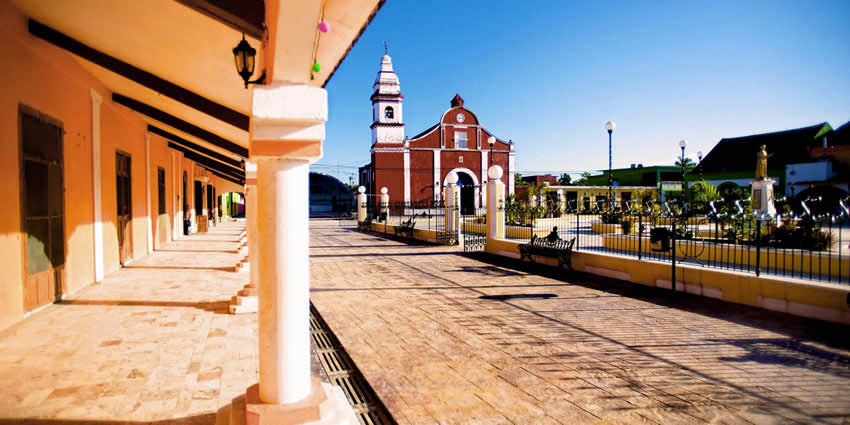 Palizada
Palizada is a city in the Mexican state of Campeche. It is situated in the south-west of the state.
It serves as the municipal seat for the surrounding municipality of the same name.
As of 2010, the Palizada had a population of 3,089.
Palizada was named a "Pueblo Mágico" in 2010.
The landscapes of the Magical Town of Palizada look like a famous fresco with its river and houses all with red tile roofs. A friendly town whose houses with tile roofs hipped French, small lanes and friendly portals give a particular face, all framed by a lush landscape, daily life in this place is known for his interesting commerciality.
It is possible that the origin of its name comes from having been the main site of the hardwood court and, above all, logwood, whose logs were transported through the river current to the lagoon Palizada terms, for the landing in the then due Carmen villa abroad.
This magical town sits in the middle of an important hydrological zone formed by the confluence of the deltas of several rivers and a vast floodplain area.
Ecotourism at its best, authentic rural tourism, flora fauna, fishing and adventures await you in Palizada, Campeche.
Palizada is quite isolated place and the only way to get there via Jonuta small town.
Buses from Villahermosa to Jonuta: $8-$24 (3:10 hours) runs just 3 times a day.
Taxi from Jonuta to Palizada: $4-$6 (0:30 min).
Taxi from Ciudad del Carmen to Palizada: $55-$65 (5:00 hours).
You can dial 078 from any phone, where you can find free information about tourist attractions, airports, travel agencies, car rental companies, embassies and consulates, fairs and exhibitions, hotels, hospitals, financial services, migratory and other issues.
Or dial the toll-free (in Mexico) number 01-800-006-8839.
You can also request information to the email correspondencia@sectur.gob.mx
MORE EMERGENCY NUMBERS:
General Information: 040 (not free)
SNational Emergency Service: 911
Radio Patrols: 066
Police (Emergency): 060
Civil Protection: +52(55)5683-2222
Anonymous Complaint: 089
Setravi (Transport Mobility): +52(55)5209-9913
Road Emergency: 074
Cruz Roja: 065 o +52(55)5557-5757
Firefighters: 068 o +52(55)5768-3700
Use these tags to read more related posts and reviews:
---
Let us know if this article was useful for you