What to do and see in Oaxaca and around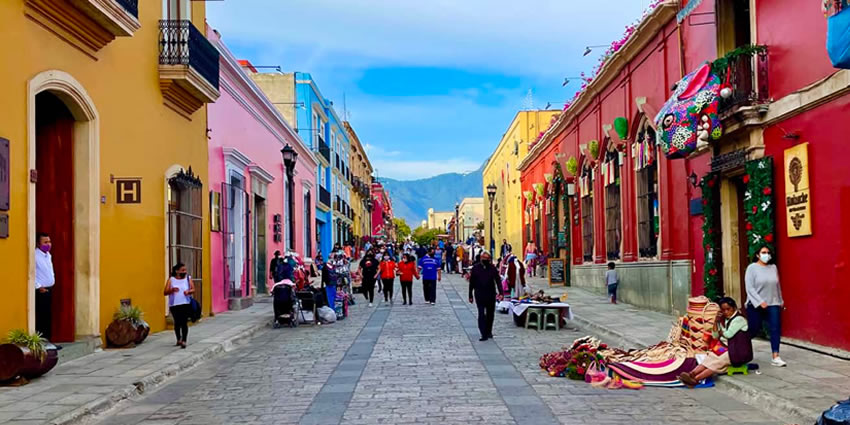 Oaxaca, a land of enchantment and rich cultural heritage is a special place that captivates the hearts of each traveler. Nestled in a picturesque valley encircled by majestic mountains, Oaxaca City has a magical allure that leaves visitors in awe.
The charming streets of Oaxaca are a kaleidoscope of colors adorning the buildings that line the roads. The architecture is a testament to its colonial past, with historic Spanish colonial churches standing tall as proud symbols of the city's fascinating history.
One of the most delightful aspects of Oaxaca is its vibrant street art scene.
Murals and graffiti art decorate walls, transforming the city into an open-air art gallery that embraces both tradition and modern expression. Each mural tells a unique story, connecting the past with the present, and showcasing the creativity and passion of its artists.
For those seeking a taste of local culture and a culinary adventure, Oaxaca is a gastronomic paradise. Renowned for its diverse and flavorsome cuisine, the city is hailed as one of Mexico's culinary hubs.
The streets of Oaxaca City are lined with restaurants and eateries offering a vast array of traditional Mexican dishes, including mouthwatering moles, tlayudas, and other regional delicacies.
No visit to Oaxaca is truly complete without taking the time to savor and indulge in the rich, smoky flavors of mezcal, the region's iconic distilled spirit crafted with utmost care and expertise from the agave plants native to this land.
Beyond the city's boundaries lie ancient traces of civilizations that thrived in the region long before the arrival of the Spanish.
The legacy of the indigenous Zapotec and Mixtec peoples can be explored through archaeological sites Monte Albán and Mitla. These sites offer a glimpse into the past, with intricate ruins that speak of a civilization that once flourished here.
Oaxaca's parks and plazas provide a serene escape from the bustling streets. Here, locals and visitors alike gather to unwind, enjoy the pleasant weather, and embrace the sense of community that radiates throughout the city.
But perhaps what makes Oaxaca truly special is its people.
The locals take pride in sharing their cultural traditions with visitors. Festivals and celebrations are an integral part of life in Oaxaca, and during these events, the city comes alive with vibrant parades, music, dance, and religious processions.
A walking tour in Oaxaca City is a mesmerizing journey that unravels the essence and allure of this captivating destination.
As you traverse the historic downtown streets, you'll be transported back in time, surrounded by the grandeur of over 1,200 meticulously preserved historic buildings, each whispering tales of a rich and vibrant past.
The UNESCO World Heritage Site, with its Zocalo courtyard, majestic Cathedral, and the culturally enriched Santa Domingo Cultural Center, invites you to step into a world of enchantment and wonder.
Explore the historic downtown
Immerse yourself in the captivating UNESCO World Heritage Site, where more than 1,200 historic buildings tell the tale of Oaxaca's rich past. Wander through the charming Zocalo courtyard, marvel at the awe-inspiring Cathedral, and get lost in the cultural wonders of the Santa Domingo Cultural Center.
Take a free walking tour
Embark on an enriching journey of discovery with the Oaxaca Free Walking Tour.
Uncover hidden gems, immerse yourself in local life, and forge a meaningful connection with a knowledgeable local guide. This tour is an exceptional way to witness the city's main attractions through the lens of a true insider.
Visit Templo de Santo Domingo
Step into the enchanting world of the Templo de Santo Domingo, a breathtaking Baroque church transformed into a museum. Explore the extensive collection of religious and pre-Columbian artifacts that showcase the cultural heritage of Oaxaca.
Be captivated by the ornate interior adorned with intricate carvings that narrate tales of ancient times. Admission is free, but remember to dress respectfully to honor the sacredness of the place.
Explore the Botanical Garden
The Botanical Garden is a delightful oasis featuring a diverse array of plants from Oaxaca's abundant biodiversity. As you wander through the garden, admire the artistic sculptures and captivating artworks that complement the natural beauty of the surroundings.
Keep in mind that a guided tour is required to fully appreciate the garden's hidden wonders.
Experience Mercado 20 de Noviembre
Embark on a culinary and cultural adventure at Mercado 20 de Noviembre, a covered market steeped in history since the Mexican Revolution. Treat your taste buds to delectable street food and savor the freshest local produce.
The market's bustling atmosphere and aroma of grilled meats are sure to leave an indelible impression on your senses.
Visit the Sunday market at Mercado Tlacolula
Immerse yourself in centuries of tradition at the vibrant Sunday market in Mercado Tlacolula.
Delight in the array of local crafts, tantalizing produce, and mouthwatering food offerings. Don't miss the opportunity to sample barbacoa and chicharrón while you explore this lively and colorful spot.
Try a Mezcal cocktail
After a day of sightseeing, treat yourself to the lively ambiance of a downtown bar, where you can indulge in a perfectly crafted Mezcal cocktail. Let the vibrant colors and lively atmosphere of Oaxaca's nightlife envelop you in a memorable experience.
Experience a Temazcal
Temazcal is a traditional Zapotec sweat lodge, meaning "house of heat." Inside the small domed hut, the heat gradually rises. You'll apply clay, fresh fruit juices, and peels on your skin to cool down, sometimes immersing yourself in cold water.
This spiritual experience with numerous health benefits usually lasts an hour and costs around 600 MXN.
See Monte Albán
Venture just 15 minutes outside the city to encounter the awe-inspiring Monte Albán.
Monte Alban is a UNESCO World Heritage Site boasting ancient Zapotec pyramids and terraces. Walk in the footsteps of the pre-Columbian civilization and marvel at the architectural wonders that stand as a testament to their ingenuity and craftsmanship.
Explore Mitla
Unravel the mysteries of Mitla, another UNESCO site that preserves well-preserved buildings dating back to 400 CE. Immerse yourself in the spiritual significance of this sacred site, which served as a burial ground for the Zapotec and Mixtec people.
Let the ancient ruins speak to you of a distant time and culture.
Visit Puerto Escondido
Embark on a captivating 6-hour drive to the picturesque Pacific Coast and find yourself in Puerto Escondido, a coastal paradise. Sink your toes into the soft sands of Playa Manzanillo and Puerto Angelito, basking in the tranquility of the seaside.
For adventurous souls, catch some waves at the renowned Playa Zicatela. Opt for accommodation in the southern area, where a lively backpacker vibe awaits to welcome you into the heart of this coastal gem.
Go hiking in Sierra Norte
Sierra Norte offers over 100 kilometers of hiking trails with 40 different options. Just a two-hour drive from Oaxaca, you'll pass through Zapotec villages (Pueblos Mancomunados) that offer village-to-village treks and homestays.
Trails in Sierra Norte are not well-marked, so it's best to hire a guide (going alone is possible but not recommended).
Guides are knowledgeable about wildlife like pumas, bobcats, and armadillos, as well as local plants. They'll ensure you don't get lost and supporting the local economy by hiring a guide is a positive impact.
Multi-day tours, trekking from village to village, cost around 3,600 MXN per person for a 3-day tour.
1 USD = approx. 17-19 MXN (2023)
Accommodation
Accommodation options in Oaxaca offer something for every budget, ensuring a comfortable and enjoyable stay for all travelers. Whether you prefer the social atmosphere of hostels, the convenience of budget hotels, or the coziness of private Airbnb rentals, Oaxaca has it all.
For budget-conscious travelers, hostels are a popular choice. A bed in a dormitory typically costs between 250-450 MXN per night, regardless of the dorm's size. Free Wi-Fi is a standard offering, and many hostels also include complimentary breakfast.
Moreover, most hostels provide self-catering facilities, enabling guests to prepare their meals and save on dining expenses.
If you're traveling with a tent, there are basic campgrounds available outside the city.
These campings offer plots for two people without electricity at around 200 MXN per night. These campgrounds, located just 20 minutes away from the city by car, offer a more rustic and adventurous accommodation option.
For those seeking a bit more privacy and comfort, budget two-star hotels with ensuite bathrooms are available starting at approximately 700 MXN per night. These hotels offer basic amenities like TV, AC, and free Wi-Fi, providing a hassle-free stay at an affordable price.
Alternatively, Airbnb is also an excellent option in Oaxaca. Private rooms can be found starting at 200 MXN per night, though the average price for these accommodations is closer to 950 MXN.
If you prefer more space and privacy, entire homes or apartments are available, starting at a minimum of 400 MXN per night. Booking early is recommended to secure the best deals and find the perfect place to call home during your Oaxaca adventure.
Regardless of your budget or accommodation preference, Oaxaca ensures a warm welcome and a range of options to suit every traveler.
Whether you're a social backpacker looking to meet new friends in a hostel, a budget-conscious traveler seeking the convenience of a hotel, or a privacy-seeking individual interested in an Airbnb rental, Oaxaca's diverse lodging options will make your stay unforgettable.
Food
Oaxaca is a food lover's paradise in Mexico, famous for its unique and delicious dishes like tlayudas, memelas, and mole, a rich sauce often made with chocolate and served with rice and tortillas.
To enjoy authentic and affordable food, head to the street stalls and markets, where you can find a variety of mouthwatering options like tacos, quesadillas, sopas, and tortas, usually priced between 15-45 MXN.
Some taco stalls even offer tacos as cheap as 10 MXN.
The Mercado 20 de Noviembre is a must-visit spot, featuring a section filled with BBQ stalls serving plates of flavorful meat and veggies cooked right in front of you. Don't miss this culinary delight.
Taco stands may not be as prevalent in the city center, but you can find them across from the ADO bus station. Tacos al pastor are available for just 10 MXN each, and you'll spot a stand selling bubbling stews of meat called "tacos casuales" for 15 MXN.
For a sit-down meal at a local Mexican restaurant serving traditional cuisine, expect to pay around 80-200 MXN. Look for places filled with locals, as that's a good sign of tasty food. In comparison, a combo meal at McDonald's costs about 110 MXN.
To quench your thirst, a national beer costs approximately 30 MXN, while a latte or cappuccino is around 45 MXN. A glass of mezcal, the region's iconic spirit, ranges from 80-240 MXN, depending on the type.
Remember that tap water is not safe to drink in Mexico. Carry a portable water purifier or purchase bottled water for about 10 MXN.
If you plan on cooking your meals, basic staples like rice, beans, veggies, and some meat will cost between 500-575 MXN per week.
Oaxaca Travel Guide: Money-Saving Tips
Oaxaca is known for its affordability, but it's easy to get carried away with the enticing eateries and mezcalerias, leading to overspending. Fortunately, there are plenty of money-saving tips to help you make the most of your trip to Oaxaca without breaking the bank.
Here are some budget-friendly suggestions:
Shop at the markets for food: Oaxaca's markets offer a fantastic opportunity to dine inexpensively and stock up on provisions for day trips. Treat yourself to fresh fruit, tasty tacos, and flavorful grilled meat at pocket-friendly prices.
Enjoy street food: For the best and most affordable food, head to the city's street stalls. Savor local delicacies without straining your budget – most street meals won't cost more than 30 MXN.
Take a free walking tour: A free walking tour is an excellent way to explore Oaxaca's main attractions. Join the Oaxaca Free Walking Tour for a comprehensive introduction to the city's wonders.
Don't forget to show your appreciation by tipping your guide at the end.
Stay with a local: Couchsurfing is a fantastic platform to connect with locals and find free accommodation. By reaching out to potential hosts in advance, you might score a place to stay while gaining valuable insider tips and insights into Oaxaca's hidden gems.
Limit alcohol consumption: While alcohol is relatively cheap in Mexico, it can quickly add up if you enjoy it at bars and clubs. Save money by purchasing your drinks from local stores and enjoying them at your accommodation.
Skip the taxis: Oaxaca is a pedestrian-friendly city, and the comprehensive bus system can take you almost anywhere you need to go. Embrace walking and public transportation to avoid unnecessary taxi expenses.
Carry a water filter: To steer clear of unsafe tap water and reduce single-use plastic waste, bring a water filter along. LifeStraw offers reusable bottles with built-in filters, ensuring that your water is always clean and safe to drink.
By following these money-saving tips, you can stretch your budget and fully immerse yourself in the vibrant culture and flavors of Oaxaca without worrying about overspending.
1 USD = approx. 17-19 MXN (2023)
Backpacking through Oaxaca offers an array of budget options to suit different travel styles and preferences. If you're looking for a more economical experience, expect to spend around 800 MXN per day.
This budget allows you to stay in a hostel dorm, enjoy delicious street food and prepare some self-cooked meals. It also covers public transportation costs and includes a few affordable attractions, such as a visit to Monte Albán and a free walking tour.
If you plan to dine out more frequently or indulge in mezcal, consider adding an extra 60-150 MXN per day to your budget.
If you prefer a more comfortable and varied experience, a mid-range budget of approximately 1,750 MXN per day is sufficient. With this budget, you can opt for private Airbnb accommodation and enjoy affordable meals at restaurants serving traditional cuisine.
If you're willing to splurge and enjoy a luxurious experience, a "luxury" budget of 3,400 MXN or more per day allows for indulgence. With this budget, you can stay in a hotel, dine out at your preferred restaurants, and savor plenty of drinks.
Taxis or rental cars become viable options for getting around, and you can partake in guided food or mezcal tours to delve deeper into Oaxaca's rich culinary offerings.
There is no limit when it comes to luxury options, so tailor your budget based on personal preferences and interests.
Remember that daily averages are just guidelines, and actual spending may vary from day to day. The provided chart offers a general idea of how to structure your budget, keeping prices in MXN in mind.
Overall, Oaxaca caters to a range of budgets, ensuring an unforgettable experience for every traveler.
Getting around Oaxaca is relatively easy and offers various transportation options to suit different preferences and needs:
On foot: Oaxaca is a pedestrian-friendly city, especially in the downtown area. Unless you're heading out to nearby ruins or attractions further away, you can conveniently explore the city on foot.
Bus or Collectivos: Shared taxis known as Collectivos are available throughout the city, following set routes. The cost for a Collectivo ride is typically around 15 MXN, making it an affordable option for getting around.
Taxi: Taxis are readily available in Oaxaca, and they start at a base fare of 55 MXN. The fare increases based on the distance traveled and the region you are going to. For instance, traveling within the historic center will cost the same, whether it's just one block or ten.
However, if you plan to go to neighboring regions like La Reforma from the historic center, expect to pay around 70 MXN. A taxi to the airport should cost around 150-200 MXN, but the price may be higher during nighttime hours.
While taxis are convenient, they can add up quickly, so it's best to use them sparingly if you're on a budget.
Didi: Uber is not available in Oaxaca, but you can use a similar app called Didi. Note that international credit cards might not work with the app, so it's advisable to carry cash in the suggested fare amount. Didi exclusively uses taxis for rides in Oaxaca.
Bicycle: For a fun and eco-friendly way to explore the city, consider renting a bike.
Bicycle rentals can be found at affordable rates, approximately 100 MXN for a half-day rental. If you're up for an adventure, guided mountain bike trips are available, with a half-day excursion costing around 1,300 MXN.
Car rental: If you plan to venture outside the city for day trips or multi-day excursions to places like Puerto Escondido, car rentals are available at a cost of around 650 MXN per day.
Keep in mind that renters must be at least 21 years old and have held a valid driver's license for a minimum of two years. Some rental companies may require renters to be over 25 years old.
Additionally, be prepared for steep deposits, with some companies requesting a deposit of $1,000 USD.
With these transportation options available, you can efficiently navigate Oaxaca and explore its many attractions, whether you prefer walking, using public transport, biking, or renting a car for further exploration.
Oaxaca is a destination that can be enjoyed year-round, thanks to its pleasant climate due to its elevation. However, the best time to visit depends on your preferences and what you want to experience during your trip.
The most popular time to visit Oaxaca is during December and January. During these months, many Canadian and American tourists head south to escape the winter weather in their home countries.
As a result, the city tends to be quite busy, and accommodation prices may be at their highest. If you plan to visit during this peak season, it's advisable to book your accommodation well in advance to secure the best options.
Another busy and exciting time in Oaxaca is around the Day of the Dead, which falls in late October or early November. This colorful and culturally significant celebration draws both domestic and international tourists to the city.
It's a unique opportunity to experience the vibrant festivities and pay homage to the dearly departed. Due to the popularity of this event, expect crowds and book your accommodation early.
If you prefer a more relaxed and less crowded experience, consider visiting Oaxaca during the shoulder seasons.
Spring (March to May) and fall (September to November) offer pleasant weather, with comfortable daily highs around 25°C. During these times, you can still enjoy the city's attractions and cultural offerings without the peak-season crowds.
The summer months (June to August) in Oaxaca bring warm and sunny weather, with daily averages around 26°C. While it is a bit hotter, it can be an excellent time to visit if you enjoy summer activities and don't mind the occasional rainfall.
Plus, you'll find fewer tourists compared to the peak season.
In summary, the best time to visit Oaxaca depends on your preferences. If you want to experience the city during its most vibrant and festive times, December-January and around the Day of the Dead are ideal.
For a more relaxed and less crowded experience, consider visiting during the shoulder seasons of spring and fall. If you love the summer heat and don't mind a few rain showers, the summer months can also be a delightful time to explore Oaxaca.
Oaxaca is generally considered one of the safest cities in Mexico.
With a lower incidence of drug-related violence and theft compared to other areas, Oaxaca is a safe travel destination. However, it's essential to prioritize personal safety and remain vigilant about your surroundings.
Here are some tips to stay safe in Oaxaca:
Take a taxi at night: If you're out late at night, consider taking a taxi back to your accommodation for added safety. Stick to official taxis or reputable rideshare services.
Limit valuables: Avoid carrying all your valuables with you everywhere you go. Leave your passport and extra cash securely at your accommodation, and only take what you need for your daily activities.
Travel in groups: Whenever possible, walk with a friend or a small group, especially in less crowded or isolated areas.
Keep a low profile: Avoid wearing flashy jewelry or displaying expensive electronics, both during the day and at night. Being discreet with your belongings can deter potential thieves.
Solo female travelers: Oaxaca is generally safe for solo female travelers. However, it's always wise to exercise standard precautions, such as not leaving your drink unattended and avoiding walking home alone while intoxicated.
For more specific tips, seek advice from solo female travel blogs about the city.
Vehicle safety: If you rent a vehicle, never leave any valuables inside overnight, as this may attract unwanted attention.
Emergency contacts: Familiarize yourself with local emergency numbers, such as 911 (if available) or 066. Keep these numbers handy in case you need immediate assistance.
Trust your instincts: Always listen to your gut feeling. If a situation feels unsafe, remove yourself from it.
Avoid isolated areas at night: Stick to well-lit and populated areas after dark to minimize risks.
Travel insurance: Purchase comprehensive travel insurance before your trip. It will provide coverage for illnesses, injuries, theft, and cancellations, giving you peace of mind during your travels.
Overall, Oaxaca is a safe destination, and dangerous crimes against tourists are rare. By following these safety tips and being cautious, you can fully enjoy the beauty and culture of Oaxaca while minimizing potential risks.
Remember, responsible travel practices ensure a more enjoyable and worry-free experience.
Use these tags to read more related posts and reviews:
---
Let us know if this article was useful for you