10 reasons to visit Mexico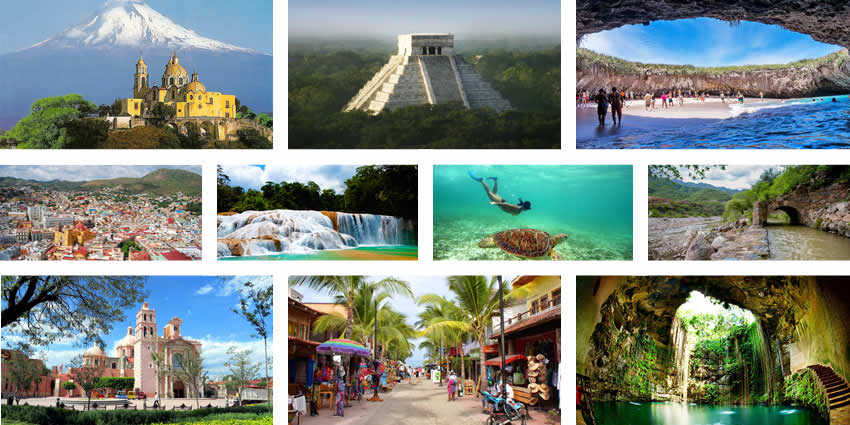 Why travel to Mexico?
From Cancun to the Riviera Maya, from Baja California to the Pacific Coast, Mexico is a never-ending treasure trove of travel memories waiting to happen. Though there are many more, there are at least 10 reasons to visit Mexico.
Reasons to visit Mexico
Natural Beauty. Orange sunsets that take your breath away. Purple mountain majesties tumble to the sea. Turquoise sand is kissed by sugar-white sand.
Discover one-of-a-kind flora and fauna. The natural mineral pool in Oaxaca looks like a waterfall that's been frozen by minerals for thousands of years.
Fabulous Food. The grub in Mexico is much more than chips, salsa, and enchiladas. Mexico has gourmet cuisine that will knock your flip-flops off and it varies by region based on what indigenous foods grow in the respective areas.
Wonderful Wine. In fact, the first vineyards in North America were planted in Mexico. And, since the weather is much like that in Napa, soil conditions (even though it's sandy) make it ripe for producing some stellar wine.
There are seven different estates where the vino is made: Queretaro, Coahuila, Baja California, Zacatecas, Sonora, Chihuahua, and Aguascalientes.
Nearby Islands. Nurse sharks, sea horses, and other electrically colorful reef fish, plus some pretty awesome caves and tunnels that you can explore.
Easy to Access. Flying into Cancun from most destinations is generally painless because it's a hub, where you can then take off and travel to lots of beaches in Mexico: Cancun, Isla Mujeres's resorts, Playa del Carmen, and Tulum are the big areas to hit in Riviera Maya.
You can also fly into Cabo and enjoy the rough-hewn beauty of the mountains and the Sea of Cortez, but there are not many swimmable beaches there.
However, just a simple walk down the beach, barefoot on the sand, with the mountains in the distance is magical.
If you want to go to the heart of the country, fly to Mexico City. From there, you can travel a half-hour to Tepotzotlan, where you can see an 18th-century aqueduct, Xalpa. For history and museum hounds, Toluca is your destination.
Mystical Mayan culture. Chichen Itza, Tulum, and Coba are the three Mayan ruins that get the most air time, but there are more sites you can explore.
Cool Cenotes. These funky geological formations found in Mexico are the result of the collapse of limestone bedrock that exposes groundwater underneath. They were also used by ancient Mayans for sacrificial offerings.
Beguiling Beaches. They're just so many – and on both the Yucatan Peninsula and the Pacific side.
Once you land in Cancun, you can head to (of course) the beach in Cancun in the Hotel Zone, then make your way down the peninsula and hit the sugar sands of Riviera Cancun, Riviera Maya, Playa del Carmen, Isla Mujeres, Cozumel and the beach at Tulum.
On the western side, there's Puerto Vallarta, Acapulco, Mazatlan, and Cabo, where the sand is a bit more creamy. Then you can swing over to the white sand of Zihuatanejo and Ixtapa. Beaches and more beaches – this is probably the main (and best) reason to visit Mexico.
Rich Culture. Mexico is not all about the beaches, though they are certainly incredible.
Mexico is a country with a fascinating history, vibrant arts scene (paintings, literature, film, music, and dance), and beautiful architecture that includes Colonial mansions, majestic cathedrals, charming plazas, and more.
And even though Spanish is the primary language spoken, you'll also hear Amerindian tongues like Maya, Mixteco, and Zapoteco.
The result is an intoxicating mix that breeds mystery and excitement when you make your way through the towns and cities, along with some of the most gorgeous people on the planet.
When it comes to the vibe and the genre, you'll discover has to layer upon layer of intriguing cultural attractions, which is one of the most compelling reasons to visit Mexico.
Inherent Romance. There's something about walking barefoot on the beach against the backdrop of a breath-stealing sunset with a cool, soul-stirring ocean breeze that just makes you happy about being alive.
You can be with friends, a partner, or just hanging out solo, it doesn't matter: these sensations make us feel good, inside and out. Choosing places that are less inhibited, and off-the-beaten-path, are also fun places.
Todos Santos and Sayulita, both on the Pacific coast, are awesome locales to relax, get settled in, and meditate on just how lucky you are to be there. Just being able to let go of worry in paradise is by far one of the best reasons to visit Mexico.
These are just our top 10 reasons to visit Mexico. There are so many others. If you want to know more, read this travel guide.
Use these tags to read more related posts and reviews:
---
Let us know if this article was useful for you