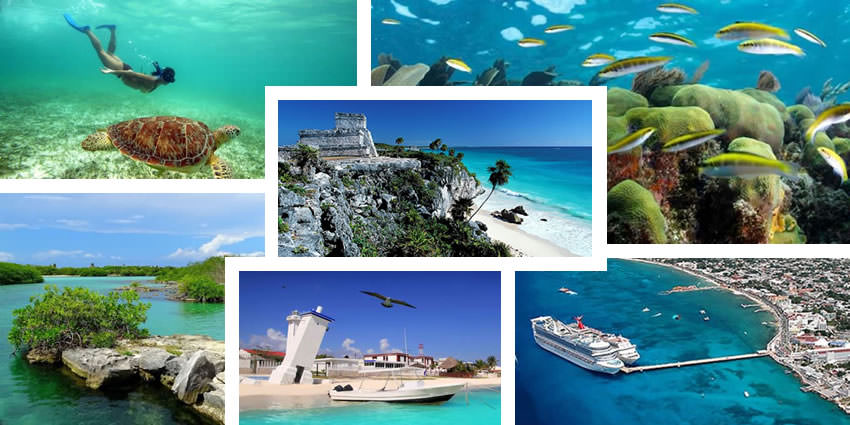 Activities and excursions in the Riviera Maya
Travel and Explore Riviera Maya
Riviera Maya is a very special place, where you can find all you just could imagine, from exploring the ancient Mayan ruins to sailing through the turquoise waters of the Caribbean Sea and sampling the delicious Mexican food the region has to offer.
There is a lot of variety of things to do on the Caribbean Coast of Mexico. There are feistiness and fun, plus while it's an easy place to explore as a tourist, there are some wonderfully authentic spots too.
This quick guide to the best things to do in Mexico's Rivera Maya.
Explore The Riviera Maya's Cenotes
If you've never heard of a cenote, then you obviously haven't visited the Riviera Maya before!
Imagine a cave and lake hybrid and that's kind of what a cenote is like. These incredible sinkholes are filled with bright blue, crystal clear water, and there are over 6,000 of them in the Yucatan Peninsula.
Cenotes are believed to be sacred, and it's thought the Mayans saw them as the entrance to the underworld. They are absolutely magical, it's fun exploring and taking a dip in every one of them.
There are plenty of tours that will take you to popular cenotes like Dos Ojos and Ik Kil. If you get the chance though, head to Cenote Xkeken and Cenote Samula. They're located close to each other and are not only less visited but also absolutely stunning!
Alternatively, drive along the "Ruta de Los Cenotes" (between Playa Del Carmen and Tulum) and you'll find several cenotes on either side of the road. Enjoy your adventure!
Relax In An All-Inclusive Resort
You've probably heard about the incredible all-Inclusive hotels in the Riviera Maya.
For the ultimate hassle-free holiday, you can check into a swanky resort, feast on delicious food, and spend your days relaxing by the pool, taking part in lots of fun activities, or enjoying a daily schedule of entertainment.
Just imagine all-you-can-eat ice cream or pina colada or tacos! Most hotels in the region have access to gorgeous white sandy beaches, great pool areas, and food from around the world, so you'll never be bored.
Check Out One Of The Adventure Parks
There are a few great excursions in the Rivera Maya built for adrenaline addicts!
Visit Xplor, Xcaret, Hel-Ha, and much more, there are a lot of them here.
Xplor is an adventure park filled with exciting zip lines, caves, and underground rivers. From driving an amphibious vehicle through rocky, wet terrain, to exploring an underground river on a floating raft, and hurtling through the skies on a zipline, it looks like so much fun!
Enjoy A Boat Trip To Paradise Islands
If you're spending a week enjoying the beaches and sunshine of the Riviera Maya, we would recommend taking at least one boat trip. While there are various snorkel and scuba diving tours, we would recommend a trip to Cozumel or Isla Mujeres.
The Cozumel ferry leaves from Playa Del Carmen and only takes 45 minutes. Meanwhile, to reach Isla Mujeres, you'll need to book a day tour. All ferries depart frequently throughout the day.
Most ferry and catamaran excursions include a stop for snorkeling, lunch, and the ferry trip to check out the vibrant and fun islands. Once there, you can enjoy the hippie vibes, street art, and taco stands.
If you have a bit longer, we would 100% recommend the trip to Isla Holbox.
Holbox Island is one of the best places in Mexico! More chilled out and less developed than the other spots, it's a place with the brightest water, the best sunsets, and a great all-around vibe for a few days away from mainland Mexico.
Snorkel With Turtles
There are plenty of opportunities to get up close to incredible underwater life in this region of Mexico.
Visit Akumal (a beach between Playa Del Carmen and Tulum) and you can often spot sea turtles swimming, grazing, and enjoying the water close to the shore. It's an amazing experience to see them in the wild.
Also, close by is Yal-Ku, a lagoon with an abundance of sea creatures. Compared to the heavily marketed water parks, this is a totally underrated spot, with cheap entry prices, great visibility, and lots of amazing fish to get up close to!
Explore The Mayan Ruins At Chichen Itza And Tulum
The most popular Riviera Maya excursions are to the Mayan ruins at Chichen Itza and Tulum.
This region is brimming with history, with ancient ruins dating back to the 7th Century. While you can't climb the pyramid at Chichen Itza, you can still get up close to lots of the monuments.
Chichen Itza is very busy (busloads of private tours arrive each hour) so we would recommend arriving early if you can.
Trips to Tulum to be a little more relaxed. It's still a popular spot, but it's wonderful to take in the views of the ruins against a tropical backdrop of the Caribbean Sea. You can even take a dip in the water to cool off!
We hope this has given you lots of ideas to make your Riviera Maya holiday extra special!
Use these tags to read more related posts and reviews:
---
Let us know if this article was useful for you