Puerto Vallarta is a tropical paradise in Mexico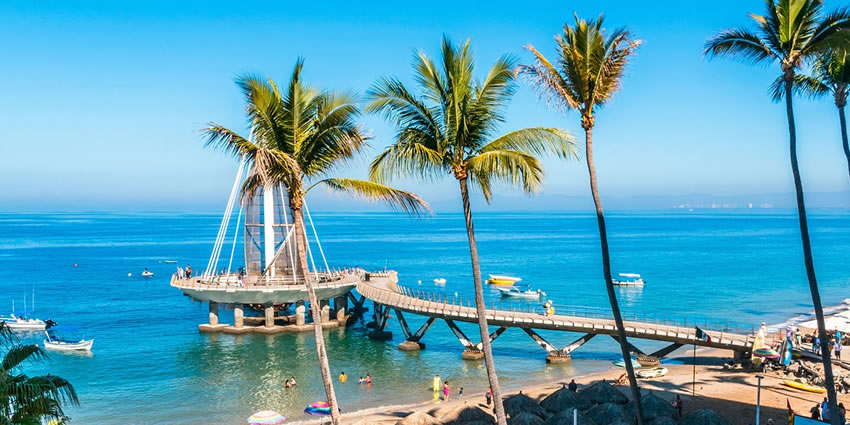 Puerto Vallarta is a beautiful coastal city located on the Pacific coast of Mexico.
With its stunning beaches, rich cultural heritage, and vibrant nightlife, it has become one of the most popular tourist destinations in Mexico. Whether you're looking for relaxation, adventure, or a bit of both, Puerto Vallarta has something for everyone.
The beaches in Puerto Vallarta are some of the best in Mexico. From the long sandy stretches of Playa Los Muertos to the secluded coves of Conchas Chinas, there's a beach for every taste.
The turquoise waters are warm and inviting, perfect for swimming, snorkeling, and soaking up the sun. For those looking for a bit more adventure, the nearby Marietas Islands offer world-class scuba diving and whale-watching opportunities.
Puerto Vallarta is also rich in cultural heritage, with its charming Old Town, also known as "El Centro," offering a glimpse into the city's past.
Stroll through the narrow cobblestone streets, admire the brightly painted buildings, and sample traditional Mexican cuisine at one of the many street-side cafes.
Puerto Vallarta is also home to numerous art galleries, showcasing the works of local artists, as well as the popular Church of Our Lady of Guadalupe, known for its stunning stained-glass windows and vibrant murals.
When the sun sets, Puerto Vallarta comes alive with its vibrant nightlife.
Puerto Vallarta is home to a variety of bars, clubs, and restaurants, offering something for everyone. Dance the night away at one of the many salsa clubs, enjoy live music at a jazz bar, or simply relax with a drink at a beachside bar.
For those looking to escape the hustle and bustle of the city, Puerto Vallarta is surrounded by stunning natural beauty.
Take a scenic drive to the nearby town of San Sebastian, known for its hot springs and breathtaking mountain views. Or, venture further afield to the Sierra Madre Mountains, where you can explore lush jungles, cascading waterfalls, and abundant wildlife.
In conclusion, Puerto Vallarta is the perfect destination for travelers seeking a mix of sun, sand, culture, and adventure.
With its stunning beaches, rich cultural heritage, and vibrant nightlife, it's easy to see why this tropical paradise is one of Mexico's most popular tourist destinations.
Book your trip today and experience the magic of Puerto Vallarta for yourself!
Use these tags to read more related posts and reviews:
---
Let us know if this article was useful for you