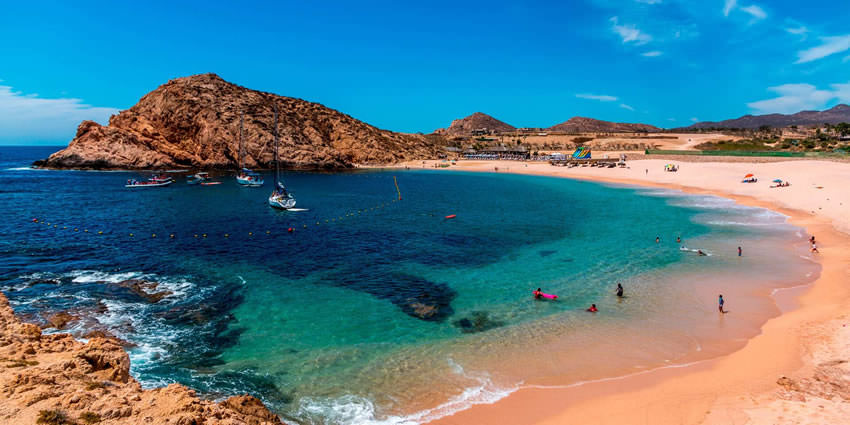 Cabo Pulmo National Park
Cabo Pulmo National Park (Parque Nacional Cabo Pulmo) is a national marine park on the east coast of Mexico's Baja California Peninsula, spanning the distance between Pulmo Point and Los Frailes Cape, approximately 100 kilometers north of Cabo San Lucas in the Gulf of California.
Bahía Pulmo is home to the oldest of only three coral reefs on the west coast of North America. Estimated to be 20,000 years old, it is the northernmost coral reef in the eastern Pacific Ocean.
The reef has a number of fingers of hard coral atop rock outcroppings that run parallel to the coast, occurring in progressively deeper water offshore. The area was designated a national park in 1995, a UNESCO World Heritage Site in 2005, and a Ramsar Wetland of International Importance in 2008.
History
On June 5, 1995, Mexican President Ernesto Zedillo declared the 71-square-kilometer area surrounding Cabo Pulmo a federally protected National Marine Park.
On May 2, 1997, Jose Luis Pepe Murrieta was the first volunteer Park Director appointed by the INE (National Ecological Institute).
The non-profit organization Patronato Cabo del Este, founded in 1997, was (and still is) Cabo Pulmo's primary supporting organization while the federal government built a budget for the park.
A community organization known as Amigos para la Conservación de Cabo Pulmo ("Friends for the Conservation of Cabo Pulmo", or ACCP) was founded in 2002 to promote conservation of the natural resources of the park.
Carlos Narro was appointed the first official Park Director by the National Commission of Protected Natural Areas (CONANP), a branch of the federal Secretariat of Environment and Natural Resources, in 2004.
In 2005, Cabo Pulmo was inscribed on the UNESCO World Heritage List as part of a larger serial property known as the Islands and Protected Areas of the Gulf of California, in recognition of the Gulf's exceptionally rich biodiversity, high marine productivity, species endemism, and striking natural beauty.
In his book The Log from the Sea of Cortez, American author John Steinbeck described Cabo Pulmo reef as follows:
The complexity of the life pattern on Pulmo Reef was even greater than at Cabo San Lucas. Clinging to the coral, growing on it, burrowing into it, was a teeming fauna. Every piece of the soft material broken off, skittered and pulsed with life, little crabs and worms and snails. One small piece of coral might conceal 30 or 40 species, and the colors on the reef were electric.
Before the establishment of the park, the area was heavily overfished. Creating the national park and policing has been beneficial to the marine ecosystem. During the first decade of the 21st century, the area has seen an increase in total biomass of more than 400%. The increase is attributed to the healthy condition of the reef itself.
Use these tags to read more related posts and reviews:
---
Let us know if this article was useful for you