The best islands in Mexico to visit on your next trip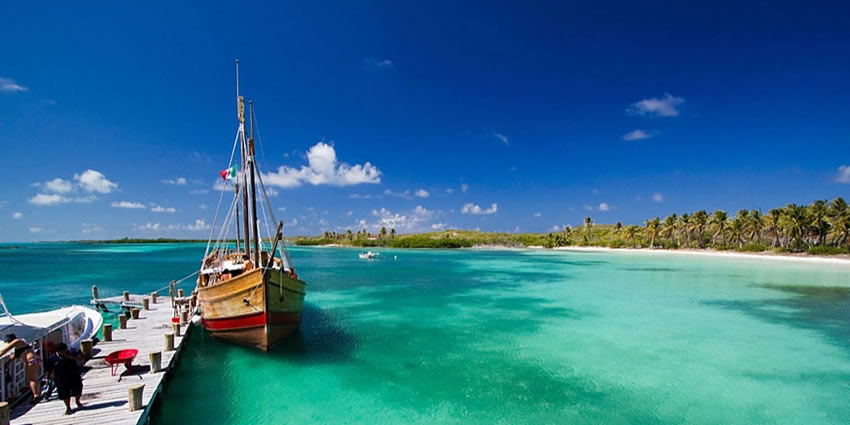 The islands off Mexico's coast offer a wide range of vacation experiences.
Whether you're looking for a romantic getaway, a colorful underwater world, tropical drinks on a beautiful white beach, ancient ruins, or perhaps all of the above, you're sure to find the perfect island for your next trip.
Holbox Island is often ranked among the top vacation destinations on the planet. Holbox is an undeveloped island paradise with beautiful white powdery sands framed by the glistening turquoise waters of the Caribbean.
Holbox offers a fabulous laid-back atmosphere minus the busyness and hordes of tourists that crowd many mainland resorts.
The Holbox island sits within the stunning Yum Balam biosphere reserve and is home to all sorts of wildlife, including flamingos, pelicans, endangered sea turtles, and crocodiles.
Swimming with whale sharks is one of the most popular attractions, and you can even swim alongside wild dolphins too.
Located just off the Yucatan Peninsula, the Caribbean island of Cozumel offers all the ingredients of a tropical island experience.
Cozumel is not only famous for its white sand beaches and crystal clear warm waters, but it's a world-class diving destination, surrounded by the Mesoamerican Barrier Reef, the world's second-largest coral reef system.
At Chankanaab Park you can snorkel, scuba, snuba, parasail, and kitesurf.
Cozumel offers lots for history buffs too, home to ancient Mayan ruins sites, including San Gervasio, the island's largest, most important, and only official archaeological site, a sanctuary to Ixchel, goddess of fertility and love.
Only eight miles from Cancun, Isla Mujeres offers the opportunity to experience an entirely different world without being saturated with the mega-resorts and 24/7 party its neighbor is known for.
Isla Mujeres hosts some of the most spectacular beaches on the planet, including Playa Norte, which is surrounded by coral reefs for outstanding diving and snorkeling.
There is a lighthouse reef, lots of vibrantly-colored fish, and even an underwater museum of art.
Its southern tip is home to ruins of an ancient Mayan temple. While much of it was destroyed by a hurricane in 1988, parts of it can still be viewed, as an especially magical sight at sunrise.
The untouched paradise of Isla Espíritu Santo sits in the Sea of Cortez on the Baja Peninsula, memorably described as the world's aquarium, by explorer Jacques Cousteau.
Consider by many to be the most beautiful island in the region, Espiritu Santo boasts dozens of bays with gorgeous white sandy beaches as well.
Designated a World Heritage Bioreserve by UNESCO, the Espiritu Santo island can be reached by joining a boat tour offered by multiple outfitters in La Paz.
Once there, enjoy incredible snorkeling and diving in some of the clearest waters you'll ever be immersed in. You may even be able to tickle the belly of a sea lion pup while marveling at the remarkable array of tropical fish.
Orca, dolphins, manta rays, sea turtles, and blue or humpback whales may be glimpsed in the surrounding waters as well, and the island also hosts nature trails for walking, with the chance to spot black-tailed jackrabbits which are native to the island.
Located in Banderas Bay near Puerto Vallarta, the Marietas are a volcanic archipelago set in a protected marine park and also serve as an important bird sanctuary.
Some 90 different species of birds can be found here.
Between November and March, you can watch for migrating humpback whales who arrive from Alaska to enjoy the warmer waters. Diving and snorkeling are popular activities too.
To get here, you'll need to book a day trip from one of the tour operators in Puerto Vallarta.
For something different visit Isla Agaltepec, an island that sits in eastern Mexico's Lake Catemaco.
Agaltepec Island has a population of about 100 residents, though all of them are the famously loud and endangered Mexican howler monkeys – in fact, humans aren't even allowed here.
The animals were moved to this location due to poaching threats, but visitors can see them by taking a boat excursion from the town of Catemaco nearby.
Janitzio is found on Lake Patzcuaro, renowned for its Day of the Dead festivities though it's worth visiting any time of the year.
One of five islands located in this vast lake, it's a spiritual and cultural center for the indigenous Purepecha people and can be accessed via a short boat trip from the town of Patzcuaro.
If you're here for the Day of the Dead celebrations in late October and early November, you'll see the island cemetery lit up with candles, with locals holding a vigil next to the graves of deceased loved ones.
Contoy is located near Isla Holbox, yet it's remained an undiscovered gem, known to few who live outside of the country. This small, narrow island that's just 5 miles in length is limited to the number of visitors on any given day due to its size.
Just 200 are allowed daily providing a more tranquil setting for enjoying this sanctuary that's considered the most important nesting place for sea birds in all of the Mexican Caribbean.
There are over 150 tropical bird species and four turtle species here. Only a few tour companies have the government's permission to bring guests to the island and sail from Isla Mujeres or Cancun.
Use these tags to read more related posts and reviews:
---
Let us know if this article was useful for you