Comalcalco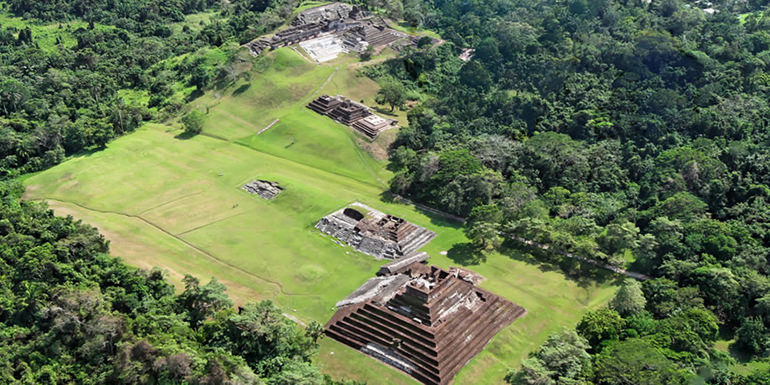 Comalcalco is both a modern-day city located in Comalcalco Municipality about 45 miles (60 km) northwest of Villahermosa in the Mexican state of Tabasco and a Pre-Columbian Maya archaeological site.
The literal English translation of "Comalcalco" is "In the house of the comals". A comal is a pan used to prepare food.
The present-day city of Comalcalco reported a 2005 census population of 39,865 inhabitants, while the municipality of which it serves as municipal seat had a population of 173,773. The city is the third-largest community in the state of Tabasco, behind Villahermosa and Cárdenas.
The municipality, which has an area of 723.19 km² (279.225 sq mi), includes many smaller outlying communities, the largest of which are Tecolutilla, Chichicapa, Aldama, and Miguel Hidalgo.
In 1820, the river Mazacalapa was drying up, and many of the families made residence in the middle of the river on an island. The Government of the State of Tabasco; consisting of Juan Mariano Sale, Antonio Solana and Fausto Gordillo, and all members of the congress; established a town in October, and named it Isidro de Comcalco.
The decree was published by Don Marcelino Margalli, governor of the state and Jose Mariano Troncoso, who was secretary of the state.
The town is located in the Comalcalco municipalities, and on November 14 of 1834 the first local government was created.
The site of Comalcalco is notable for two characteristics. First, it is the westernmost known Maya settlement.
Second, and due to a dearth of locally available limestone (the primary material used in architectural construction), the city's buildings were made from fired-clay bricks held together with mortar made from oyster shells.
The use of bricks at Comalcalco was unique among Maya sites, and many of them are decorated with iconography and/or hieroglyphs.
Important architectural features include the northern plaza and two pyramids, the Gran Acropolis and the Acropolis Este.
In November 2011, Mark Stevenson authored an article in the Seattle Times claiming that Mexico's National Institute of Anthropology and History revealed that there may be a reference to the December 2012 "doomsday" date on a second glyph found at their Comalcalco ruin site.
The inscription is on the carved or molded face of a brick, called The "Comalcalco Brick." The brick has the same Calendar Round as the completion of the thirteenth b'ak'tun.
You can dial 078 from any phone, where you can find free information about tourist attractions, airports, travel agencies, car rental companies, embassies and consulates, fairs and exhibitions, hotels, hospitals, financial services, migratory and other issues.
Or dial the toll-free (in Mexico) number 01-800-006-8839.
You can also request information to the email correspondencia@sectur.gob.mx
MORE EMERGENCY NUMBERS:
General Information: 040 (not free)
National Emergency Service: 911
Radio Patrols: 066
Police (Emergency): 060
Civil Protection: +52(55)5683-2222
Anonymous Complaint: 089
Setravi (Transport Mobility): +52(55)5209-9913
Road Emergency: 074
Cruz Roja: 065 o +52(55)5557-5757
Firefighters: 068 o +52(55)5768-3700
Use these tags to read more related posts and reviews:
---
Let us know if this article was useful for you