Loltún Cave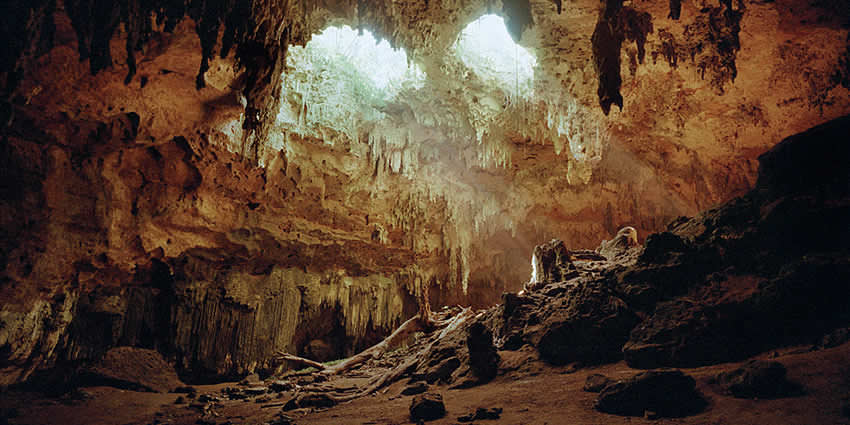 Loltun Cave is a cave in the Yucatán, approximately 5 km (3.1 mi) south of Oxkutzcab. The cave contains paintings attributed to the Maya civilization from the Late Preclassic Era or even older. The name is Mayan for "Flower Stone" ("Lol-Tun").
This cave is about two kilometers in length. Inside Loltún there is evidence that confirms human occupation such as recovered bones of mammoth, bison, cats, and deer remains from the pleistocene. On the walls you can observe natural formations and paintings, hand painted with representations of the technique of negative human faces painted on the walls, sculptural representations, representations of animals and some geometric shapes. Tools were also recovered.
The prehispanic Maya also used the cave as shelter and used to extract the clay to make their tools. During the tour you visit the galleries and natural formations known locally as the room of musical columns, a vault known as the cathedral, jaltunes, Grand Canyon, corn cob, the infant, black hand paintings, the room of stalactites and trenches. In the cavity is excavated huechil called where they found remains of extinct fauna such as mammoth bones and vegetation different from today. The occupation in Loltún goes back more than 10,000 years and served as a hiding place during the caste war.
It is located 110 kilometers southwest of Mérida, at a distance of 10 km. South of the town of Oxkutzcab.
You can dial 078 from any phone, where you can find free information about tourist attractions, airports, travel agencies, car rental companies, embassies and consulates, fairs and exhibitions, hotels, hospitals, financial services, migratory and other issues.
Or dial the toll-free (in Mexico) number 01-800-006-8839.
You can also request information to the email correspondencia@sectur.gob.mx
MORE EMERGENCY NUMBERS:
General Information: 040 (not free)
SNational Emergency Service: 911
Radio Patrols: 066
Police (Emergency): 060
Civil Protection: +52(55)5683-2222
Anonymous Complaint: 089
Setravi (Transport Mobility): +52(55)5209-9913
Road Emergency: 074
Cruz Roja: 065 o +52(55)5557-5757
Firefighters: 068 o +52(55)5768-3700
Use these tags to read more related posts and reviews:
---
Let us know if this article was useful for you